WE Command - Wellness & Empowerment Workshop
About this Event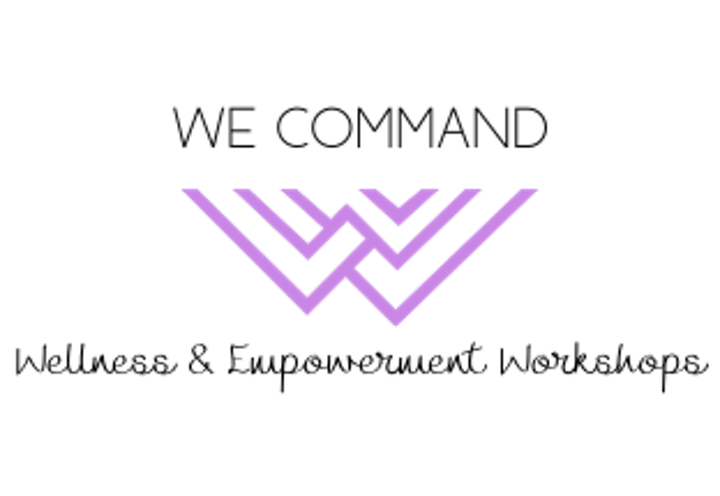 Welcome to WE Command
WE Command is a wellness and empowerment workshop designed to support women in crafting the Commandments that will guide their individual well-being journey. This event creates space for women to come together in community through wellness practices and our signature programming.
---
Why WE Command?
We are fortunate today to live in a world where there are countless events dedicated to wellness and empowerment. It is clear that these two areas are not only a priority, but a necessity to support aware, empathetic, and productive women. Yet most events these days tend to have a one-size-fits-all attitude about how to best tap into your wellness and empowerment potential. In other words, the path to a well and empowered life is set out by the teacher, not the student.
WE Command wants to change how we as women view that path. We aim to create a space where wellness and empowerment are not defined for you, but designed by you. All women show up with different stories, cultures, and backgrounds. And we believe it's time we start honoring that.
WE Command will include our signature programming:
Group Reiki & Intention Setting
-Relax to a calming sound bath while Hanna Berman (WE Command Co-Founder) and Jamie Sabat (CEO & Wellprenuer) lead us in a grounding meditation with personalized Reiki treatments to give each person a short energy clearing, leaving you ready to process, learn, and grow throughout the rest of the event.
Chat and Chew
- Enjoy tasty nibbles and mingle with the WE Command community!
Empowerment Engagement Activity
- Process the challenges and triumphs of feeling empowered in your well-being. This activity led by WE Command Co-Founder, Joelle, will allow us to harness the energy and support of the women we are in community with during the workshop while drawing on our individual experiences and long-term goals. This exercise utilizes research from the Gallup Well-Being Index to structure how we craft our individual Commandments.
- Participants will walk away with a list of 2-5 Commandments for their chosen area of focus (Purpose, Social, Financial, Community, Physical).
Closing Activity
- The closing activity will center the group around their intention and newly crafted Commandments, as well as provide a circle of support amongst the women in attendance.
What You'll Experience/Take Away:
- Individual and Community Reiki Cleansing
- Guided Meditation(s)
- 2-5 written Commandments to guide your wellness and empowerment practices after departing the session
- Invitation to the WE Command private community platform where we can support one another in living out our Commandments
- Community of women to wrap their arms around you and your newly crafted path
- Swag bag with discounts to sweet deals and special treats
- Lunch, tea, and aromatherapy fun!
Where?
Our event will take place at the lovely Eaton DC Hotel. Eaton Wellness is inspired by new-age practices and experiential learning traditions that embody a holistic approach focused on the mind-body connection. Eaton offers community-building classes such as yoga and meditation and sensory experiences including infrared saunas. Fostering self-care and consciousness expansion, wellness at Eaton involves delving deeper into spirituality to reframe the concept of wellness itself and what it means to live a well-lived life. The ethos carries through to options in food and beverage, as well as a program of guest speakers and teachers who promote both classic and modern approaches to wellness philosophy and practice.
NOTE: Eaton Wellness is located on the second floor of the hotel, you can use the stairs to the right of the entrance. Please consult with the front desk for an assessable access point (via elevator). There is $3 hotel valet parking on 12th street for wellness services. Please make sure you mention you are coming for a wellness event upon dropping your car off. ​
Find out more of their classes and treatments at eatonworkshop.com/wellness