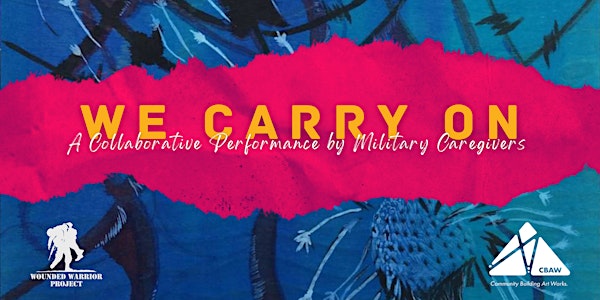 We Carry On: A Collective Performance by Military Caregivers
WWP Independence Caregivers come together to tell and perform their constantly evolving stories.
When and where
Location
Woolly Mammoth Theatre Co 641 D Street Northwest Washington, DC 20004
About this event
Join Community Building Art Works and Wounded Warrior Project for an afternoon to honor caregivers of Wounded Warrior as they share their evolving stories. In this performance, military caregivers share a collaborative piece developed in a four-week writing workshop.
About Community Building Art Works (CBAW). Community Building Art Works connects hundreds of veterans, healthcare providers & civilians each month through workshops led by professional artists who reflect the diversity of the population we serve. Our prestigious faculty include award-winning writers, artists, and musicians who have lectured and taught at institutions from Columbia University to Stanford, and have toured and performed worldwide. Using our proven process to help veterans and service members tell their particular stories, we hope to ensure that the stories of military children are heard, and that the diversity and breadth of experiences in the military are represented. For more information, please visit www.cbaw.org. - www.cbaw.org
About Wounded Warrior Project: Since 2003, Wounded Warrior Project® (WWP) has been meeting the growing needs of warriors, their families, and caregivers — helping them achieve their highest ambition. WWP Independence Program helps catastrophically wounded warriors with injuries such as moderate to severe brain injury, spinal cord injury, or neurological conditions take positive steps toward long-term independent living. - www.woundedwarriorproject.org