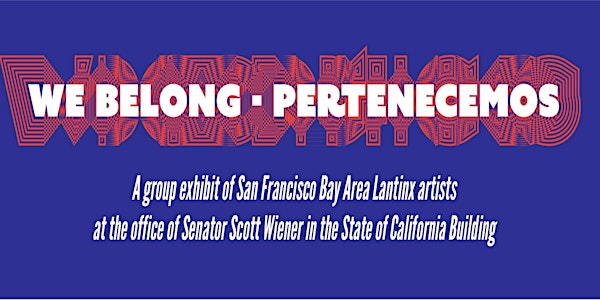 We Belong - Pertenecemos
"We Belong - Pertenecemos" - An art exhibit of Bay Area Latinx artists.
When and where
Location
Senator Scott Wiener 455 Golden Gate Avenue #14800 San Francisco, CA 94102
About this event
Senator Scott Wiener and Curator Joseph Abbati invite you to "We Belong - Pertenecemos", an art exhibit featuring the work of Latinx artists from around the Bay Area. The exhibit will be held in Senator Wiener's Office at the California State Building in San Francisco.
The various pieces explore the narrative of Latinx cultural representation, identity and ethnicity, sense of place, history, and families.
A reception will be held on Friday, October 11 from 5-7PM. The exhibit will be on display from October through November of 2019.
During the reception, Senator Wiener will also discuss various pieces of legislation he authored this year, including SB 288 which would make it legal for Dreamers and other immigrants to run for and be appointed to positions as Democratic & Peace and Freedom Party county central committee members.
The artists participating include: Frederick Alvarado, Adrian Arias, Michelle Bond, Magué Calanche, Jaime Cortez, Samu Cortez, Emily Cruz, Theosis Damian, Daniel Diaz-Tai, Delaram Farzaneh, Wilson Ferreira, Diego Gomez, Alexander Hernandez, Tanya Herrera, Kavin Orantes, Mimi Herrera-Pease, Eugene Rodriguez, Ezequiel Rodriguez, Gala Sadurni, Durba Sen, Cat Sommer, Eddie Valentine, Camilo Villa, Victor-Mario Zaballa.