Sales Have Ended
Registrations are closed
Please make sure to check in when you arrive on site, so that we know you're present for this celebration and march for unity. Thank you.
Event Information
Location
Freedom Tower at Miami Dade College
600 Biscayne Boulevard
Miami, FL 33132
Sales Have Ended
Registrations are closed
Please make sure to check in when you arrive on site, so that we know you're present for this celebration and march for unity. Thank you.
SoFla organizations banded to form an alliance to show that we're united regardless of race, color, origin or political affiliation.
About this event
South Florida Organizations Partner in Unity
New Alliance Invites Public to Join the Movement
With an eye toward inspiring unity and cooperation across the public, MCCJ met with South Florida community leaders and organizations to form an alliance that will embody the belief that we're better off united, regardless of race, color, religion, origin, and political affiliation. Yearning for the days when people had constructive conversations despite having differences and determined to bring those days back to vibrant life, this newly formed alliance has planned a march for May 15, 2022, at 3PM in Downtown Miami, and it is inviting the community to join in their efforts.
The main thrust of We Are United is to show that we are proud of and united in our differences and what makes us unique; that we wish to operate with compassion, care towards one another, and remain supportive of each other with respect and in celebration of these differences. It aims to tackle hate and divisiveness, by clearly demonstrating that people are better off united.
Currently, the following organizations have signed up to be part of this alliance. Together, they hope to repair the current frayed social fabric:
American Jewish Committee
Books & Books
COSMOS
Guitars Over Guns
Jewish Community Relations Council of the Greater Miami Jewish Federation
Love the Everglades
MCCJ
MDC
Miami Herald
Miami Jazz Cooperative
Muslims Communities Association of South Florida
Office of Mayor Daniella Levine Cava
South Miami Cobra Alumni Band
The Underline
Unitarian Universalist Congregation of Miami 
YWCA
Organizers plan to make this march an annual event. Over ten entities, including the Office of Mayor Danielle Levine Cava are encouraging additional organizations to join the alliance. "Sadly, we're at the point where almost anything can turn into a topic of division, and it's only getting worse," states Matt Anderson, MCCJ executive director. "We profoundly believe every person has the right to live in dignity and enjoy respect, regardless of race, gender, faith, ethnicity, national origin, age, sexual orientation, physical or mental ability or socioeconomic status. For that reason, we aspire to make Miami a model of intercultural understanding."
On May 15th, MCCJ and this newly formed alliance will assemble at The Freedom Tower at 3:00PM. We will March on streets that will be closed to traffic. The distance of the March is 1.25 miles. The march will officially begin at 3:45PM lead my drummers with the South Miami Cobra Alumni Band. People are expected to make it The Underline (right near Brickell station) by 4:40PM. At that point, there will be a performance by Guitars Over Guns followed by speeches from key figures. The event ends at 6PM.
SPEAKERS: (In Order of Appearance)
Beatriz Gonzalez - Wolfson Campus President of Miami Dade College
Matt Anderson - MCCJ Executive Director
Michelle Johnson - Faith, and Community Leadership Liaison for the Office of Mayor Daniella Levine Cava
Rabbi Julie Jacobs of Beth David Congregation
Tibetan Buddhist Lama Karma Chotso
William "Bill" Diggs - newly elected Executive Director of Miami-Dade Economic Advocacy Trust (MDEAT)
Meg Daly - CEO/President of Friends of The Underline and Chairwoman of The Underline Conservancy and a board member of the Miami-Dade Transportation Trust
Michelle Ramirez-Patricios - MCCJ Board Secretary and past Chair
Rev. Houston Cypress - poet, artist, and environmental activist with Love the Everglades
Rev. Tom Capo - Minister at the Unitarian Universalist Congregation of Miami
Imam Bilal Karakira of Masjid An-Noor.
PARKING:
Parking is available at Miami Dade College Campus (parking lot) at the base of the Freedom Tower. 500 NE 2nd Avenue Miami FL 33132.
ABOUT MCCJ:
MCCJ, Inc. was originally founded in Miami in 1935 as the Miami Branch of the National Conference of Christians & Jews. Later, the group was renamed the Miami Coalition of Christians and Jews. In 2011, in recognition of its embrace of people of ALL faiths and secular backgrounds, the organization formally changed its name to MCCJ, Inc. Today, it goes beyond its original intent by creating a haven for dialog, training inclusive leaders and promoting understanding for all faiths, races and cultures through education, advocacy, and conflict resolution. It hosts the oldest continuous interfaith clergy dialog in the United States and presents prejudice reducing programs in local high schools, among other activities. For more information, please visit www.miamiccj.org or call 305-755-6096. Find them on Facebook and @MCCJ_Miami on Twitter.
ABOUT FRIENDS OF THE UNDERLINE:
Our mission is to deliver and activate a 120-acre, world-class linear park spanning 10-miles below Miami's Metrorail that will transform regional mobility and celebrate diversity, culture and lifelong learning. Through innovative urban trails and creative programming, we are connecting people to their environment and each other to create a safe, healthy, equitable, and sustainable community. For more information visit theunderline.org and follow on social media @theunderlinemia.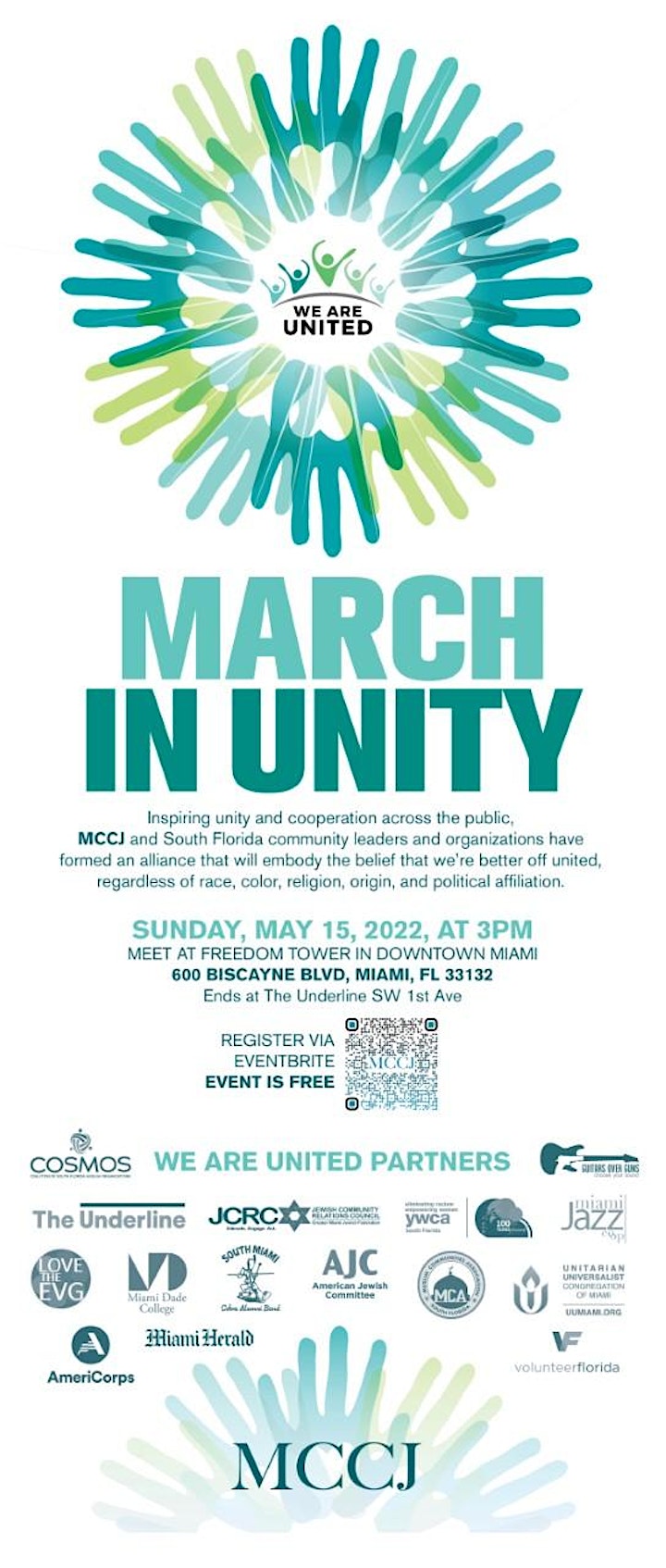 Date and time
Location
Freedom Tower at Miami Dade College
600 Biscayne Boulevard
Miami, FL 33132