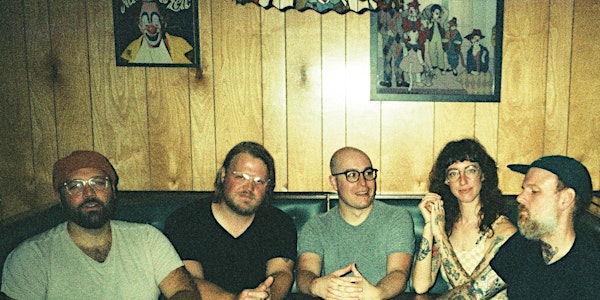 We Are The Willows + Hello Death + Ellie Jackson
We Are The Willows is the art pop project of Minneapolis based singer/ songwriter/ producer Peter M.
When and where
Location
Anodyne Coffee Roasting Co. 224 West Bruce Street Milwaukee, WI 53204
Refund Policy
Contact the organizer to request a refund.
Eventbrite's fee is nonrefundable.
About this event
$12 adv/ $15 at the door (advance sales until 3pm day of show, then available at the door). Doors at 7pm, showtime 8pm
We Are The Willows
We Are The Willows is the art pop project of Minneapolis based singer/ songwriter/ producer Peter M. His unique countertenor voice is often supported by Jeremiah Satterthwaite (guitar), Travis Collins (bass/ voice), Hilary James (cello/ voice), and Josh McKay (drums). Whether as a band or a solo artist, we are the willows crafts dynamic songs with a contemplative air. The songs cover a lot of conceptual ground: from family history to modern social life and personal identity.
We Are The Willows has been releasing music since 2007. The most notable release, Picture (Portrait), a 20 song, two part concept album based on letters written between Miller's Grandparents during World War II, garnered praise from NPR, the BBC, NOISEY, PASTE magazine, Buzzfeed, The Brooklyn Vegan, and USA Today. Between 2009 and 2017 the band toured a great deal, including showcasing at SXSW, Treefort Music Fest, Summerfest, and supporting slots with Blitzen Trapper, S. Carey, PHOX, and Matt Pond PA.
In the summer of 2020, the band released their third full length record: Who We Are & Where We Are Now. This album finds the band with more clarity, consideration, and sense of self. These songs are about processing depression, anxiety, the nature of love, and identity. This album is a testament to getting better for the people and things you love. It's an acceptance that there is no arrival point, there's only who we are & where we are now.
Hello Death
Hello Death released their third full-length album, "For Those With Many Hearts" on June 23, 2018. Recorded over a cold rainy weekend, in a barn called Speckled Chemistry Studios, the songs look alternately down from a mountain and up from a hole to explore themes of time, love, decay, growth, memory, and resolve.
"Moody folk outfit Hello Death excels at sparse, haunting music that works it's way into your bones like a winter chill…the group doesn't so much perform folk music as suggest it; Allschwang's gorgeously airy alto, Heuer's Nick Cave-esque baritone, and the group's stripped down instrumentation combine to form a sound that seems to pre-date music itself."
-Milwaukee Record
Hello Death's self-titled debut was recorded in 2012, the early days of April Base Studio in Fall Creek, WI. In the fall of 2013 they released "Hello Death" on vinyl, silencing a sold-out crowd at the Pabst Theater in Milwaukee while opening for Volcano Choir. The set closed with "Footsteps", a song that perfectly encapsulates the strange balanceHello Death has cultivated, as a myriad of instruments and vocal qualities cross paths to form a sound that is so singularly foreboding. -Mezzic
In 2014 the Heuer Directed video for "Settlers" was included in the Milwaukee Film Fest. In 2015, Milwaukee label Gloss Records released Hello Death's second album "Remnants". Soon after, the Artistic Director of Alverno Presents enlisted Hello Death to curate the penultimate show in the Uncovered series at Alverno College. Defying expectations of their folk genre, Hello Death performed with an ensemble of 24 musicians to bring 'Prince Uncovered,' reinterpretations of Prince songs, to the Pitman Theater on October 17th, 2015.
Hello Death closed the show with a haunting-yet-beautiful interpretation of "7"—a "little prayer that Prince wrote," according to Heuer. -Milwaukee Record
Hello Death members Marielle Allschwang- guitar/violin/voice, Nathaniel Heuerdouble bass/guitar/voice, Shawn Stephany- guitar/lap steel, and Erin Wolf piano/keys/harmonium/voice have been contributing to Milwaukee culture for over a decade with various musical groups, as solo artists, writers, directors, curators, and by sharing stages with touring bands; Volcano Choir, Nathaniel Rateliff, The Staves, Christopher Paul Stelling, Dark Dark Dark, Jozef Van Wissem, Christopher Porterfield and many more.
Ellie Jackson
Ellie Jackson - delivering determined vulnerability and emotional exploration through guitars, stories, amplification and a careful balance of harmony and dissonance.
$12 adv/ $15 at the door (advance sales until 3pm day of show, then available at the door). Doors at 7pm, showtime 8pm