We Are The Voices Presents: SOCIAL LISTENING Social Listening is a new series of virtual readings from local artists.
About this event
We Are The Voices Presents: SOCIAL LISTENING
Social Listening is a new series of virtual readings from local artists.
To wrap up National Poetry Month, we have the honor of hosting MK Chavez, Maw Shein Win, and Dena Rod.
MK Chavez is the award-winning author of Mothermorphosis (Nomadic Press, 2016) and Dear Animal (Nomadic Press, 2017), and contributor to Hexing the Patriarchy: 26 Potions, Spells, and Magical Elixirs to Embolden the Resistance (Seal Press, 2019). Chavez is co-founder/curator of the reading series Lyrics & Dirges & is the co-director of the Berkeley Poetry Festival. Chavez is the recipient of an Alameda County Arts Leadership Award, the PEN Oakland Josephine Miles Award, and was recognized by the Berkeley Public Library Foundation in 2019.
Maw Shein Win is a poet, curator/organizer, artist collaborator, and educator in the Bay Area. Her poetry work includes Invisible Gifts: Poems (Manic D Press, 2018), Score and Bone (Nomadic Press, 2016), and Ruins of a glittering palace (SPA, 2013). Win is the co-recipient of the Critical Refugee Studies Grant, recipient of the Arkadii Dragomoshchenko Prize for Innovative Poetry, and a two-time Pushcart Prizes nominee. Win was the 2019 Visiting Scholar in the Department of English at the University of California, Berkeley; and is the first poet laureate of El Cerrito, California (2016-2018). Win's poetry collection Storage Unit for the Spirit House is forthcoming from Omnidawn Publishing in Fall 2020. mawsheinwin.com
Dena Rod is currently the assistant creative nonfiction editor for Homology Lit and the author of the chapbook swallow a beginning (2020). Dena works to illuminate their diasporic experiences of Iranian- American heritage and queer identity, combating negative stereotypes of their intersecting identities in the mainstream media. Their poetry and creative nonfiction essays have appeared in Forum Literary Magazine, Argot Magazine, and in the anthologies: My Shadow is My Skin: Voices from the Iranian Diaspora (University of Texas Press, 2020), Imagoes: A Queer Anthology (Love Pain & Poetry, 2019), and Endangered Species, Enduring Values (Pease Press, 2018). Rod contributed to the film Beyond Bloodlines (funded in part by the Yerba Buena Center for the Arts).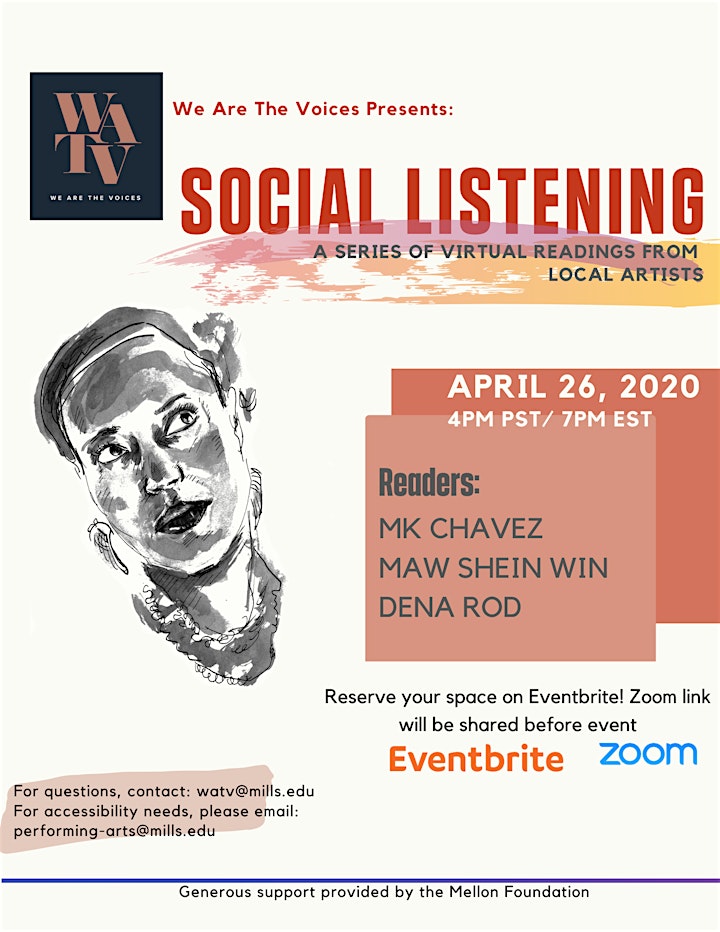 Organizer of We Are The Voices Presents: SOCIAL LISTENING with MK Chavez & More