Multiple Dates
We Are Stronger Movie - Veterans and First Responders Private Screening
Description
Calling All Veterans and First Responders!
May 14-15 at 6:30 PM - FREE Event Open to Veterans, First Responders, and their Families (May 16 reserved for an overflow date)

Join us for a complimentary private screening of the award-winning movie WE ARE STRONGER. Meet some of the actors, actresses, and producers of the movie. Enjoy a special presentation after the show. Limited seating each night.
WE ARE STRONGER is a faith-based movie exploring a veteran's battle with PTSD. As he struggles to recover from his injuries, reclaim his marriage, and adjust to life after combat, Vic discovers he can't do it alone.
WE ARE STRONGER Awards and Nominations for 2018:
America Movie Awards - Grand Prize Winner 2018
InternationalCFF - Nominated for Best Inspirational Film of the Year
InternationalCFF - Nominated for Best Trailer of the Year
CFF - April 2018 - Best Feature Film, Best Director, Best Producer, Best Actor, Best Actress
Texas Independent Film Festival - Selected for screening
CMA - Top 4 awards for 2017
www.strongermovie.com
*May 17 at 6:30 PM (Open to the Public)
Special screening open to the public. Bring your small group, family, friends, neighbors, or church groups to a special screening of WE ARE STRONGER. Limited seating available. To purchase tickets Thursday night, May 17 go to... WE ARE STRONGER Thursday Night.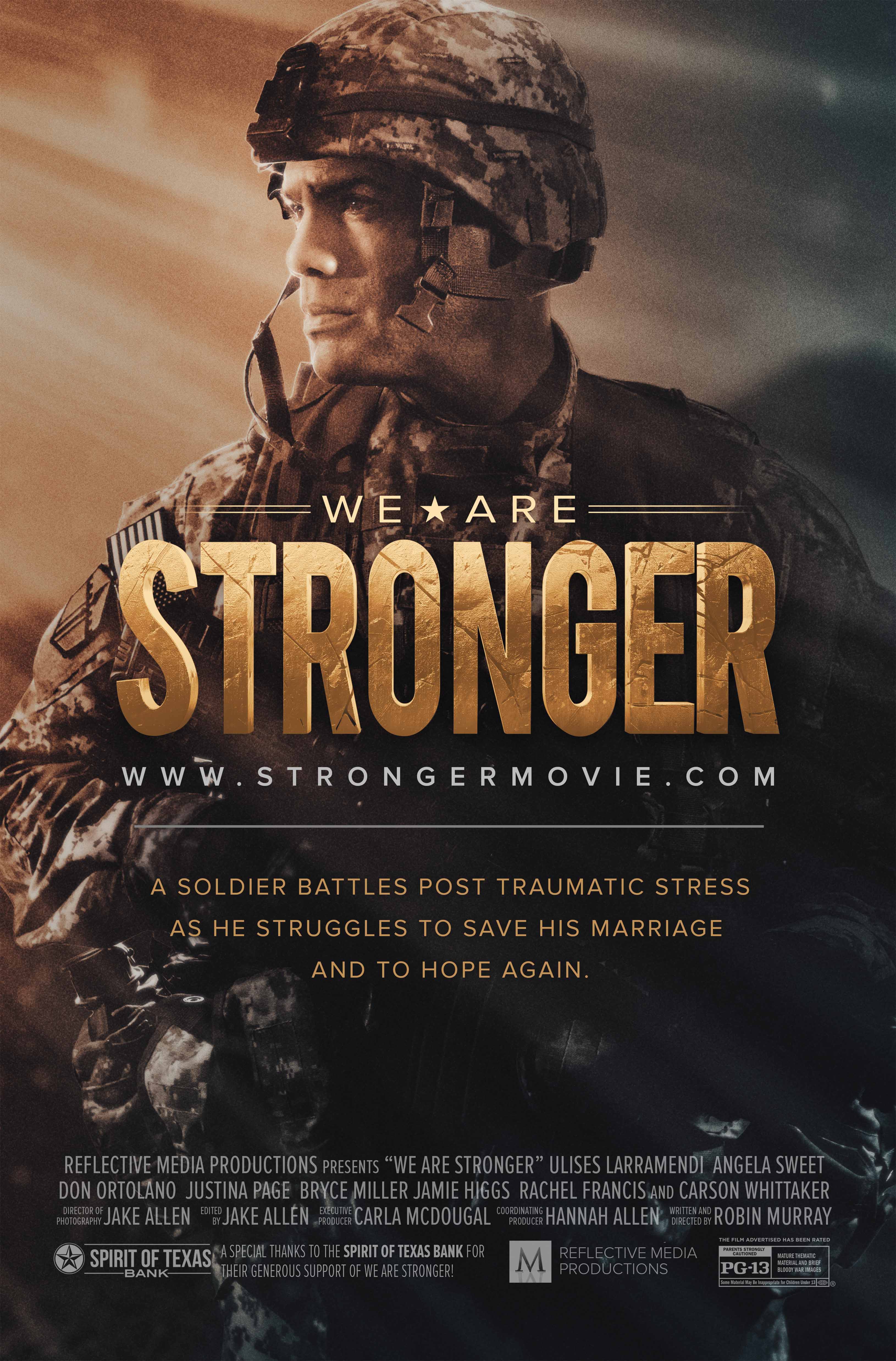 FAQs
Are there ID or minimum age requirements to enter the event?
Rated PG13 for Mature Thematic Conversations
A Special "Thank You" goes out to all our sponsors for their support for veterans, first responders, and their families to attend the WE ARE STRONGER private screenings.
Title Sponsors
Cornerstone Lodge
Benchmark Mortgage
Stream
Sponsors
State Farm
Empire 360 Media
Quality Roofing
Veterans Moving
Higher Vision Window Cleaning
Four Star Glass & Mirror
Simmons Floor Coverings
Simmons Floor Coverings
Anti-Social Media
Trinity Ordnance
Veteran Leak Detection
Julio's
Independence Title
Leading Leaders
Hope Chiropractic Center
Giggles & Grins
Tarrant Co Homeless Coalitions
The Lift Office