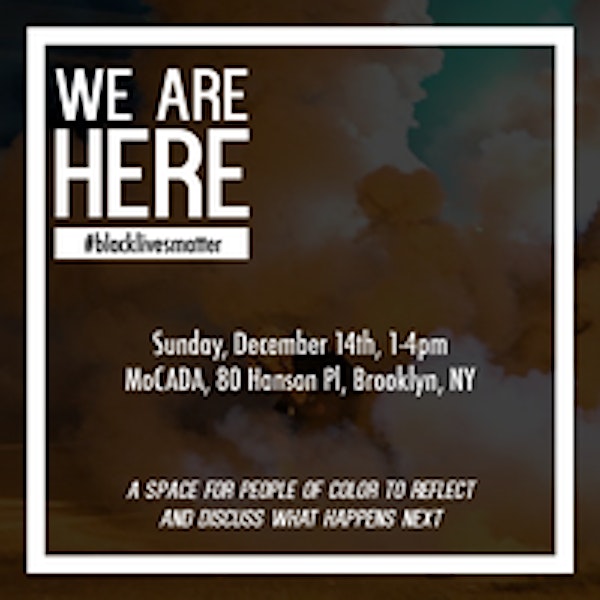 WE ARE HERE: #BlackLivesMatter
By The organizing team that brought you The Kara Walker Experience: WE ARE HERE.
Date and time
Sunday, December 14, 2014 · 1 - 4pm EST
Location
Museum of Contemporary African Diasporan Arts 80 Hanson Pl conference room Brooklyn, NY 11217
Description
Join us as we gather to discuss in community-- among people of color-- reflections + reactions evoked by the lack of indictments of the police who killed Michael Brown and Eric Garner. Building on the momentum and strong sense of community created around the WE ARE HERE: The Kara Walker Experience this past summer, the event's organizers invite you to join us again in:
WE ARE HERE: #BlackLivesMatter.
On Sunday, December 14th, we will gather for a community potluck and a discussion around our individual responses: how we've been grieving, when we've felt ok (and how to increase these moments), highs and lows of participating/ not participating in protests; and what we envision as being the next steps for this moment in history.
*The space has been generously donated by MoCADA (Museum of Contemporary African Diasporan Art) and has capacity for 50 people. **Please RSVP* and arrive by 1pm to ensure we can spend a beautiful afternoon together.
All people of color welcome! Bring a snack or dish to share! We look forward to engaging in a dialogue that's inclusive of many experiences.
"Because the machine will try to grind you into dust anyway, whether or not we speak. We can sit in our corners mute forever while our sisters and our selves are wasted, while our children are distorted and destroyed, while our earth is poisoned; we can sit in our safe corners mute as bottles, and we will still be no less afraid." --Audre Lorde