Welcome to the Windsor and District Highland Dancers Association's 4th Annual Celtic Christmas Competition!
About this event
Come join us in Windsor and Essex County for a joyful day of dance!
Scotdance Registration #C-ON-CO-21-2149
We would like to sincerely welcome everyone back to our competition. This event is being held in compliance with all provincial health and safety orders as well as facility requirements for Covid-19. Our goal is to allow our dancers to compete in a safe, calm, inclusive and positive environment. We appreciate unexpected situations will arise on the day that may require action that is meant to protect our dancers, judges, volunteers and other participants.
Exact times for each category/group will be emailed to each participant ONE WEEK prior to the event. Dancing will commence at 9am with the Primary and will proceed as dictated by our registration numbers. This will be a split day with Premier dancing in the afternoon.
On the day of the competition, if you or any household family member has symptoms, has been diagnosed as having Covid-19, has been required to quarantine or self-isolate within the previous 14 days, or has been out of the country within the previous 14 days – please stay at home. Please do not attend if you are feeling unwell, experiencing COVID-like symptoms, or if you have been asked by Public Health to self-isolate.You may contact the Competition Secretary by email to advise of your situation: Please be respectful of all requests or you will be escorted from the facility.wdhda2019@gmail.com
Parking is available behind the Masonic Temple (limited) as well as a pay for parking lot behind the Masonic Temple with access off Goyeau Street. If heading north on Ouellette Ave. turn right onto Erie Street and turn left onto Goyeau Street. If heading south from Riverside Drive, turn left onto Erie Street and turn right onto Goyeau Street. The parking lot will be on the left beside the gas station. Please do not park at the gas station.
Dances:
Primary: 16 Pas de Basques, Pas de Basques and High Cuts, Highland Fling (4), Sword Dance (2&1)
Beginner: Highland Fling (4), Sword Dance (2&1), Seann Triubhas (3&1), Special Fling (4)
Novice: Highland Fling (4), Sword Dance (2&1), Seann Triubhas (3&1), Special Fling (4)
Intermediate: Highland Fling (4), Sword Dance 2&1), Seann Triubhas (3&1), Highland Laddie (4)
Premier: Scottish Lilt (4), Village Maid (4), Earl Of Errol (4), Scotch Measure (4)
Rules for attending ScotDance Canada Sanctioned Competitions:
¬ On the competition day, entry into the competition will be allowed only after QR code or contact tracing sheet has been signed and declaration of good health has been provided.
¬ On the day of the competition proof of 2 approved vaccines with ID will be required before entry to facility. With exception to those under 12 years of age who are competing.
¬ On the day of the competition, if you are feeling unwell, experiencing COVID-like symptoms, or if you have been asked by Public Health to self-isolate, please stay home.
¬ If you test positive for Covid following the event, you must contact the competition organizer
¬ Wearing of masks is strongly encouraged for the safety of all attending. Masks must be worn by all entering the facility if there is a provincial government mask mandate order in effect at the time. Please bring your own mask! Dancers may choose to remove mask prior to going on stage for each dance. A bag will be provided for each dancer's mask, if they choose to remove it while competing.
¬ Physical distancing strongly encouraged at all times while within the facility.
¬ Only one parent/guardian is allowed in the facility with their dancer(s)
¬ All competitors and their parents/guardians are required to exit the facility once their competition events are completed. An exception is where a parent/guardian may be volunteering, and even then, they must exit once their duties have been completed (exiting facility requirements dependent upon crowd size capacity restrictions in effect).
¬ There will be no costume changes and no space provided for costume changes at this time. Dancers are to arrive in costume prepared to dance, hair done and make-up applied. Please bring safety pins to affix number to dance costume.
¬ No garment bags or personal foam mats will be allowed within the facility when crowd size capacity restrictions are in place – please leave unnecessary items in your car.
¬ If crowd size capacity restrictions in place, in order to facilitate the unique situation faced when organizing this event, dancers will be called to the marshalling (line-up) area in small groups almost immediately prior to competing. Dancers who do not arrive when called may forfeit their opportunity to compete for that event.
¬ If crowd size capacity restrictions in place, the results will be announced following each dance, and awards will be given out as competitors exit the facility at the end of their competition time.
¬ Washroom facilities will have limited occupancy depending on number of cubicles while maintaining physical distancing requirements—this may be a requirement of the facility. Please limit use as much as is possible.
Competition Rules and Regulations:
1. All dancing events are governed by the rules and regulations of the Royal Scottish Official Board of Highland Dancing (RSOBHD) and ScotDance Canada.
2. This event may be cancelled at any time up to, and including on or during the date of competition, dependent upon public health concerns. Arrival times and registration times will be given closer to the date of competition.
3. The decision of the judge(s) is final.
4. Dancers will compete in inverse order of entry. First to enter is last to dance.
5. Age is as of 12.01am on competition date.
6. Entry fee must accompany entry.
7. Late entries will NOT be accepted.
8. Refunds are at discretion of Organiser policy. Where admittance to event is refused based upon good health declaration, fees will be refunded (excepting an administration fee of $5.00 per family).
9. All competitors must present current Scotdance registration card prior to receiving awards.
10. Protests must be made in writing, signed and submitted to the Organiser by the end of the competition day and must be accompanied by a $35.00 fee, refundable, if sustained.
11. The Organiser reserves the right to combine or split classes.
12. No category changes will be accepted on the day of competition.
13. Competitors must be on hand when their event is called or forfeit entry in that dance.
14. All competitors must remain in costume for award presentations.
15. There will be no costume changes, dancers must arrive at facility prepared to compete.
16. Dancers must be dressed appropriately at all times.
17. Dancers and parents must respect the ScotDance Canada Risk Management Guidelines, local health authority directives, and RSOBHD Code of Ethics.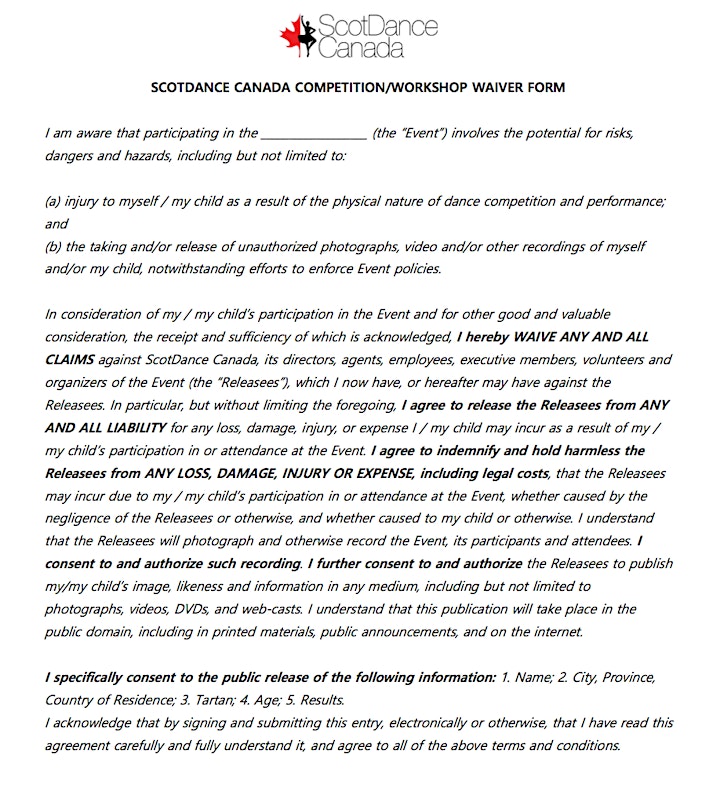 SCOTDANCE CANADA
Assumption of Risk and Waiver of Liability Relating to Coronavirus/Covid-19
This waiver & declaration must be completed prior to or upon visiting The Masonic Temple Ballroom Windsor and before participating in any activity. The novel coronavirus, COVID-19 has been declared a worldwide pandemic by the World Health Organization. COVID-19 is extremely contagious and is known to spread mainly by contact from person to person. Consequently, local, provincial and federal governmental authorities recommend various measures and prohibit a variety of behaviors, in order to reduce the spread of the virus. W&DHDA and ScotDance Canada and its members commit themselves to comply with the requirements and recommendations of National, Provincial and local Public health and other governmental authorities, and to put in place and adopt all necessary measures to that effect. However, W&DHDA and ScotDance Canada cannot guarantee that you (or your child, if participant is a minor/ or the person you are the legal guardian of) will not become infected with COVID-19. Further, attending the Activities could increase your (or your child, if participant is a minor/ or the person you are the legal guardian of) risk of contracting COVID-19, despite all preventative measures put in place. ______________________________________________________________________By signing this document, I acknowledge the highly contagious nature of COVID-19 and I voluntarily assume the risk that I (or my child, if participant is a minor/ or the person I am the legal guardian of) could be exposed or infected by COVID-19 by participating in W&DHDA/ScotDance Canada)'s activities. Being exposed or infected by COVID-19 may particularly lead to injuries, diseases or other illnesses.I declare that I (or my child, if participant is a minor/ or the person I am the legal guardian of) am participating voluntarily in W&DHDA/ScotDance Canada's Activities.I declare that neither I (or my child, if participant is a minor/ or the person I am the legal guardian of) nor anyone in my household, have experienced in the last 14 days prior to the date of W&DHDA/ScotDance Canada, cold or flu-like symptoms (including fever, cough, sore throat, respiratory illness, difficulty breathing) and or have travelled from outside of Canada and been asked to quarantine upon return/entry into Canada.I declare that neither I (or my child, if participant is a minor/or the person I am the legal guardian of) have tested positive for COVID-19, and have not yet been cleared to discontinue isolation in accordance with applicable criteria communicated by public health officials (awaiting results); have been in close contact with a person who, to my knowledge, had symptoms of COVID-19 or has tested positive for COVID-19, and have not yet been cleared to discontinue isolation in accordance with applicable criteria communicated by public health officials; or am currently subject to a quarantine or self-isolation order.If I (or my child, if participant is a minor/ or the person I am the legal guardian of) experience, or if anyone in my household experiences any cold or flu-like symptoms after submitting this declaration, I (or my child, if participant is a minor/ or the person I am the legal guardian of) will not attend any of W&DHDA/ScotDance Canada's activities, programs or services until at least 14 days have passed since those symptoms were last experienced. I (or my child, if participant is a minor/ or the person I am the legal guardian of) agree to the requirements and recommendations of National, Provincial and local Public health and other governmental authorities and to those special safety regulations put in place by W&DHDA/ScotDance Canada as it pertains the Covid-19 Coronavirus and to adopt all necessary measures to those effects. I (or my child, if participant is a minor/ or the person I am the legal guardian of) agree that, by filling out and signing this waiver and agreeing to the terms and conditions set out in it, I am giving up my legal rights to sue (W&DHDA/ScotDance Canada) and its officers and directors, in the event that I (or my child, if participant is a minor/ or the person I am the legal guardian of), contracts the Covid-19 Coronavirus.This document will remain in effect until W&DHDA/ScotDance Canada, as per the direction of the National, Provincial and local Public health and other governmental authorities, determines that the acknowledgments in this declaration are no longer required. This document is in addition to and does not replace all other W&DHDA/ScotDance Canada waivers.I HAVE ACKNOWLEDGED THIS DOCUMENT FREELY AND WITH FULL KNOWLEDGE.Signature required if in person, otherwise acknowledge by email or via online entry form.__________________________________Print name __________________________________Date (dd/mm/year)__________________________________Signature
Organizer of W&DHDA 4th Annual Celtic Christmas Competition