Description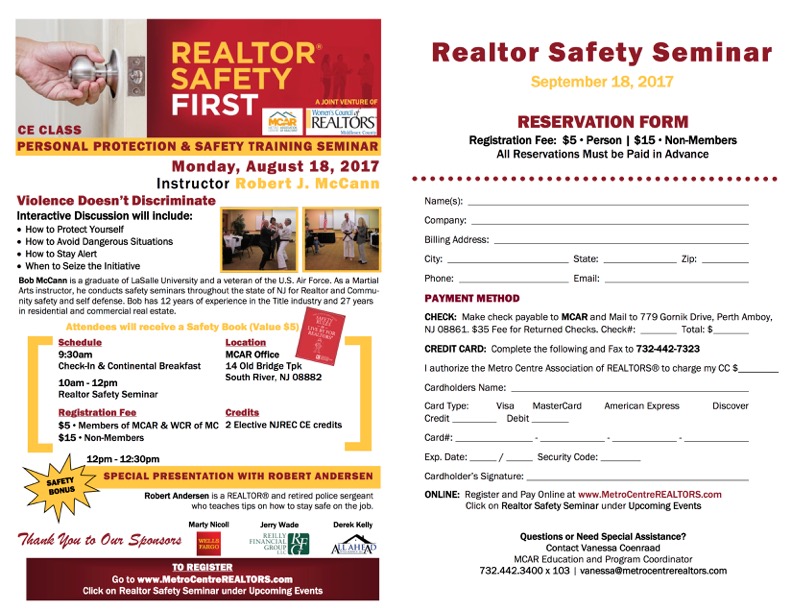 JOINT MEETING MCAR & WCR- SPECIAL EVENT NEEDS REGISTRATION- SEE BROCHURE BELOW
GO TO: www.metrocentrerealtors.com
Click on REALTOR SAFETY SEMINAR under UPCOMING EVENTS
**NEW LOCATION** MCAR BUILDING- 14 Old Bridge Turnpike South River, NJ
9:30am Check In & Continental Breakfast
10:00am-12:00pm-Realtor Safety Seminar
12:00-12:30pm- SPECIAL PRESENTATION WITH ROBERT ANDERSEN-STAYING SAFE ON THE JOB
Continental Breakfast and Networking with Successful Realtors and Friends!
TOPIC: REALTOR SAFETY SEMINAR- 2 CE CLASS-PERSONAL PROTECTION & SAFETY TRAINING
INSTRUCTOR: Robert J. McCann, a Martial Arts Expert will be presenting a course on Realtor Safety and Personal Protection.
PLUS- Special presentation Guest speaker, Robert Anderson, who is REALTOR and a retired police officer. He will teach tips on how to stay safe in the job.
ALL will receive a safety booklet from NAR- (from National Association of Realtors)
Handout included: The little Red book: Safety Rules to Live By for Realtors
SPONSORS:

1. Marty Nicoll of Wells Fargo
2. Jerry Wade of Reilly Financial Group LLC
3. Derek Kelly of All Ahead Title Agency LLC
Looking forward to learning and networking!
---
BRAS '4' A CAUSE
DATE: OCTOBER 6, 2017 6:00pm-10:00pm
COST: $40.00 pre-paid and $45.00 at the door
PLACE: Potuguese Club, 100 John St , South River- Catered by Ria Mar
DJ: Costa Entertainment