WCMIF Workshop - Musical Long-Form Intensive, Robot Teammate & The Acciden...
Description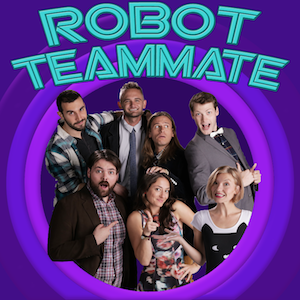 In Robot Teammate & The Accidental Party's 5-hour Musical Long-form Intensive, students will learn how to create improvised narrative musicals with a strong beginning, engaging middle, and satisfying end. Whether you're the lead, the villain, or any of the characters that serve the story along the way, this workshop will give you the tools to know your role in delivering a rewarding conclusion. Taking inspiration from Disney and Broadway, RTAP will teach you their original story structure which will set up your improv team to tell nuanced and hilarious stories through music.

Since 2012, LA-based musical comedy collective ROBOT TEAMMATE has entertained and inspired audiences with their otherworldly improvised musicals at venues such as UCB, Nerdist, Westside Comedy, LA ComicCon, and on a weekly live stream show on Geek & Sundry Twitch.TV. The singy-song automatons set a world record in 2014 for most consecutive cage match wins after 86 weeks of competition at iO West, and have since kept the bots on the road, teaching and performing regionally, including a "Best in Fest" run at the San Diego Improv Festival 2016. With their powers combined, they've created three award-winning scripted musicals based off of their improvisations, TIMEHEART, THUG TUNNEL, and TURBULENCE!, winner of Best Musical, Best World Premiere, Outstanding Songwriting and the Critics Choice Award at the 2017 Hollywood Fringe Festival.

Instructors:

Dave Reynolds is a good ole New Hampshire boy whose an expert in Hawaiian shirts. He grew up loving SNL, worshipping Robin Williams, and performing improv for his dog. Now in LA, Dave is a member of musical improv and theater company Robot Teammate, Charney Comedy on YouTube, and a Ralphs customer.
Kat Primeau has been turning everything into a musical since '86. A producer, choreographer, songwriter and clown, her work has been featured on Dr. Demento's radio show, Sesame Street digital, and in jingles for stupid health insurance. When not creating with her robot friends, Kitty is a comedy mentor with Laughter for a Change and a cult leader for the band Sumeau. She will make you sing, and you will also probably like it.
Molly Dworsky grew up in Minnesota, where she developed a deep love for musical theater. She learned to improvise there at ComedySportz before moving to Cali in 2012. She loves singing and laughing, and is so grateful to get to do both with her best friends in Robot Teammate.
Branson NeJame is a Cali boy that's been studying improvising for a while. He started in Second City and Comedy Sportz in High School (along with plenty of Comedy Central Binging) and later moved to study Pop and Jazz improvisation in College. He has the pleasure and joy of performing getting to combine all these crazy studies with Robot Teammate!