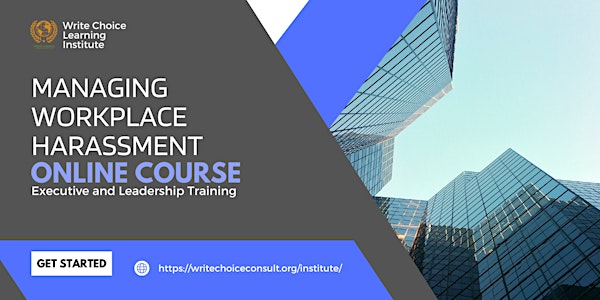 WCLI Managing Workplace Harassment
Workplace harassment. A growing problem in America. Oh, you may say, "not in my office," or "not our team," but workplace harassment is an
Refund Policy
Contact the organizer to request a refund.
Eventbrite's fee is nonrefundable.
About this event
Workplace harassment. A growing problem in America. Oh, you may say, "not in my office," or "not our team," but workplace harassment is an increasing issue in many organizations today. It can come in the form of a slap, a phrase, an email, or reassignment of duties. Harassment is not okay and it is illegal. Harassment needs to be reported so that the company can handle the issue properly and remediate any future problems.
Course Objectives:Research has consistently demonstrated that when clear goals are associated with learning, it occurs more easily and rapidly. With that in mind, let's review our goals for today.
You Will:At the end of this workshop, participants should be able to:
Define various types of discrimination and
Identify the different types of harassment and their signs.
Understand the employer's responsibilities.
Discuss how to remediate workplace harassment.
Understand the harassment reporting processes and procedures.
Discuss the steps that will be necessary in reporting harassment in the workplace.
Target Student:
Course Core Competencies:Module 1: DiscriminationTopic A: GenderTopic B: RaceTopic C: ReligionTopic D: Disability
Module 2: PhysicalTopic A: HittingTopic B: Threatening BehaviorTopic C: Destroying PropertyTopic D: Workplace Homicide
Module 3: VerbalTopic A: YellingTopic B: InsultingTopic C: OrderingTopic D: Blaming
Module 4: SexualTopic A: TouchingTopic B: GesturesTopic C: Sharing Inappropriate PhotosTopic D: Sharing Inappropriate Jokes
Module 5: PsychologicalTopic A: IsolatingTopic B: DiscreditingTopic C: DisparagingTopic D: Contesting
Module 6: CyberbullyingTopic A: Sending Humiliating Mass EmailsTopic B: Sending Harassing EmailsTopic C: Emailing Lies to OthersTopic D: Monitoring Policy
Module 7: Employer ResponsibilityTopic A: Understanding Federal and State LawsTopic B: RecordkeepingTopic C: Investigating ComplaintsTopic D: Remediating Harassment
Module 8: Stopping Harassment Before It HappensTopic A: Developing an Anti-Harassment PolicyTopic B: Regularly Updating PolicyTopic C: Training EmployeesTopic D: Emphasizing Consequences for Non-Compliance
Module 9: Reporting HarassmentTopic A: Filing with Human Resources ASAPTopic B: Keeping Detailed RecordsTopic C: EEOCTopic D: Filing a Lawsuit
Module 10: Handling Harassment ComplaintsTopic A: Creating a Step-by-Step ProcessTopic B: Publishing a Step-by-Step ProcessTopic C: Training EmployeesTopic D: Retaliating