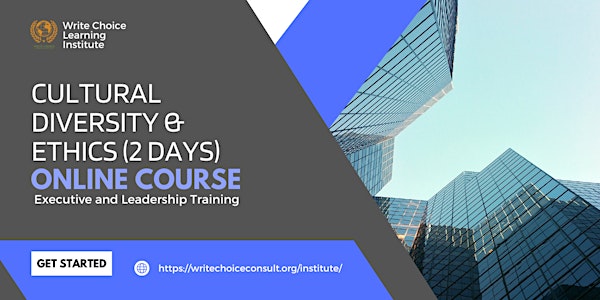 WCLI Cultural Diversity & Ethics (2 Days)
This course covers diversity in the workplace for employees, supervisors, team leaders and managers.
Refund Policy
Contact the organizer to request a refund.
Eventbrite's fee is nonrefundable.
About this event
DAY 1: Diversity
Students will learn what diversity is and how it influences their relationships with others, and how to differentiate between-and overcome-stereotyping, prejudice, and discrimination. Students learn how communication skills help in managing a diverse workforce and how diversity influences relationships between co-workers. This instructor's edition is designed for quick scanning in the classroom, and filled with interactive exercises.
Course Content:
Fundamentals of diversity
Topic A: Overview of diversity
Topic B: Advantages of diversity
Identifying differences
Topic A: Cultural differences
Topic B: Personality styles
Overcoming barriers to diversity
Topic A: Barriers to diversity
Communicating in a diverse workforce
Topic A: Effective communication
Managing Diversity
Topic A: Manage diversity in a workforce
DAY 2: Ethics
Manage with Authority and Fairness
Good and bad. Right and wrong. They're not always easy to discern. And it is a manager's job to support both the wellbeing of the employees and the company. This is essential to maintaining a successful and productive work environment. Whether you are facing issues about relationships, discipline, safety or performance, learn how to identify and assess ethical dilemmas and formulate the best strategies for addressing them.
Course Content:
Understanding the Problem and the Need
Topic A: Definitions of Ethics
Topic B: Identifying Your Ethical Concerns
Forces That Shape Ethical Behavior
Topic A: When and Where Do We Develop Ethical Values?
Topic B: Ethics and Your Job
Topic C: Factors That Modify Ethical Values
Ethical Considerations in Transactions with Employees
Topic A: Identifying Ethical Concerns in Employee Transactions
Topic B: Ethical Implications in Choosing Between People
Topic C: Ethics and Performance Appraisal
Topic D: Ethics and Communication with Employees
Topic E: Ethical Approaches to Maintaining Discipline
Topic F: Administering Reward Systems
Ethical Considerations in Transactions with Your Boss
Topic A: Sources of Ethical Concerns in Transactions with the Boss
Topic B: Following Orders and Directives from Above
Topic C: Supporting and Communicating
Ethical Considerations in Transactions with Your Peers
Topic A: Ethical Issues in Peer Transactions
Topic B: Supporting and Communicating with Peers
Topic C: Collaboration-A Beneficial and Ethical Tool
Topic D: Constructive Problem Solving
Solving Ethical Problems
Topic A: An Organized Approach
Topic B: Solving Ethical Problems: The 10-Step Method
Review and Suggestions for the Future
Topic A: Five Rules for Ethical Behavior
Topic B: Design a Life Plan for the Future