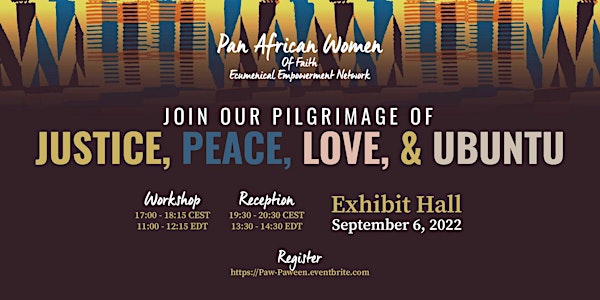 WCC- PAW/PAWEEN: Pilgrimage of Justice, Peace, Love & Ubuntu
WCC- PAW/PAWEEN Presents Our Pilgrimage of Justice, Peace, Love and Ubuntu (Workshop and Reception)
When and where
Location
Karlsruhe Karlsruhe Trade Fair Center 00000 Messe Karlsruhe Germany
About this event
This workshop will engage the principles of the pilgrim of justice and peace and Ubuntu with the following themes identified by women of Africa and of African Descent.
Remembrance (Positiva): a) Sharing their stories of healing, community building and reconciliation that have promoted being "African at Heart; b) Harvesting the diverse stories, outcomes and learnings of the PAWEEN-PAW pilgrimage(s) of justice and peace since 2013.
Diversity in Unity (Negativa): a) Sharing their stories of marginalized and rejected truths; Probing the theological principle of the "Imago Dei" and denial of this with these women.
Advocacy (Transformativa): Reflections that help inform and inspire ecumenical advocacy in a diverse unity (Ubuntu) with these women. Recognition of these women's reflections, leadership, and self-determination, with accompaniment from the churches, can help disrupt the paradigms of systems that oppress and promote white hegemony.
​In summary, the UBUNTU workshop will reinforce the shared values of the Brunnen philosophy via a baseline scaffolding of storytelling (a well), emphasizing the diverse voices of women of the African Diaspora and Africa. It will also highlight the significance of ubuntu from a lens that reflects and engages the African world past, today and the future (Sankofa). in a manner that has relevance as well as spiritual and theological meaning. In so doing, the workshop will identify, acknowledge, and critique neo-colonial methodologies that continue to promote disunity among the Africans in Diaspora and Africans especially women in these related places.