WBCN documentary: Regal Fenway Theatre and after-party at Fenway Johnnie's
About this Event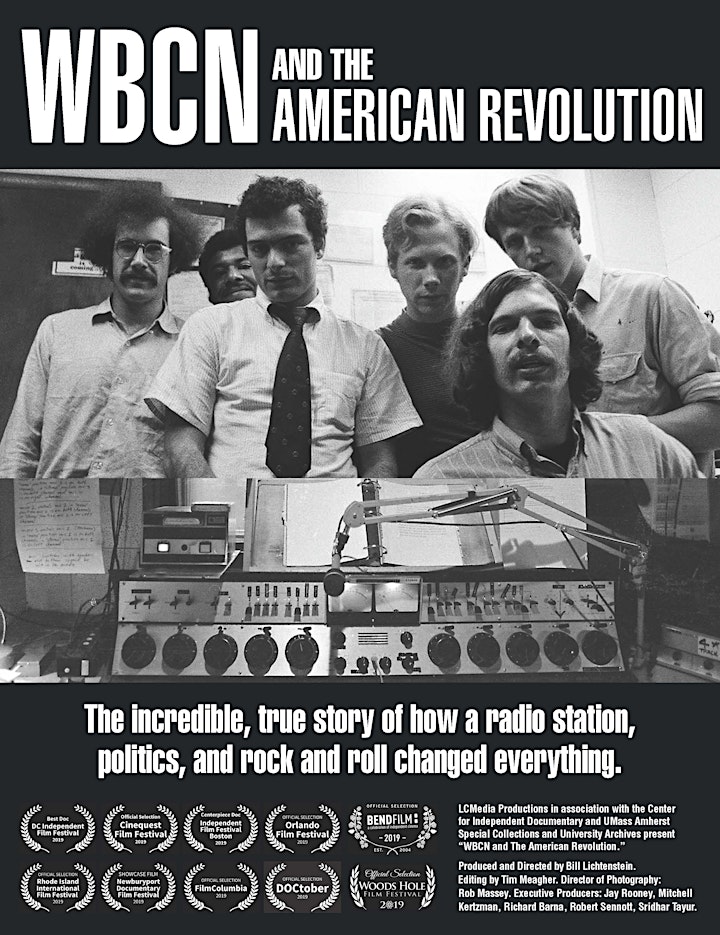 Join us at the FENWAY REGAL THEATRE followed by FENWAY JOHNNIE'S on December 4, 2019 starting at 7:00 pm (doors open at 6:30 pm) for an exclusive screening of the new documentary film "WBCN and The American Revolution" and private after-party.
This award-winning production tells the incredible, true story of the early days of the radical underground radio station set against the dramatic social, political, and cultural changes that took place in Boston and nationally in the late-1960s and early-1970s.
Following the screening at the REGAL FENWAY THEATRE (201 Brookline Avenue, Boston) there will be an after-party at FENWAY JOHNNIE'S (96 Brookline Avenue, Boston) featuring WBCN airstaff legends Charles Laquidara, Maxanne, Tommy Hadges, Joe "Mississippi" Rogers, Norm Winer, Sam Kopper, Debbie Ullman, John Brodey, Bob Slavin, Dinah Vaprin, Al Perry, Steven Segal, Mitchell Kertzman, along with WBCN's Cha-Chi, Oedipus, Tank, Eli "Wicked High" Sherer, and Albert O along with filmmaker Bill Lichtenstein -- and Red Sox Hall of Famer, Bill "Spaceman" Lee.
Music by blues icon James Montgomery and band, with scheduled special guests appearances by Kate Taylor, and Willie "Loco" Alexander, and legendary MC Charles "Master Blaster" Daniels.
LIMITED TICKETS ARE STILL AVAILABLE.
MAKE A TAX-DEDUCTIBLE DONATION NOW AND SEE YOU ON DECEMBER 4th!