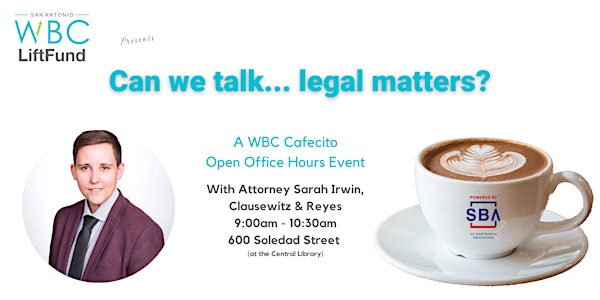 WBC Cafecito: Can We Talk?
Join us for this in-person session as we explore legal topics that impact your business growth.
Date and time
Friday, June 16 · 9 - 10:30am CDT
Location
Women's Business Center - Inside the Central Library 600 Soledad San Antonio, TX 78205
About this event
Welcome to our WBC Cafecito: Can We Talk?
A Cafecito (or "little coffee" in Spanish) is also known as an endearing event that brings people together. The San Antonio Women's Business Center seeks to cultivate a vibrant culture within our blossoming business community that transcends across ages, genders, nationalities, and backgrounds.
At our June 'Can We Talk? Cafecito' event we will discuss various legal themes impacting small businesses. Sarah Irwin, a seasoned attorney with Clausewitz & Reyes, will lead the conversation around matters that can have a serious impact on the future of your business. Join us for this in-person event.
About the SA WBC
The Liftfund Women's Business Center is dedicated to supporting entrepreneurs, especially women and underserved communities.
The LiftFund San Antonio Women's Business Center is funded in part through a Cooperative Agreement with the U.S. Small Business Administration. This institution is an equal opportunity provider and employer. Reasonable accommodations for persons with disabilities will be made if requested at least two days in advance. Contact SA WBC Customer Service at 888.215.2373 ext. 3000 or wbc@liftfund.com.
Are you new to the Women's Business Center? We invite you to become our client. Our services are FREE. From pre-venture to established businesses, you'll find plenty of valuable information as well as next steps and special WBC Insider tips.
If your business operates within our service area (see below), then we'd love to help! Sign up HERE.
About the organizer
LiftFund is one of the nation's largest non-profit community small and micro business lender. Our mission is to provide credit and services to small businesses who do not have access to loans from traditional sources.