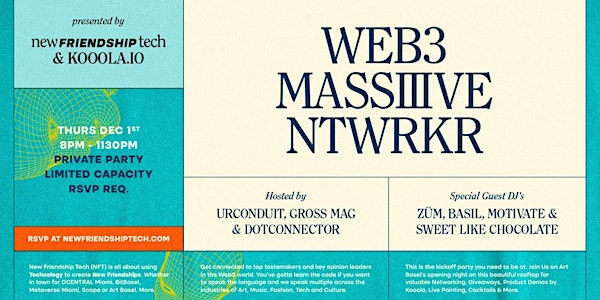 WΞB3 MASSIIIVE NTWRKR - MIAMI ART WEEK
New Friendship Tech understands community and continues to bring together the best of the Web3 world under one roof. This is your invite!
About this event
KOOOLA.io Presents:
WΞB3 MASSIIIVE NTWRKR
Hosted by: New Friendship Tech & DotConnector
Get Connected to top tastemakers and key opinion leaders in the Web3 world. You've gotta learn the code if you want to speak the language and we speak multiple across the industries of Art, Music, Fashion, Tech and Culture.
New Friendship Tech(NFT) is all about using Technology to create New Friendships
Whether in town for DCENTRAL Miami, BitBasel, Metaverse Miami, Scope or Art Basel. This is the kickoff party you need to be at. Join Us on Art Basel's opening night on this beautiful rooftop for valuable Networking, Giveaways, Product Demos, Special Guest DJs, Live Painting, Cocktails & More.
This is a Private Party w/Limited Capacity. RSVP Req.
ZÜM + BASIL, Motivate & Sweet Like Chocolate.
Hosted by Eric Spivak, Juice, Jason Ludman, Kooola.io
https://www.twitter.com/ericspivak - https://www.twitter.com/urconduit
https://twitter.com/jludman - https://twitter.com/DotConnectornft - https://www.DotConnector.xyz
https://twitter.com/KOOOLACITY - https://www.Kooola.io