WAYZATA'S BOO BASH DASH | OCTOBER 30, 2021
About this event
Get ready for the 3rd annual Wayzata Boo Bash Dash powered by Schuler Shoes and hosted by Wayzata Sailing and Wayzata Area Chamber of Commerce. You can choose from several certified races:
Certified 5K (sponsored by Youngstedts)
Certified 10K (sponsored by 360 Financial)
Lake Street Mile (sponsored by Sanford Pierson Thone & Strean, PLC) Cash prizes awarded to the fastest overall - top male and top female. 
And a 1 mile Fun Run (sponsored by The Grocer's Table)
ALSO RETURNING! Don't miss the Pumpkin Derby (sponsored by Jaguar Land Rover Minneapolis)!  Who can build the fastest pumpkin racer?  Everyone can enter a pumpkin racer.  The Pumpkin Derby starts at 11 am at the Pavilion in downtown Wayzata.  Prizes for fastest and most creative. Register your pumpkin today! Wheels, hardware and rods included, though you'll need your own pumpkin. Kits are available to pick-up at Wayzata Sailing 10/26 [10-4], 10/27 [10-4], 10/28 [10-4], or 10/29 [10-7]. Need help installing or crafting? Join us for build night on 10/29 from 4-7pm at Wayzata Sailing and we'll help with our tools! Remember to return your wheel kit to WS for reuse next year, we'll have a bin to collect parts following racing.
START TIMES
10K: 9:00am (Start on Lake Street near upper deck of Mill Street Ramp)
5K: 9:15am  (Start on Lake Street near The Great Lawn)
Lake Street Mile Race: 10:30am  (Start on Lake Street West of Ferndale)
Family Fun Run 1M: 10:40am (Start on Lake Street West of Ferndale)
Pumpkin Derby: 11:00 am (Start at The Pavilion)
RACE PACKET PICKUP
Friday, Oct. 29 from 3 pm - 6pm  OR Saturday, Oct. 30 from 7:30 am - 9:15 am at  The Pavilion at The Promenade (850 Lake St. N, Wayzata)
Registration by Oct. 15 guarantees a t-shirt!  We are giving out t-shirts for the Lake Street Mile, 5K and 10K races only. NO T-SHIRT FOR THE FAMILY FUN RUN OR PUMPKIN DERBY but you can buy one when you register online or at Race Packet Pick Up while supplies last.
PRICING
Before October 1:
10K – $40
5K – $35
Lake Street Mile Race– $25
Family Fun Run 1M - $5
Pumpkin Derby - $20
October 1 -  28:
10K – $45
5K – $40
Lake Street Mile Race – $25
Family Fun Run 1M - $5
Pumpkin Derby - $20
October 29 & 30:
10K – $50
5K – $45
Lake Street Mile Race – $30
Family Fun Run 1M - $5
Pumpkin Derby - $20
ACTIVITIES FOR THE FAMILY
Please check in on race day for the Costume Contest and Boo Blast's Trick-or-Treating through historic downtown Wayzata. Whether you ran in a race or not, these activities are fun for the entire family!
In addition to the race, all are invited to Trick or Treat in Wayzata on October 30! Dress the kids up and Start/Stop wherever you'd like! Participating merchants will have a Trick or Treat sign in windows of their store or restaurant.
FAQ'S
How do I confirm that I registered?
You will receive an emailed confirmation once you've completed the online registration.  If you don't receive a confirmation contact info@wayzatachamber.com
When is the last day I can register online?
Registration online will be available up until the race start times!
Can I pick up someone else's race packet or can someone else pick up my race packet?
Yes however, the person picking up other participant's packets assumes all responsibility for lost packets and timing chips. No ID required.
If I can't make it to packet pick up can I have my race packet mailed to me?
We will not be able to mail race packets. However, race packets can be picked up on the day of the Boo Bash Dash.
Are there restrooms on the race course?
yes, there will be restroom's in the registration area near the start/finish lines and on the course
Will there be water stops on the course?
Yes. There will be one water stop on the 5K Course and two on the 10K course. 
Is the race course closed to traffic?
Some of the race course will be closed to traffic. However, some sections will be shared with vehicles. Wayzata Police will assist runners at major intersections and roads will be marked with traffic cones to keep runners and cars in their respective lanes. While the course will be monitored by volunteers and police, we ask the runners to be aware at all times and take extreme caution when sharing roads.
Can I wear my iPod or other music playing device?
Yes, although we recommend that you keep the volume at a level that will allow you to hear other runners, race officials, traffic, etc. BE AWARE OF YOUR SURROUNDINGS.
If I can no longer race due to injury or other matter can I receive a full refund or transfer my registration? 
There is a no race refund policy. However we do allow you to transfer your registration to an alternate distance or participant. All transfers must be made 24 hours before the event.
You will pay the difference if transferring to a longer distance. There is no refund for transferring to a shorter distance. The same rules apply if transferring to a new participant.  To transfer your registration please contact boo.bash.dash@wayzatasailing.org.
Are these races certified? 
The 10K, 5K and the Lake Street Mile are all certified
Can I register on race day? 
Yes
Where's the best place to park? 
The Promenade Parking Ramp (via Lake/Engle or Superior) and lower half of the Mill Street Parking Ramp (via Broadway).
Can I run with my Pet? 
No.
If you have any additional questions contact boo.bash.dash@wayzatasailing.org.
Routes: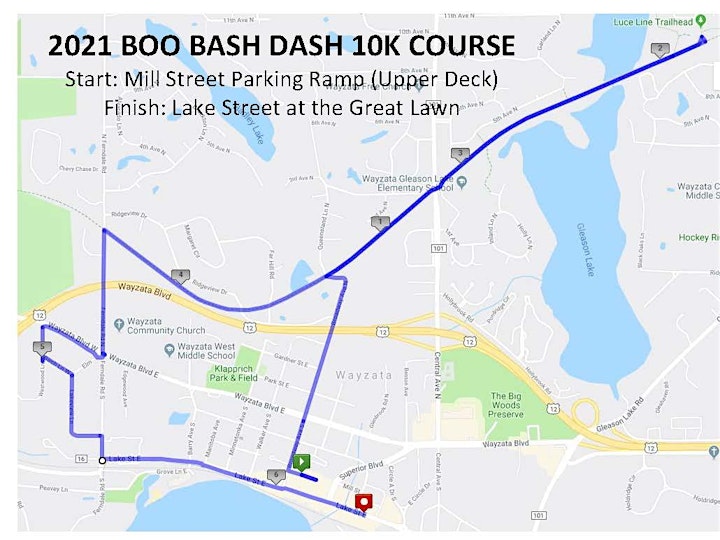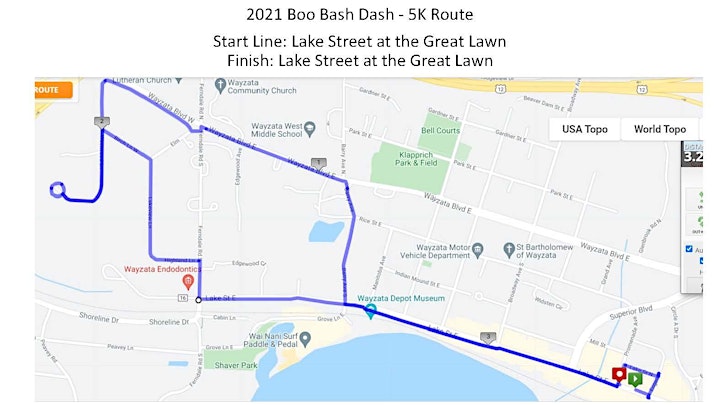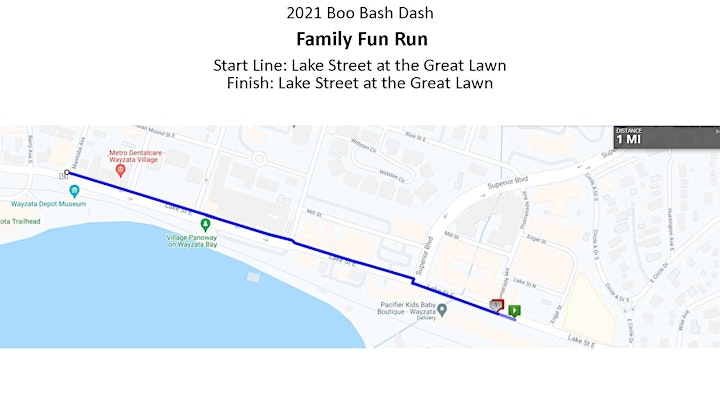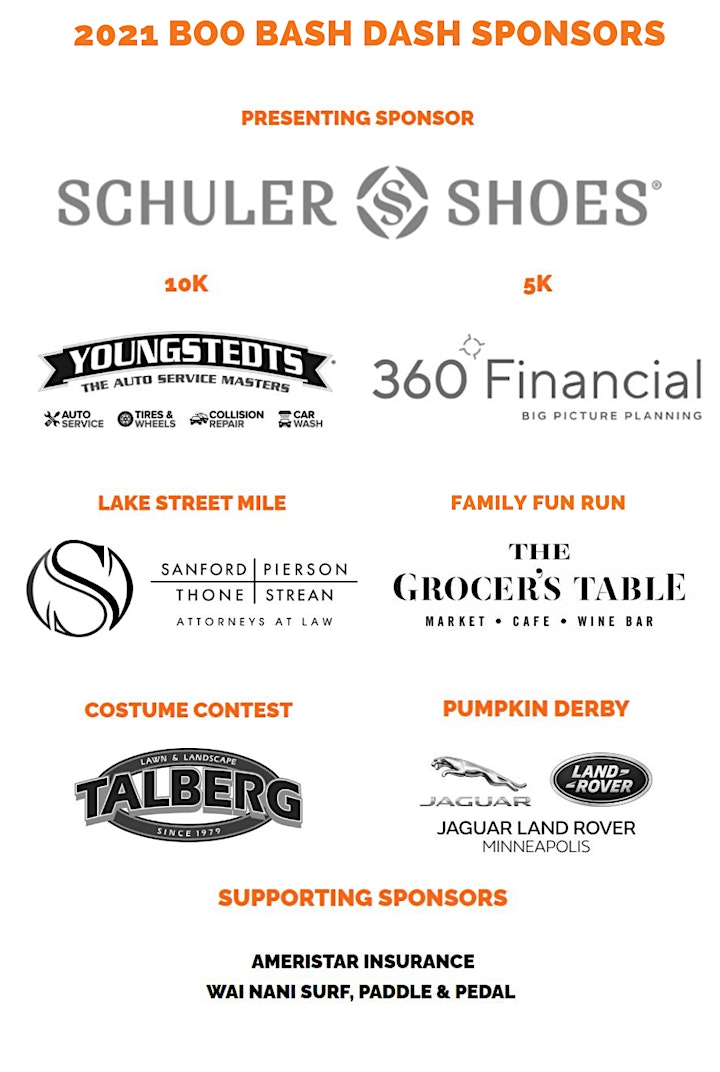 Organizer of Wayzata's Boo Bash Dash 10k/5k/1 Mile Run 2021