Sales Have Ended
Ticket sales have ended
We are SOLD OUT. There are no longer tickets available. Join our waitlist in case a golfer can't make it. Otherwise, be sure to mark your calendar for next year.
Sales Have Ended
Ticket sales have ended
We are SOLD OUT. There are no longer tickets available. Join our waitlist in case a golfer can't make it. Otherwise, be sure to mark your calendar for next year.
Description
Congratulations! You are officially on your way to being part of the "Coolest" outdoor event in the upper Midwest. For 32 years thousands of our closest friends have thrown logic to the wind and met up for golfing and fun on a frozen lake in the middle of winter. But we need to know a little more about you and your group of golfers, because who doesnt want to know something about the people you invite to your party, right?! So if you want to review the event schedule and FAQ's see below, otherwise purchase your ticket(s) by clicking the button to the right.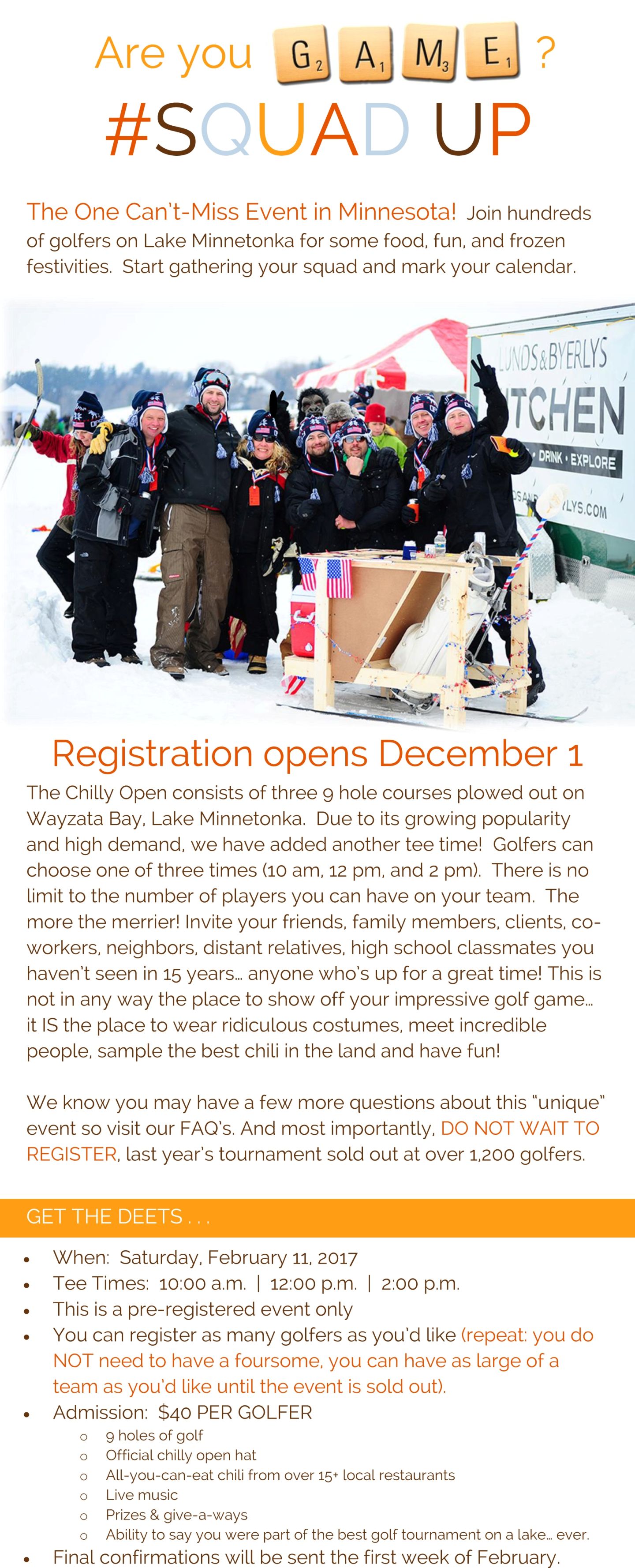 FAQs
I already have an existing team. It says on the website that the tee time is "SOLD OUT" is it really sold out, I just wanted to add 1 more golfer to my team?
Yes, the tee time is REALLY sold out and there is no way to purchase tickets to the sold out tee time. We are all about solutions though so what you CAN do is "Transfer" your team to a different tee time that is still available. It's easy, just click here to complete the simple steps.
How do I join or create a team after I've already registered individually?
That's easy, click here and follow these instructions.
What's the refund policy?
No refunds granted or exchanges allowed. This includes the unlikely event that the Chilly Open is forced to cancel or move due to weather/ice conditions. Players may substitute other golfers in place of their name by editing their own registration/ticket.
What do we use to golf?
We supply the tennis balls (2 per golfer) and YOU bring the golf club of your choice. We've seen anything from a hockey stick, to a tee-ball bat to a golf club.
What do I wear?
Golfers are always encouraged to dress according to the theme. GO ALL OUT! This year's theme is "FAVORITE GAMES", you know - board games, card games, drinking games... get creative. Just look at pictures we post by "Liking" our Official Chilly Open Facebook Page.
How many golfers do we need to sign up?
The more the merrier! Invite your friends, family members, clients, co-workers, neighbors, distant relatives, high school classmates you haven't seen in 15 years… anyone who's up for a great time!
Do they sell alcohol at The Chilly Open?
The Hennepin County Water Patrol and the City of Wayzata prohibit the selling and/or serving of alcoholic beverages at the Chilly Open. Therefore, it is a BYOB event. Think of it as boating on the lake in the summer. You can bring your own, but you can't buy it. Please also note that the City of Wayzata prohibits open alcoholic beverages in all public areas. This includes the Wayzata Beach and parking lot (or anywhere off the Lake). That being, please discard all alcoholic beverages while leaving the ice. Do not drink and drive. Use a designated driver or tax. To summarize, lets be respectful of the lake and Wayzata so we can continue to have this event for many years to come.
Can I consume alcohol at this event?
You may consume alcohol at this event if you are over 21 years of age.
Can I just show up or do I need to pre-register?
This is a PRE-REGISTERED event ONLY! Along with that, we ask that you pay when you register. We cannot "reserve" tickets, as this event sells out quickly.
Is there actually Chili at the Chilly Open?
Is the sky blue? Of course we have chili at the Wayzata Chilly Open! Over 15 restaurants will compete for this year's trophy and you get to sample them all! For a list of participants, please visit our "Chili Cook-off" page.
I've seen pictures of elaborate sleds – what's that all about?
You won't just see crazy golfers out on the ice, some teams event take it to the next level and bring sleds to haul their equipment! Check out our facebook page for some amazing examples.
Approximately how long does it take to golf all 9 holes?
Typically, golfers enjoy their time out on the course as they are meeting new friends and hanging with our awesome sponsors who provide additional games at each hole, so we estimate about an hour to an hour and a half.
What is the fee per golfer and what does that include?
The fee is $40 per golfer. That fee includes 9 holes of golf, the official Chilly Open hat, all-you-can-eat chili, live music, prizes & give-a-ways. AND AS MUCH FUN AS YOU CAN IMAGINE!