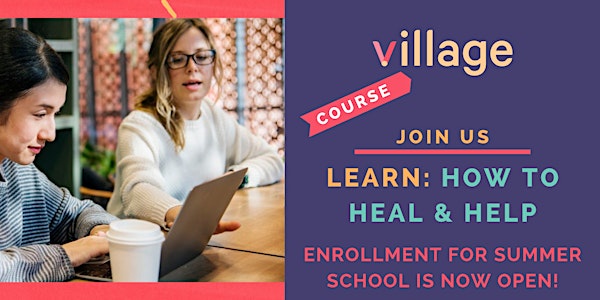 Ways to Heal & Help when loving someone in Addiction or Recovery (October Course)
Description
Enroll for the Village September Session to start feeling better and effecting positive change for yourself and in your relationships immediately.
Finally feel confident in your relationship with your loved one, know your role, and upgrade up your toolkit and skills to know exactly how to handle the tricky situations you're faced with when a loved one is struggling with addiction or in their recovery journey.

Know that this course is designed for you, not your loved one! It's built on the tried and true practices of those who've been through this and come out the other side, as well as the leading evidence-based methods that have been proven most effective, time and time again, in multi-million dollar clinical trials.

Tap into the power of daily practices to heal yourself and thrive again regardless of the chaos that comes with a loved one's addiction or recovery, and see that positive energy translate to all relationships and aspects of your life as well as in the way you show up in your life. And all from the comfort of your own home.


---

Is this for me?
You'll gain practical tools and the optimism needed to shift roadblocks ahead when a loved one is in the grips of active addiction or rocky recovery. Knowing that once recovery begins the real work and healing starts - this Summer Session is for both those with a loved one in active addiction and those with a loved one in recovery. No matter where we are in the journey you'll be able to leverage these skills for life!
Mark your calendars! The course kicks off the week of June 16th and we'll spend 8 weeks together rewiring our responses and pealing back our built up layers of stress.
This is your opportunity to get everything we teach in one neat and tidy bundle packaged into 8 weeks! Plus after the 8 weeks wrap you get to keep the ongoing supportive community you've been looking for!
Have questions? Get answers in a free consult with Jane by booking a call HERE.


---
What types of skills will I learn?
Learn the most impactful CRAFT skills and get a chance to practice them with live coaching and feedback, knowing that the more we hear these new skills and practice them the more they'll become our default way of interacting with our loved one and ourselves. And the better the outcomes for all involved.

Some of the skills you'll walk away with:

1. You Are Here: Self Care Strategies to tolerate the chaos and thrive
2. How to Heal: Customized practices to release chronic worry and built up stress
3. Positive Communication: How to Have Conversations that Work
4. Roadmap to Behavior Change I: Behavior Analysis and knowing where to Intervene
5. A Roadmap to Behavior Change II: A Plan for Positive Reinforcement
6. The Antidote to Enabling: Using Reinforcers & Natural Consequences
7. Boundaries & Resistance: Setting your Limits and Handling Resistance
8. Achieving & Sustaining Change: Tapping into their Motivations
9. The Science of Addiction: Tools for Trust and Dealing with Deceit
10. Talking about Treatment: And Extending the Invitation
11. Relapse Guide: How to measure recovery and what to do with a lapse
---
How does it work?

Using the power of the group we learn from each other's experiences and foster a sense of community and connection. You'll join for weekly group video calls, 1-1 sessions, and get worksheets and support every step of the way. If you ever can't make a live session, you'll have access to the recording to listen and / or watch at your own convenience.

All this adds up to a value of well over $1000. AND you get an additional 20% off (that's an additional $150) if you enroll in before September 3rd with code VillageCircleOfTrust

But what price can you put on peace of mind and getting your life back on track, really!?

---
Our promise to you, We The Village will always:

Hold space for much needed conversation and community around the rollercoaster of loving someone through addiction and recovery
As well as guide the group through game-changing tools to use in our own lives to thrive, and in that relationship to influence healthy behavior change in both ourselves and our loved ones
---
About your Village Guide:
Jane Macky, Founder and CEO, We The Village
Jane Macky is the founder and CEO of We The Village, a company she founded in 2018 as the brainchild of her own fight to recover her husband's life from addiction. Discovering that the tools she needed to help her loved one did not exist, and that traditional programs told her to detach, when it was clear instead he needed love and support. She made it her mission to revolutionize recovery, starting with empowering friends and family to help when someone they love is struggling with addiction. The online community at www.wethevillage.co is the first step towards that mission and gatherings is an extension of the online platform. Jane is trained by Dr. Robert Meyers in his method, Community Reinforcement and Family Training (CRAFT), which is proven in multiple clinical trials to be 70% effective at getting treatment resistant loved ones the help they need. Paticipated in the United Nations General Assembly (UNGASS) on Drugs in 2016. And holds a Yale BA in Psychology.

Jane is also a certified Yoga teacher in NYC and Meditation teacher, having practiced meditation 2x daily since her husband went to rehab in late 2015.

Learn more about the course in a free consult with Jane by booking a call HERE.