Ways to Career Success! Need a Career Mentor to Move up?
Description
It's time to increase your salary! This Saturday 3 business leaders will reveal to you the secret of success. Invest one morning and gain the accumulated wisdom from 30 years in the field! Don't miss the most rewarding investment of the year!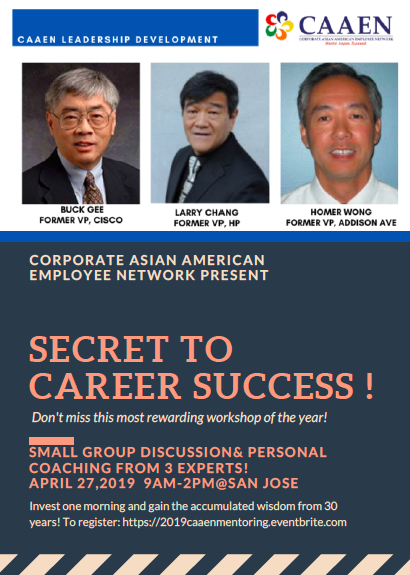 Who should attend?
Working Professionals who seek advice for career and leadership development.
Event Highlights:
1) One-on-One Career Coaching
about salary negotiation, career planning, career change, promotion, and more.
2) Panel Discussion
about career planning and way to breakthrough glass ceiling
3) Small Group Breakout Sessions
to ask C-level Officers specific questions & learn from others
The session will be from 9-2pm at San Jose with a panel discussion and two breakout sessions for small group discussion. A leadership development certificate will be granted once four focused workshops and one project are completed in one calendar year.
Participants are welcome to send their questions about career and leadership development, so that we will include most of them in the panel discussion. Some commonly asked topics are promotion, salary negotiations, team transfer, career mapping, etc.
Semi-business attire is recommended and light refreshment will be provided.
---
Mentor bio:
Homer Wong
Business Leader in Global Marketing
First Tech Federal Credit Union
During the 28 years that he was at HP, Homer's career included a number of different roles that enabled him to an effective manager and executive. Initially joining HP as a Systems Engineer in the field in 1979, Homer went on to take a number of field management roles. His executive experience includes being the General Manager for the North America Direct Marketing Organization, Director of HR Operations for the Americas, and Director of Strategic Alliances.
Some of Homer's career highlights include starting HP's first Pre-Sales Call Center, leading the HR transformation, the spin-off of Agilent Technologies and the merger with Compaq. In 2008 Homer joined the staff of Addison Avenue Federal Credit Union. Homer served on the Board of Directors for Addison Avenue for eight years before becoming part of the staff. At Addison Avenue, Homer is the VP of Business Development. In that role he is responsible for finding new sponsor companies as well as membership growth.
Homer's other activities include being on the Board of Directors for two non-profit organizations. The Bay Area HP Retired Employees Club and Community Overcoming Relationship Abuse (CORA).
Buck Gee
One of nine children from a working-class, immigrant family, Buck understood the values of "working hard" and "working smart." He graduated from Stanford University with B.S. and M.S. degrees in electrical engineering and later obtained an MBA from Harvard Business School. His background in both engineering and business management enabled him to take executive marketing and management roles in several early-stage high-tech startup ventures. He would help lead one startup through an Initial Public Offering and two others through successful corporate acquisitions. Following Cisco's 2004 acquisition of startup Andiamo, Buck became co-general manager of Cisco's Datacenter Business Unit.
Since his retirement, Buck has devoted an increasing amount of time to leadership development and philanthropy. He currently serves on the board of Ascend's Northern California Chapter, is board president for the Angel Island Immigration Station Foundation, and serves on advisory boards for the Asia Society and the Silicon Valley Community Foundation. Buck co-founded the Corporate Executive Initiative (CEI), a network of Bay Area Asian American executives, as well as the Advanced Leadership Program (ALP) for Emerging Asian American Executives, a Stanford Business School executive education program. He co-authored "The Failure of Asian Success in the Bay Area: Asians as Corporate Executive Leaders," a 2009 study that helped uncover some of the challenges Asian Americans face in rising to the top of corporate ladders.
He recently received a civic entrepreneurship award from the Asian Pacific American Leadership Institute (APALI) for his work in founding CEI and ALP to help the Asian American community understand organizational leadership skills and learn that working hard and smart is not enough to reach the highest management levels. In line with his personal background, Buck places particular philanthropic emphasis on education, preserving Asian American history, and assisting immigrants.
Larry Chang
Executive Advisor of Ascend
Board Member, Silicon Valley FACES
Former Independent Consultant at Haier
Retired VP of Finance, VP of Supply Chain at Hewlett Packard
Larry is the Executive Advisor for Ascend Leadership after serving as Co-President of the Northern California Chapter of Ascend. He was recently elected to the board of Silicon Valley FACES, a non-profit dedicated to teaching empathy while eliminating bias, bigotry and bullying among at-risk high school students in his local community.
Prior he served as a consultant advising the CFO and COO of Haier. Larry is a retired executive from HP where he held a variety of positions including IT Manager at Agilent, Field F&A Controller for Asia Pacific and Latin America, VP of Supply Chain and Distribution for the Personal Systems Group and VP & CFO for the Personal Computer Organization and for the Enterprise Systems Group. Larry led the supply chain, sales operations, and information technology integration during the HP and Compaq merger.
Prior to HP, Larry worked as cardiac catheterization lab technician at the Children's Hospital Medical Center in Boston and conducted medical analysis and research at the Harvard School of Public Health.
Larry received his bachelor's degree in engineering from the University of Michigan (GO BLUE!), and his masters of business administration from the University of California Berkeley (GO BEARS!)
Special Thanks to the following organizations: