Wayne State University's 3rd Annual Social Entrepreneurship Conference

Friday, April 3, 2020 from 8:00 AM to 4:00 PM (EDT)
Event Details
Wayne State's School of Social Work in partnership with the Damon J. Keith Center for Civil Rights, the Wayne State Business and Community Law Clinic, the Keith Students for Civil Rights, the Entrepreneurship and Business Law Society student organization, and the student-led social innovation program, OptimizeWayne, are jointly hosting the 3rd Annual Social Entrepreneurship Conference.Wayne State University's Social Entrepreneurship Conference brings together local and national experts who are creating impactful new ways to address unmet societal needs through social enterprise and social innovation.
This year's conference will focus on the intersection of social entrepreneurship and one of the major social justice issues of our day, criminal justice reform. The conference will highlight local social change agents who are addressing root causes of mass incarceration and working with individuals, groups and organizations in our local communities to innovate solutions and alternatives to incarceration that promote justice and sustainable human, social and economic development.
Who should attend? We expect to attract a trans-disciplinary audience of more than 250 community social entrepreneurs, corporate and business leaders, social workers and other helping professionals, community advocates and activists, nonprofit personnel, funders and impact investors, alumni, students, faculty and staff who are interested in addressing criminal justice reform through a social enterprise and social innovation lens, as well as budding and current social entrepreneurs who are interested in gaining practical knowledge on how to start or scale a social change venture.
Attendees can select from afternoon workshops that highlight social innovation OR business development workshops for social entrepreneurs including legal entity formation, business planning, marketing/social media, funding and resource development, and measuring social impact.
For liscenced social workers seeking continuing education units (CEUs), we have customized a track worth 6.0 CEUs. See presentations and workshops in green and marked with asterisk for cutomized CEU track. 

The event is $15.00 students, $50.00 non-students, and $80.00 for licensed social workers seeking 6.0 CEU.

Schedule at- a-glance
8:00 - 8:30 AM Registration
8:30 - 8:45 AM - Welcome Remarks
8:45 - 9:15 AM – Morning Plenary
9:15 - 10:15 AM - Keynote 1
10:15 - 10:30 AM - Morning Break
10:30 -11:30 AM- Keynote 2
11:30 - 12:15 PM - Lunch (Boxed Lunch will be provided)
12:20 - 1:35 PM - Afternoon Workshops SESSION 1
1:45 - 3:00 PM - Afternoon Workshops SESSION 2
3:00 - 3:15 PM - Afternoon Break
3:00 - 3:45 PM – Closing Presentation
3:45 - 4:00 PM - Closing Remarks
More about Presentations:
Morning Plenary - 
*Understanding the Human, Social and Structural Consequences of Mass Incarceration with Dr. Matthew Larson, Assistant Professor, Department of Criminal Justice, Wayne State University*

Keynote 1 -

*Where Does your Money Spend the Night...and What Does it Have to do with Private Prisons? with Morgan Simon, Impact Investor and Author of Real Impact. Do you know where your money spends the night? Most of us don't--and that means most of us, by keeping our money in big-name banks, have been part of financing the private prisons behind family detention. Over 70% of immigrant detainees are held in privately funded facilities, and 10% of incarcerated people nationally. But the good news is when we take control of our money--we can make a huge difference in building the world we want to see. Social investing expert Morgan Simon will share how.*

Keynote 2 -

*Resilience Education: Bringing Entrepreneurship and Business Education Inside of Prisons with Dr. Gregory Fairchild and Dr. Tierney Fairchild, Co-Founders of Resilience Education moderated by Jacquise A. Purifoy, Entrepreneur in Residence at The Build Institute*

Closing Presentation -

*Creating Economic Opportunities in the Detroit Context for Individuals, Neighborhoods and Communities Most Affected by Mass Incarceration with Whitley Granberry, Staff Attorney, Economic Equity, Detroit Justice Center
______________________________________________________________________
Below is a list of the workshops for session 1 and 2. Please indicate your choice of workshops when you reserve your seat. Each workshop is limited to 50 attendees.

SESSION 1 WORKSHOPS: Select 1

*1.1 Disrupting the Bail Bonds System with Asia Johnson, Detroit Justice Center, Nicolas Buckingham, Michigan Liberation, and Maya Menlo, Assistant Defender, State Appellate Defender Office

1.2 Measuring Social Impact with Rishi Moudgil, Founding Executive Director of GreenLight Fund and Margrit Allen, Detroit Director, Center for Employment Opportunities (CEO)

1.3 New Approaches to Community Safety and Wellness: Social Justice through Community-Based Diversion with LaNeice Jones, Chief Executive Officer of the Southwest Detroit Community Justice Center.

1.4 Forming your For-profit, Nonprofit, or Social Enterprise & Legal Issues at the Intersection of Entrepreneurship and Criminal Justice presented by upper-level law students from the Business and Community Law Clinic under the supervision of Anne Choike, Assistant Professor (Clinical) and Director, Business and Community Law Clinic at Wayne State University School of Law.

1.5 The Business Model Canvas: How Lean Business Planning Can Help Your Social Venture Start, Grow & Scale with Christianne Sims, Deputy Director, The Build Institute

1.6 Acquisitions Mechanics — Expanding Opportunities for Returning Citizens through Cooperative M&A with Joseph Cureton, Chief Coordinating Officer of the Staffing Cooperative
SESSION 2 WORKSHOPS: Select 1

*2.1 Jail Diversion Project with Bradley Ray, Associate Professor and Director, and Liz Tillander, Deputy Director for the Center for Behavioral Health and Justice, Wayne State University*

*2.2 Cooperative Businesses as Model for Building Non-extractive Wealth in the City of Detroit with Margo Dalal, Director of Detroit Community Wealth Fund*

2.3 Creating Entrepreneurship and Economic Opportunities for Returning Citizens at the Community Level: A Panel Presentation with Reverend Wallace Gilbert, Assistant Pastor, The Church of the Messiah, Kimle Nailer, President of Nail Rite, Leon El-Alamin, Founder and Executive Director of M.A.D.E. Institute moderated by Molly O'Meara, Alumni and Outreach Manager, Goldman Sachs 10,000 Small Businesses

2.4 Funding Social Ventures with Romy Kochan, President & CEO, Gingras Global, Heidi Alcock, Director of Grant Development & Communications at the McGregor Fund, and Evan Adams, Capital Grants Manager, The Build Institute

2.5 Marketing Social Ventures with Eric Thomas, SAGA Marketing
CONFERENCE ORGANIZERS AND SUPPORTERS:
Wayne State University, School of Social Work

Damon J. Keith Center for Civil Rights

Wayne State University, Business and Community Law Clinic

Keith Students for Civil Rights

Entrepreneurship Business Law Society StudentOrganization

CONFERENCE SPONSORS:
Wayne State University, Office of the Provost

For more information about the confrernce contact Marijo Upshaw at mjupshaw@wayne.edu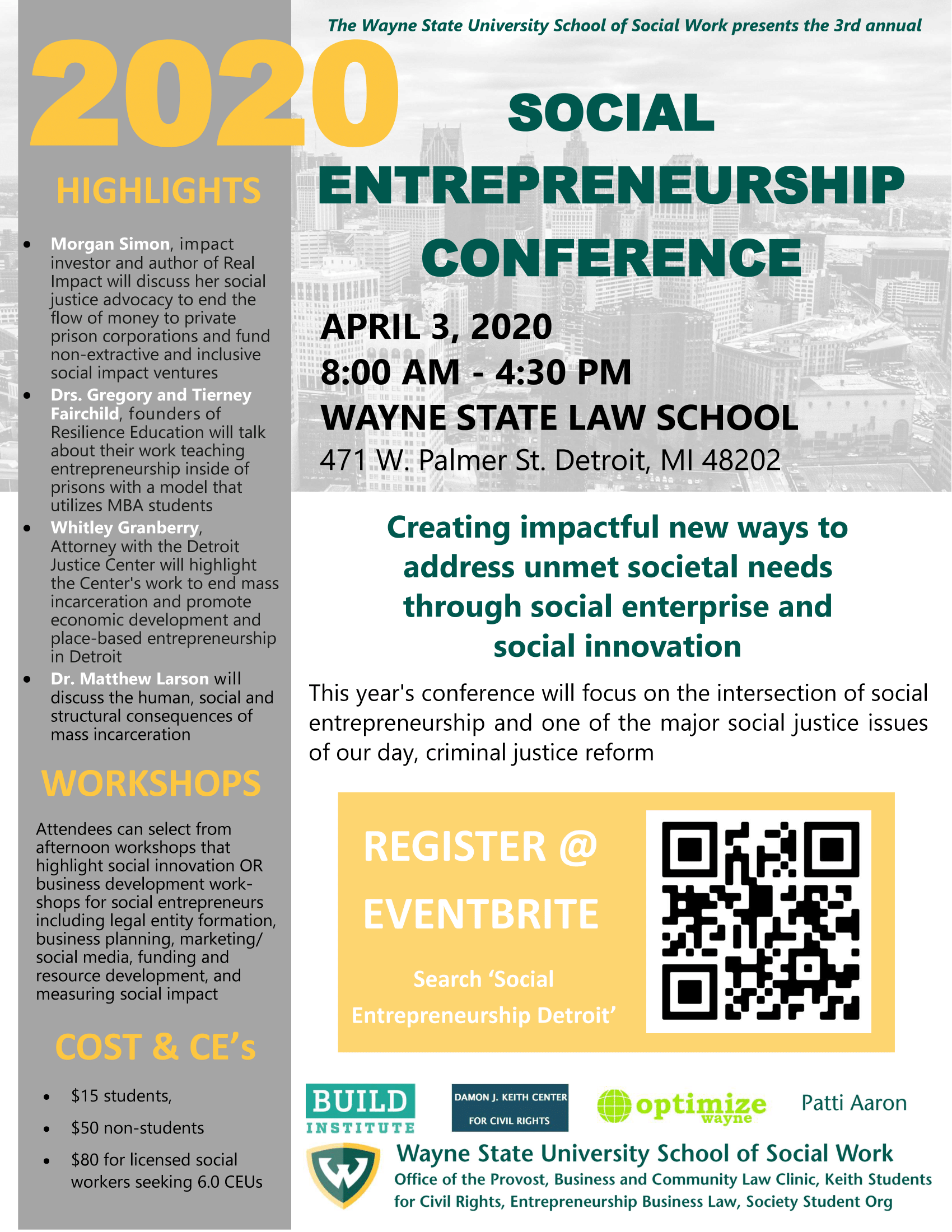 Save This Event
When & Where

Wayne State Law School
471 W. Palmer St.
Detroit, MI 48202


Friday, April 3, 2020 from 8:00 AM to 4:00 PM (EDT)
Add to my calendar