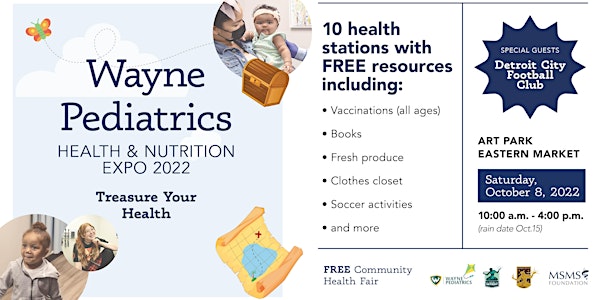 Wayne Pediatrics Free Community Health & Nutrition Expo
FREE produce, health resources and special guests including members of the Detroit City Football Club and Children's Author PJ Ball!
When and where
Location
Art Park Eastern Market 2801 Russell Street Detroit, MI 48207
About this event
All children will be provided a treasure map with opportunities to collect up to 10 'treasures' as families visit resource stations positioned throughout Art Park to include:
Primary Care Station (appointment scheduling with a pediatrician)
Childhood Literacy Station (free books/book signing with Author P.J. Bass )
Clothing Station (gently used children's clothing, hats & gloves)
Exercise Station (resources & demonstrations)
Fresh Produce Station (free boxes, valued at $35 ea.)
Horizons Project Station (HIV/AIDS testing/screening)
Mental Health & Development Station (resources)
Nutrition Station (resources & healthy snacks)
Stay-Active Station (featuring Detroit City Football Club)
Vaccination Station (immunizations)
In partnership with the Detroit Health Department, immunizations will be available for the entire family including COVID -19 vaccines and boosters for babies as young as 6-months old. Volunteer students from Wayne State School of Medicine will also be on hand to help administer vaccinations.
Wayne Pediatrics' Health & Nutrition Expo has been organized with grant funding from the Michigan State Medical Society Foundation. Community partners also supporting the expo include Detroit City Football Club, Detroit Health Department, Eastern Market, Henry Ford Health System, and Wayne State University School of Medicine.
For more information about Wayne Pediatrics' Health & Nutrition Expo, "Treasure Your Health," visit waynepediatrics.org or call (313) 448-9978.