About this Event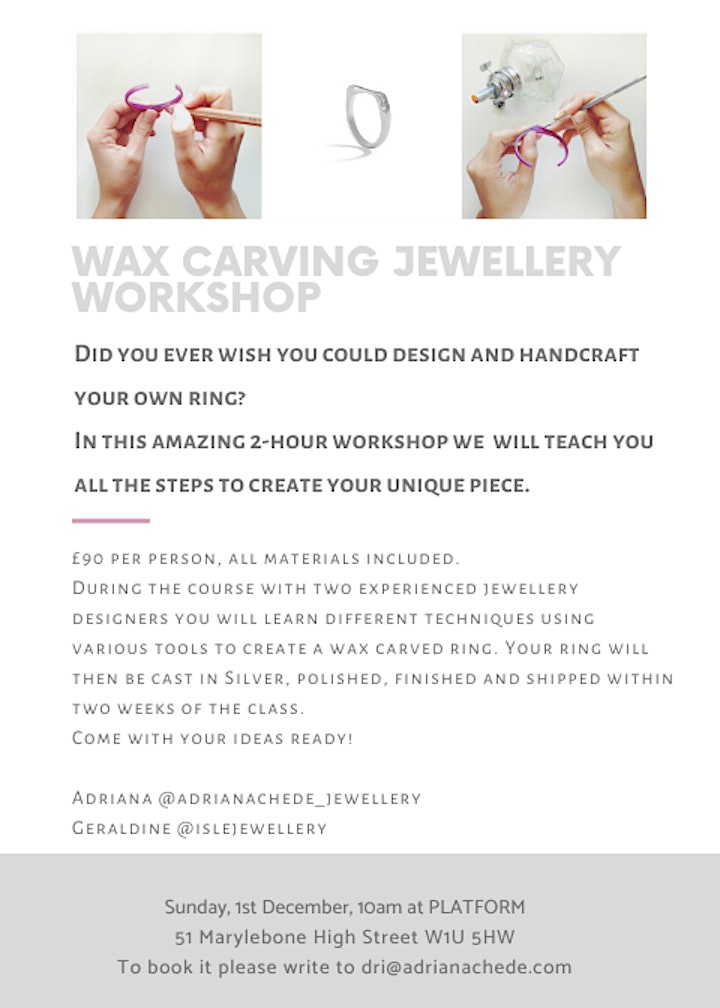 Have you ever imagined designing and making your own jewellery?
Through our Ring Wax Carving Workshop you will be able to bring your own ring idea to life in silver
In this amazing 2-hour breakfast workshop we are going to walk you through all the steps!
During the course you will learn different techniques using various tools to create a wax-carved ring. Your ring will then be cast in sterling silver, polished, finished and shipped to you within two weeks of the class.
There is also the possibility of upgrading to cast your carved ring in solid Gold. Additional costs will vary depending on the weight of the final piece in wax.
Get your ideas ready!
Costs £90 per person. Open to all levels, no materials or experience needed.
What's included: drawing material to sketch your ideas, wax tube and tools to carve it, tutoring.
There will be 2 jewellers giving the workshop:
Adriana is a Brazilian fine jeweller who designs and produces all her jewellery at her London atelier, working with Brazilian gemstones and minimalist jewellery for the modern women.
Geraldine is an Irish jeweller specialising in minimal fine jewellery, handcrafted in silver and gold. Her simple aesthetic is inspired by her years living and working in Japan.
Join us Sunday, 1st of December at the pop up shop PLATFORM: 51 Marylebone High Street, London W1U 5HW.
The workshop will start at 10am and finish at 12pm, light refreshments will be provided.
Places are very limited, so please book yours as soon as possible.
The workshop can be bought as a gift card, email us for more information or simply write the name and e-mail of the person receiving it at check out and we will forward the info to him/her.
For more information please feel free to contact us.
dri@adrianachede.com or geraldine@isle-jewellery.com