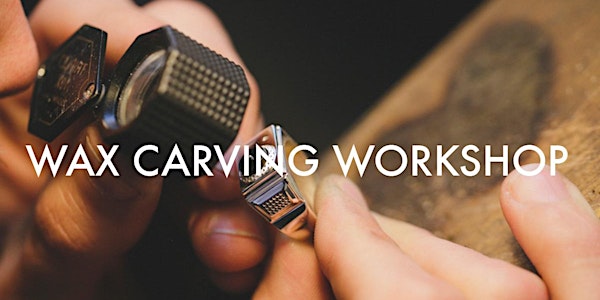 WAX CARVING JEWELLERY WORKSHOP - Make a silver ring, pendant or earring
Design and carve a piece of jewellery from wax, to be cast in sterling silver after the workshop.
When and where
Location
Nathan Thomas Hufelandstraße 30 10407 Berlin Germany
Refund Policy
Contact the organizer to request a refund.
About this event
Hand-carve a piece of jewellery from wax, to be later cast in sterling-silver, with Prenzlauer Berg-based Goldsmith, Nathan Thomas.
Join #TheBerlinGoldsmith Nathan Thomas, to make your own sterling-silver jewellery using the age-old goldsmithing method, lost wax casting. 
In the workshop, you will hand-carve a wax-model of your piece using jeweller's wax. You might like to make a ring or pendant, or a pair of earrings, a charm for your keyring, or a tag for your dog's collar. Nathan will guide you through the process of bringing your vision to life. 
After the workshop (approximately 2-3 weeks later), your wax model will be cast in sterling-silver and polished & finished by Nathan, and will be available for pick-up.
So come on your own mission, or with a friend or three, and enjoy an afternoon making fine jewellery in Nathan's beautiful jewellery showroom.
Date & time
2.5 hour workshop, from 14:00 pm – 16:30 pm.
Location
Nathan Thomas, Hufelandstaße 30, 10407 Berlin.
Price
€160 per person, which includes the carving wax, your cast sterling silver piece, and the professional finishing of your piece by Nathan.
Limited places
Workshop limited to 5 people.
Experience level
Suitable for complete beginners with no jewellery-making experience.
Language
The workshop is delivered in English.
Precautions
You will be using specialist equipment, so please note the following:
You will be provided with safety glasses and an apron.

Closed toe shoes must be worn.

Long hair must be tied back.
After the workshop, your wax piece will be cast in sterling-silver by our casting company, using the lost wax casting method. When it is returned to us, it will be polished & finished by Nathan and available for pick-up. This whole process usually takes between 2-3 weeks, however in some cases it can take longer. We cannot guarantee an exact date because from time to time there are delays with the casting that are out of our control and it might take longer to have your piece ready. However please be assured that it is our priority to return your piece to you as soon as possible.
Minimum age
You must be 18 or older to participate in the workshop.
Cancellation policy
We are unable to offer any refund once payment has been made, although we may be able to apply your payment to another service in some instances.
Filming and photography
Participants are more than welcome to document and share their workshop experience (although please be considerate and respect the wishes of your fellow participants).
Disclaimer
Participation in the workshop is strictly voluntary and at participants' own risk.
About Nathan
Nathan is an Australian-born contemporary Goldsmith, with almost 20 years' experience in the design and crafting of contemporary and traditional fine-jewellery.
Nathan has a Bachelor degree in Jewellery and Object Design, and has worked for top Australian fashion labels and an internationally-renown diamond- and gem-jewellery house. 
Since 2004, Nathan has been custom-designing and producing his own lines of fine silver and gold jewellery. Since 2016, he has called Berlin 'home', and his new studio workshop & showroom is based in Prenzlauer Berg in Berlin.