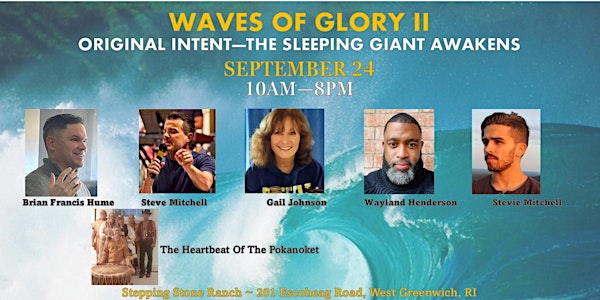 Waves of Glory II
All day worship through music, dance, puppetry, guest speakers, declarations and more!
When and where
Location
Stepping Stone Ranch 201 Escoheag Hill Road West Greenwich, RI 02817
About this event
We believe that God is unplugging the spiritual well in Rhode Island revealing the original intent, unveiling a hidden treasure.
Guests are encouraged to bring their own lawn chairs or blankets.
Food vendor on site.
Please note: no offerings will be taken for this event. If you would like to help support this effort by helping us cover expenses, please our website listed below. Thank you in advance for your support!
https://www.inhisimageoutreach.org/
Speaker Bios
Brian Francis Hume
Brian Francis Hume finds his greatest delight as a beloved son of the Lord Most High. He is a faithful husband of a Polish beauty and a devoted father of two lovely daughters. He carries a mandate to call sons and daughters to burn in the secret place as they encounter the Godhead—the glorious Father (Eph. 1:17), the Beloved Son (Mt. 12:18) and the Spirit of Holiness (Rom. 1:4). It is the deep longing of his heart to see all fully consecrated unto Christ as they walk in the fullness of their inheritance as sons and daughters.
Currently he serves the body of Christ as an intercessor and prophetic voice through writing, podcasting, and itinerant ministry. Starting 2/22/22, his weekly podcast will be accessible through the Charisma Podcast Network.
Wayland Henderson
Wayland is a husband, father and lover of Jesus and His people. He along with his wife Jeanette are founders and apostolic leaders of The Gathering Kingdom Center in Arlington, TX as well as Greater Works Generation Ministries.
A lover of the Word and the Spirit, he holds a Masters of Business in Executive Leadership, as well as a Masters in Divinity from Liberty University. Wayland is currently pursuing His Doctorate of Ministry in Semiotics and Church Culture at George Fox University. He has traveled across the United States and Canada, and several nations equipping the saints, doing the work of evangelism with a heart see renewal, restoration, and reformation come to the body of Christ.
Wayland and his wife Jeanette currently reside in Arlington, Texas with their three beautiful children: Jaleesa, Michael, and Moriyah.
Steve Mitchell
Steve's worship is honest, prayerful, heart-felt, and carries with it a relentless pursuit to make contact with God. He views every corporate worship setting as a window of opportunity for a divine encounter. He ministers at many conferences and churches throughout the country as a worship leader and psalmist. Steve and his wife Maria live in New Jersey and have two sons, Stevie and Jesse. He and Maria have been part of the leadership at MetroChurch for over 20 years. He teaches, leads worship, and oversees the intercession and music ministry there.