Wave Holiday Lights Tour

Multiple Dates
Event Details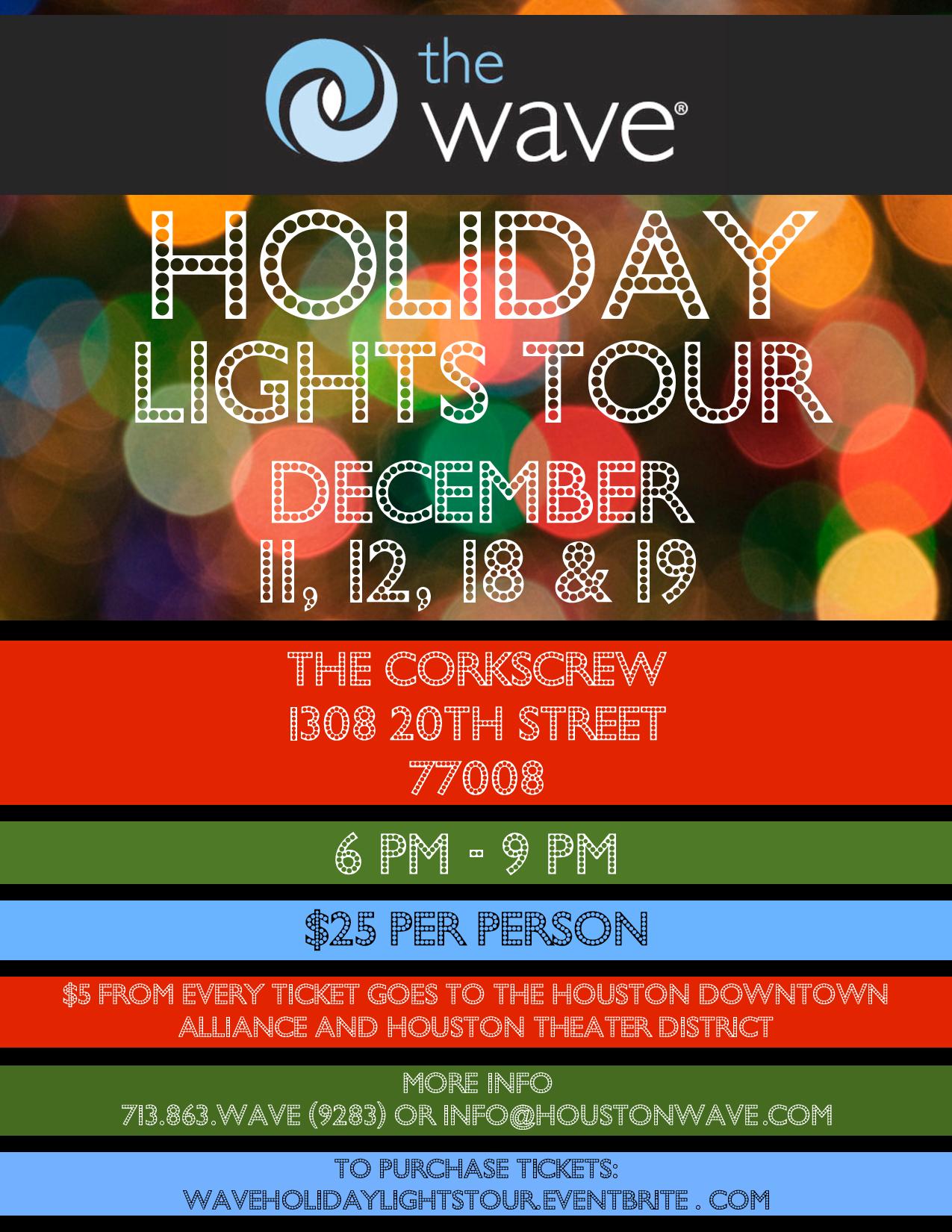 Just a few pointers for your Wave Holiday Lights Tour. The starting spot, The Corkscrew 1308 W. 20th Street  is offering  food & drink specials to you all before & after the lights tour. The Waves will arrive just after 6pm, and the buses will leave between 6:30-7pm  for the tour. We will need to fill your bus before it can depart. It is best to hop on a bus when you arrive to assure you & your friends can be together and so you do not have to wait on others who arrive later or move groups around. The buses will be first come first seated so if you have a big group, please make sure you check in early to assure you are all on the same bus.  If you have a full bus your bus will not have to wait on the others to fill up.
You are more than welcome to bring food & drink along with you. We prefer no glass though.
We will be giving you a chance to get out & walk around at each spot if you want to take some pictures.
There is no public restroom once the tour starts until we get to Discovery Green.
We will first be going by some fabulous lights in Woodland Heights, home of the annual Lights in the Heights parade. Then heading downtown for a couple neat displays at City Hall & Discovery Green. Last we will show you River Oaks.
Once the tour is over you are invited to have dinner and more holiday cocktails at  The Corkscrew which will be offering specials to Wave Holiday Lights Tour guests.
Our windows are tinted, but you can still see out and most people have wanted to get out & walk around at the stops. 
If you have any questions, you are welcome to call our office at 713.863.WAVE (9283) or email us at events@thehoustonwave.com. 
The cost is $25 which includes the special at The Corkscrew before & after, some holiday treats on the buses, the transportation, and pictures which will be posted on the eventbrite site after your event.  $5 from each ticket sold will go to The Downtown Alliance- houstondowntownalliance.com
Organizer
The Wave is Houston's Jitney Shuttle Service. We take people the places they want to go. The Wave operates awesome public shuttle buses to all of Houston's premier locations. We also offer the best tours in Houston: brewery tours, culinary tours, street art tours, fountain tours, winery tours, distillery tours, architecture tours, foreclosure tours, best of Houston tours, and so much more.
Call The Wave for all of your transportation needs. 713.863.WAVE (9283)