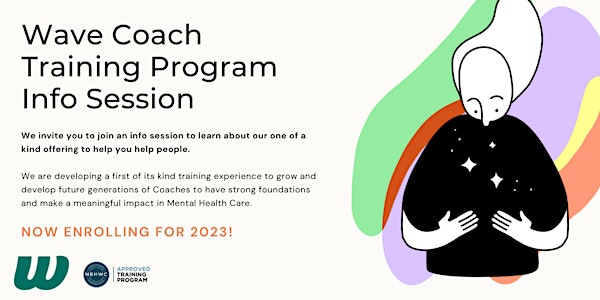 Wave Coach Training Program Info Session
You are a vessel for change. Become a board-certified coach and help people improve their mental health and well-being.
About this event
We are developing a first of its kind training experience to grow and develop future generations of Coaches to have strong foundations and make a meaningful impact in Mental Health Care.
We invite you to join an info session to learn about our one of a kind offering to help you help people.
At Wave, psychologists and coaches have come together as behavioral health experts to prepare a future generation of helpers. We'll help you develop a strong foundation in evidence-based coaching competencies and a concentration in emotional well-being. The program includes:
100 hours of asynchronous and synchronous online learning that provides flexibility and structure.
Intimate and interactive group discussions designed to help you commit new knowledge.
Weekly live demonstrations and structured practice opportunities to progressively develop your confidence as a coach.
1:1 mentorship to guide you every step of the way towards becoming a National Board Certified Health and Wellness Coach.
Eligibility to sit for the Fall 2023 National Board for Health and Wellness Coaching Certification Exam
You belong, I belong, We all belong in Coaching
We are dedicated to increasing representation in the coaching field. At Wave, we know that diversity is key to addressing barriers to and improving care, and we have purposefully built our curriculum with inclusive design principles. Our faculty comes from a wide-range of backgrounds and experiences that enrich the learning process and prepares you to better show up for future clients regardless of their background. We take belonging seriously and know DEIB is critical for quality health care.
Interested to find out More?
Join members of our training team to learn more about our program and purposefully different approach to training.