CA Conrad and Sawako Nakayasu read from new work
About this event
CA Conrad reads from Amanda Paradise: Resurrect Instinct Vibration
Sawako Nakayasu reads from Some Girls Walk Into The Country They Are From
About AMANDA PARADISE
Former United States Poet Laureate Tracy K. Smith wrote in the New York Times, "CA Conrad's poems invite the reader to become an agent in a joint act of recovery, to step outside of passivity and propriety and to become susceptible to the illogical and the mysterious." The poems in AMANDA PARADISE: Resurrect Extinct Vibration reach out from a (Soma)tic poetry ritual where CA flooded their body with the field recordings of recently extinct animals. Foundational here are the memories of loved ones who died of AIDS, the daily struggle of existing through the Corona Virus pandemic, and the effort to arrive at a new way of falling in love with the world as it is, not as it was.
About SOME GIRLS WALK INTO THE COUNTRY THEY ARE FROM
Finalist for the Big Other Award in Poetry
In Sawako Nakayasu's first poetry collection in seven years, an unsettling diaspora of "girls" is deployed as poetic form, as reclamation of diminutive pseudo-slur, and as characters that take up residence between the thick border zones of language, culture, and shifting identity. Written in response to Nakayasu's 2017 return to the US, this maximalist collection invites us to reexamine our own complicity in reinforcing conventions, literary and otherwise. The book radicalizes notions of "translation" as both process and product, running a kind of linguistic interference that is intimate, feminist, mordant, and jagged.
Sponsored by the City Lights Foundation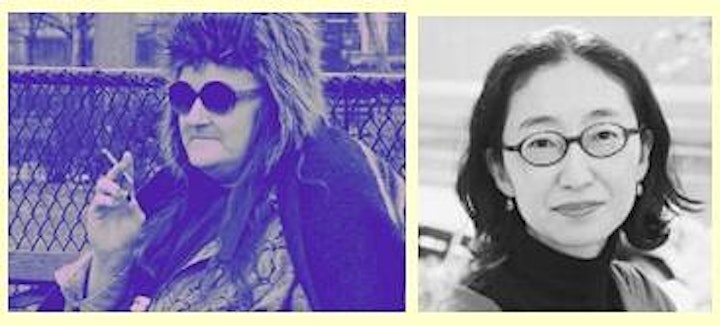 CAConrad has been working with the ancient technologies of poetry and ritual since 1975. They are the author of AMANDA PARADISE: Resurrect Extinct Vibration (Wave Books, 2021). Other titles include While Standing in Line for Death and Ecodeviance. The Book of Frank is now available in nine different languages. They received a Creative Capital grant, a Pew Fellowship, a Lambda Literary Award, and a Believer Magazine Book Award. They teach at Columbia University in New York City and Sandberg Art Institute in Amsterdam. Visit their website https://linktr.ee/CAConrad88.
Sawako Nakayasu is an artist working with language, performance, and translation—separately and in various combinations. She has lived mostly in the US and Japan, briefly in France and China, and translates from Japanese. Her books include Some Girls Walk Into The Country They Are From (Wave, 2020), Pink Waves (forthcoming, Omnidawn), The Ants (Les Figues Press), and the translation of The Collected Poems of Chika Sagawa (Canarium Books), as well as Mouth: Eats Color—Sagawa Chika Translations, Anti-translations, & Originals (reprint forthcoming, Wave Books), a multilingual work of both original and translated poetry. She is co-editor, with Eric Selland, of an anthology of 20th Century Japanese Poetry (forthcoming, New Directions). She teaches at Brown University.
Wave Books is an independent poetry press based in Seattle, Washington, dedicated to publishing exceptional contemporary poetry, poetry in translation, and writing by poets. The press was founded in 2005, merging with established publisher Verse Press. By publishing strong, innovative work in finely crafted trade editions and hand-made ephemera, we hope to continue to challenge the values and practices of readers and add to the collective sense of what's possible in contemporary poetry.
Organizer of Wave Books @ City Lights with CA Conrad and Sawako Nakayasu