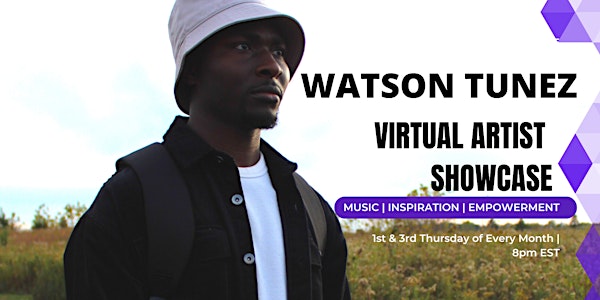 Watson Tunez: Virtual Artist Showcase
Watson's virtual artist showcase is designed to be an inspiring, empowering, and healing experience.
Date and time
Thursday, June 15 · 5 - 5:30pm PDT
About this event
Watson's virtual artist showcase is designed to be an inspiring, empowering, and healing experience. He aims to provide a positive, uplifting environment where fans can kick off their shoes and enjoy music that comes straight from his heart. You can feel the warmth of love and joy as Watson opens up about his experiences as a child going up in Haiti, having to overcome poverty, and finding healing in the midst of tragedy and pain. Through his songs, Watson paints a picture that anyone can relate to, speaking on issues such as love, compassion, and living life to the fullest. He then invites fans to join him on the journey to make an impact through this music. By cultivating the spirit of creativity, generosity, and compassion, Watson hopes to move you in a direction where you can unlock your potential to overcome some of your emotional challenges and past hurt. His tunes will provide you with the roadmap and motivation you need to be the best version of yourself.
About the organizer
Watson Tunez is a Haitian-American rapper, singer and songwriter, specializing in pop-rap, a form of music that infuses R&B, Pop, and Hip-hop. His lyrics are profanity-free and motivational. His tunes are easy to listen to, taking listeners on an inspirational journey to help them heal from mental and emotional challenges, as well as reduce stress. He is also the founder of a non-profit organization, Beyond Me Initiative, that generates support for charity work in Haiti. In his virtual artist showcases, private live streams, and virtual concerts he invites you to experience his music and to connect with him personally. Be inspired as he takes you on a journey through the Caribbean Island where he is from and shares with you his early experiences. You'll be challenged to reach beyond yourself through songs and stories that will lift up your spirit and get you in tune with making a difference in the world.