Event Information
Location
Swim & Sport Club of Flanders
272 Emmans Road
Roxbury Township, NJ 07836
WATKINS GLEN REVIVAL 2022 - Featuring: The THE BAND Band, This Old Engine, The Peach Project
About this event
JamFam Productions & The Flanders Swim & Sports Club (SSC) are excited to bring you the Watkins Glen Revival 2022! Join us on Saturday, May 21st (Rain Date, May 22) for a full day of of music, fun, drinks, food, craft vendors and great times!
Gates open at 1PM, music runs from 2-10PM. The revival features the region's and nation's premier tribute bands celebrating the largest concert (600,000 estimated attendance) in US history from July of1973.
ADMISSION is $29 per person in advance or $39 day of show at the gate. Children 5-13 years old are $10 per person in advance or $15 day of the show at the gate. Children under 5 years of age are free. Be sure to purchase a ticket so that you are guaranteed a spot! There is LIMITED parking. Our request is to carpool to allow for as many guests as possible to attend this fantastic day.
CANOPIES: The property boasts over 26 acres of fields, picnic areas and wooded areas. Please bring your lawn chairs, blankets and sun glasses! We are also welcoming guests to bring their own 10X10 pop-up canopies. They will be set up around the perimeter of the concert field so not to obstruct the view of the stage. Pop-up canopies MUST BE TIED DOWN AT ALL TIMES. The charge for canopy sites are $25 per canopy. There are ONLY 50 spaces available. The spots for the canopies will be first come first served. They are not reserved.
There will be a cash bar and food for purchase. The menu will cater to everyone and includes vegan, vegetarian and BBQ foods. No outside food, beverages or alcohol is permitted on the SSC property.
The THE BAND Band plays The Band. From Woodstock to Watkins Glen to The Last Waltz, The Band has been at the center of rock and roll's most esteemed happenings. The THE BAND Band is the only nationally touring group dedicated exclusively to The Band's music, bringing it to life with authentic, true-to-form renditions of their extraordinary repertoire. From hit songs like "The Weight," "Up On Cripple Creek," and "The Night They Drove Old Dixie Down" as well as deep cuts from their classic albums, to the historic collaborations with Bob Dylan, The THE BAND Band delivers with the passion and commitment for which The Band was renowned. Earning critical acclaim since 2007 for their musicality as well as for the incredible energy they create at their concerts, Gary Solomon (bass, vocals), Jack Kraft (keyboards, mandolin, vocals), Josh Radin (guitar, vocals), Loren Korevec (piano, vocals), and Matt Crawford (drums, vocals) bring a show not to be missed!
This Old Engine plays The Grateful Dead. TOE is a "Band Beyond Description" who uniquely captures the majesty of 50 years of the Grateful Dead. This 7 piece band brings an authentic and energized concert that will truly knock your socks off! Glen Mulligan (lead vocal, guitar), Josh Kessler (vocals, guitar), Sharon Brackelmanns (vocals), Tim McDonald (bass guitar) John Soward (drums), Billy Mutchler of "The Samples" (drums & percussion) and Joe Biglin of "Jungle Jazz Initialtive" (keyboards). These Tri-State deadheads play to the pace of the Brent Era and jam way out so big your boogie woogie shoes and get ready to dance in the grooves.
The Peach Project plays The Allman Brothers Band. The Peach Project is a six piece band consisting of some of the tri-state area's finest musicians that performs an astounding, authentic tribute to The Allman Brothers Band. They are a group of seasoned professionals who have performed in many diverse milieus (clubs, theaters, festivals, radio, TV & film). In addition to their individual achievements, each member is a lifelong Allman Brothers fan who grew up listening to them & attending their shows- the ABB's music is "in their DNA". The band recreates all the Allman Brothers classics with the energy, musicianship & collective group mind that lives up to the original. The ecstatic crowd response at every show is an amazing & euphoric phenomenon to experience, for band & audience alike.
VENDORS: We are accepting vendor applications only for merchandise vendors. NO PARAPHANALIA, FOOD OR DRINKS. If you would like to request an application to vend, send a request to info@jamfamproductions.com.
NEARBY CAMPING - We have had a number of inquiries in regard to places to camp. There are a number of campsites in the area (Within 15 miles). They are as follows:
Great Divide Campground : Newton, NJ - Distance: 15 Miles - Phone 973.383.4026 - Website: www.CampTheGreatDivide.com(Owned by big Phish heads – very heady - this is our first choice if they have availability - and have music the night before with Uncle Ebenezer - a Tribute to Phish
FLA-Net Park Campgrounds: Flanders, NJ - Distance: 5 Miles - Phone: 973.347.4467
Stevens State Park: Hackettstown, NJ - Distance: 8 Miles - Phone: 908.852.3790 Website: www.camping.nj.gov
Panther Lake Campgrounds: Andover, NJ - Distance: 11 Miles - Phone: 973.347.4440
Kittatinny Campgrounds: Newton, NJ – 16 Miles - Phone: 973.786.6445
COVID-19 While JamFam Productions is working under the most difficult of conditions due to the current pandemic. We feel truly grateful that we are able to offer this caliber of live entertainment during this time and give our guests, bands and staff a safe, reliable and fun place to go for entertainment, drinks, food and great times! We have put together a unique opportunity for everyone to come out and see live music. We are doing everything we can to give you the best possible safe music experience.
JamFam Productions is following and instituting the rules and regulations set forth by the Governor and the State of New Jersey in regard to COVID 19 safety protocol. As we all know, the regulations and mandates are fluid and continually changing. Rest assured, when a JamFam Productions show happens, we are on top of, and following the latest guidance for everyone's safety.
Entrance is first come first served. If it rains on Saturday, there is a rain date of Sunday the 22nd. There are no Refunds.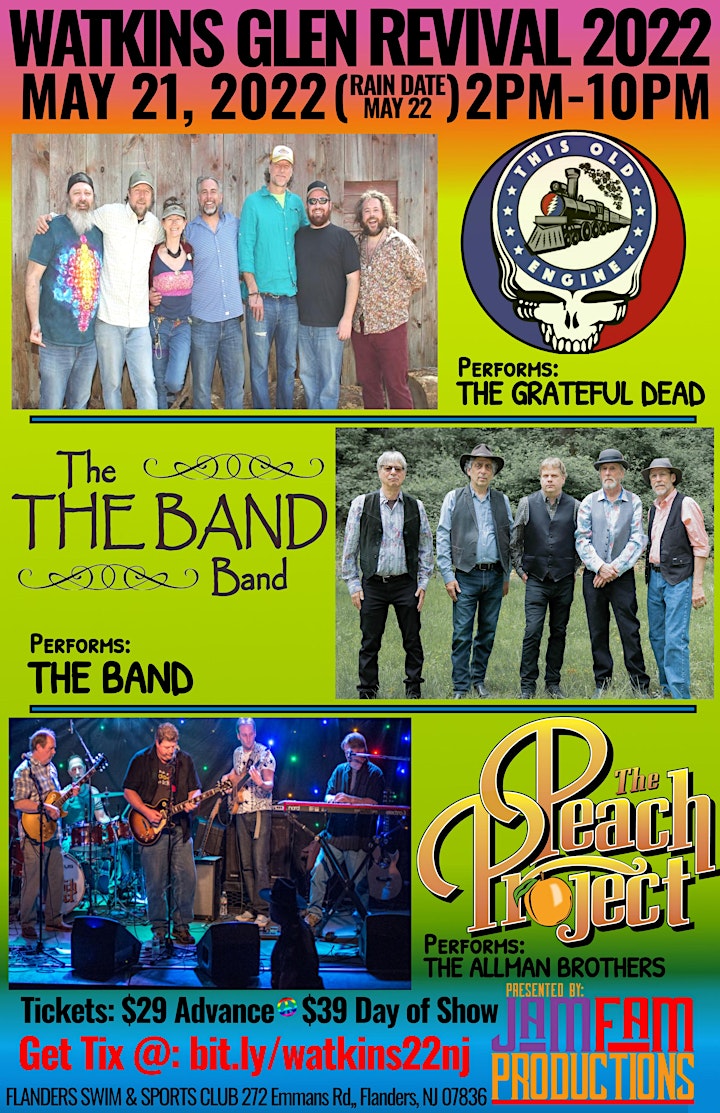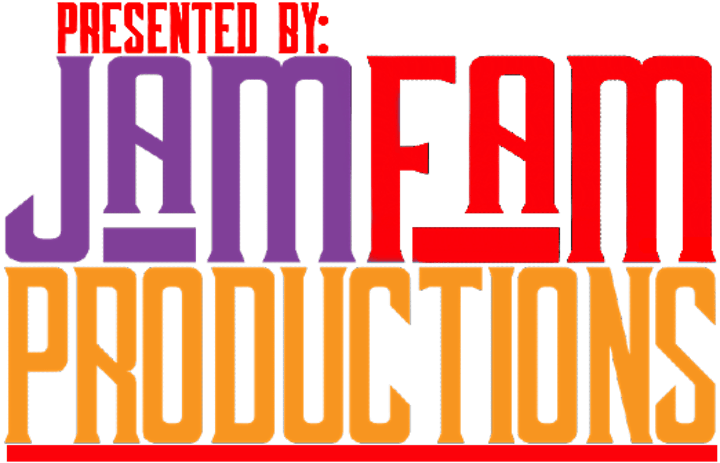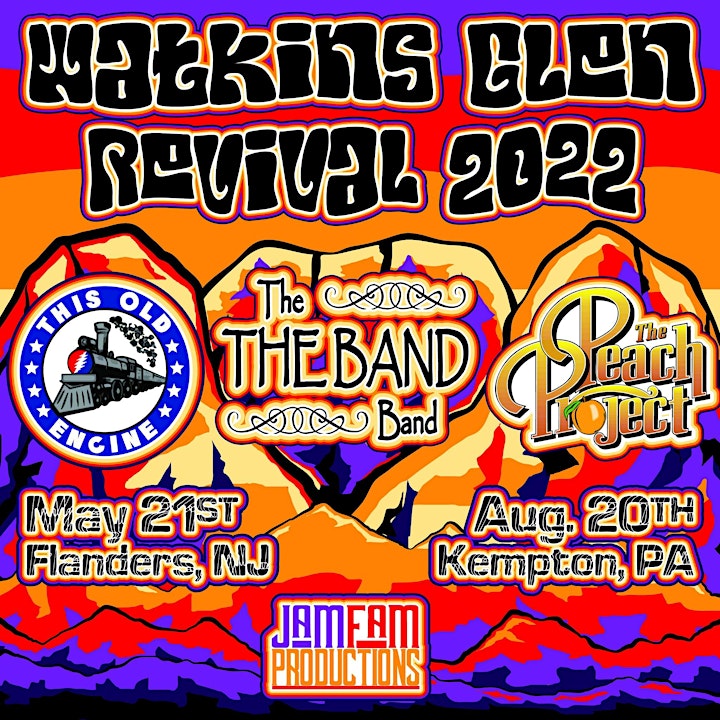 Date and time
Location
Swim & Sport Club of Flanders
272 Emmans Road
Roxbury Township, NJ 07836