Waterwise and Wildlife Landscaping Workshop

Thursday, October 2, 2014 at 6:00 PM

-

Saturday, October 4, 2014 at 4:30 PM (PDT)
Event Details
Join us on Thursday October 2nd for a informative and interactive Q&A presentation covering principles, practical strategies and design process for: on-site water management, water wise landscaping and wildlife and pollinator habitat creation. Lecture and presentation at MK Nature Center, workshops to follow on Saturday, location TBA.
Workshop will take place on Saturday October 4th:
AM Session: 8:30am-12:00pm. Activities include

site assessment, case studies, applying wildlife landscaping design priciples, water wise, pollinator, and wildlife native plant selection.

PM Session: 1:00pm-5:00pm. Hands-on demonstation project: on-site water management and wildlife landscape installation.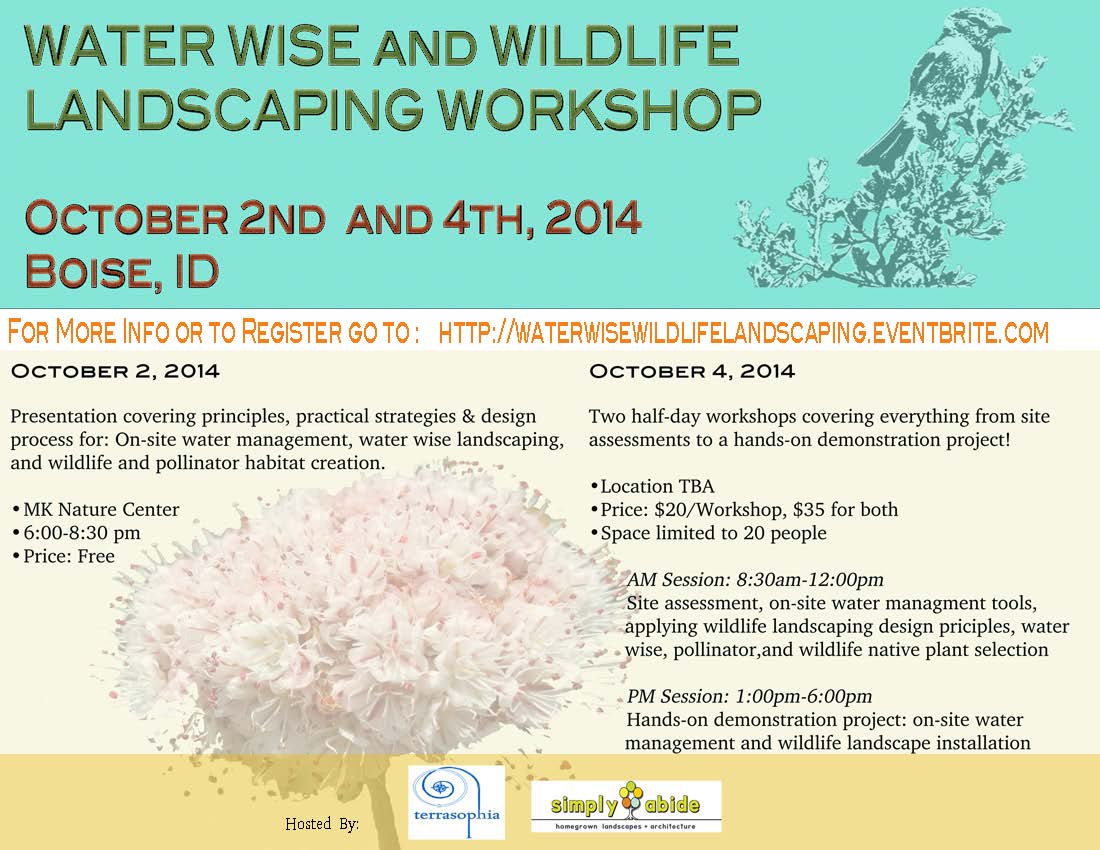 When & Where

MK Nature Center
600 S Walnut St
Boise, ID 83712


Thursday, October 2, 2014 at 6:00 PM

-

Saturday, October 4, 2014 at 4:30 PM (PDT)
Add to my calendar
Organizer
Jeffrey Adams:
Jeff Adams is founder and principal of Terrasophia LLC. Jeff builds capacity to regenerate the health of our watersheds by engaging community members through hands-on education projects and ecological design services. He has a depth of experience in water harvesting educational training programs and brings a practical and integrated approach to each project with nearly 20 years of experience in various aspects of construction and landscape trades. Jeff is certified as a Permaculture Design Consultant, ARCSA Accredited Professional, and EPA WaterSense partner. Visit www.terrasophia.com to learn more.
Lindsay Alsup:
Lindsay Alsup is primarily an avian biologist, having worked with 11 focal bird species, including multiple birds of prey, and threatened and endangered species. She has also worked with other taxonomic groups and ecological communities including: waterfowl, big game, bats, landbirds, migratory raptors, and shrub-steppe and sagebrush communities. She has twelve years of experience in biological and natural resource data collection, data management, analysis and research. Her experience has included biological assessments, long-term monitoring projects, land-management studies, restoration monitoring, population research and conservation research.
In 2013 Lindsay completed a Master's degree in Landscape Architecture from the University of Georgia. Her focus of study was sustainable design, ecological restoration, stormwater management and native plant design. Her thesis used systematic review methodologies to address how planners and designers can improve avian diversity in urban areas. Professionally, she combines her diverse background to improve habitat for bird populations and provide a healthy and diverse environment to enrich peoples lives.
Katie Hartman:
Katie Hartman is the owner and operator of Simply Abide Landscapes and Architecture. She holds a degree in Landscape Architecture and is currently pursuing a masters in Environmental Engineering at BSU. Katie has over 10 years experience in resource conservation including conservation easements, soil and water best management practices, sustainable urban agriculture and land planning. She is passionate about water reuse in residential landscapes and homesteading structure design. www.simplyabide.org