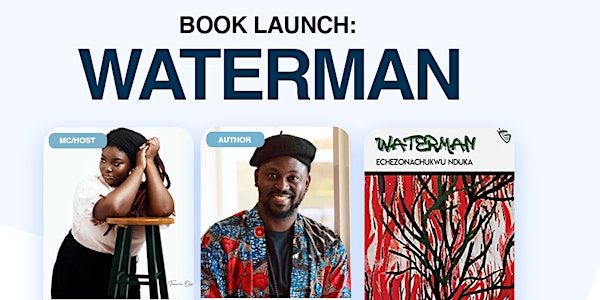 WATERMAN: The Book Launch
Echezonachukwu Nduka launches his powerful and second poetry collection, Waterman (Griots Lounge, 2020)
About this event
Griots Lounge Publishing Canada would love to welcome you to our first of its kind global launch of the poetry collection, Waterman by award-winning international poet and pianist Echezonachukwu Nduka. Rated as "a wonderfully winding work of a voice matured" by Erin Castaldi, Waterman seems to be Echezonachukwu's best body of work ever.
On the 16th of October, we will bring the poet and his collection to our global audience and lovers of poetry. This promises to be an entertaining and engaging event, as it will be hosted by Winnipeg's finest host and publishing professional, Oyindamola Alaka. Oyinda will take Echezonachukwu through a beautiful conversation around his works and inspiration. All participants will also be invited to ask questions, just after Echezonachukwu thrills his audience with his reading performance.
This global launch is what you must not miss.
Early registration is important to secure your space at the event.
Venue: Zoom Meeting ID: 881 1387 9283
Password: akAl1o!
Numeric Password: 6708325
Date: 16th October, 2020
Time: 11AM CDT or 5PM WAT
Manitobans can easily grab copies of Waterman from McNally Robinson Booksellers in Winnipeg, while poetry lovers in Nigeria can pre-order copies at Page Bookstore Pre-order link below.
Page Bookstore: https://pagebookstore.com/pages/pre-order
McNally Robinson: https://www.mcnallyrobinson.com/online-ordering
Waterman is also available on Amazon and Barnes & Noble.
For further information and RSVP, follow www.griotslounge.com.