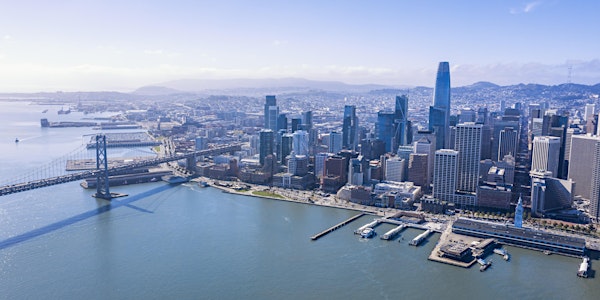 Waterfront Resilience Program: Online Embarcadero Seawall Community Meeting
Part of an ongoing community meeting series focused on coordinated resilience efforts along the Embarcadero waterfront
About this event
Join the Port of San Francisco for the online Embarcadero Seawall Community Meeting.
Friday, December 17, 1:30-2:30 PM
Wednesday, January 12, 5:30-6:30 PM
Hosted over Zoom, both meetings will follow the same format and cover the same information:
Presentation (first 30 min) - Hear from Port staff about updates on the Waterfront Resilience Program, including information about Embarcadero Early Projects, near-term actions that address areas of high earthquake and sea level rise risk along the Embarcadero waterfront.
Q&A (second 30 min) - Ask your questions about coordinated resilience efforts to reduce earthquake and flood risk facing the northern waterfront and share feedback on how efforts to protect the waterfront can reflect the priorities of the community in a shared vision for the future.
This online Embarcadero Seawall Community Meeting is the seventh in a series focused on coordinated resilience efforts along the Embarcadero waterfront.
RSVP for one of the meeting dates today! Additional meeting details and login information for joining the meeting on Zoom will be sent via email closer to the meeting date.
Together we will create a safe, equitable, sustainable, and inspiring waterfront.
FAQs 
How do I log onto the meeting? Zoom information for logging on and joining the meeting will be provided starting two days ahead of the meeting date. Please RSVP here on Eventbrite to receive email notifications with the meeting information and login instructions.
Is translation available for limited-English proficiency attendees? Translation is available when requested three business days in advance at (415) 274-0400.
Will the Zoom meeting be accessible for people who are deaf and hard of hearing? We will use Zoom's auto-transcribed closed captioning (in English). For more disability accommodations and language assistance, please see below.
How can I contact the organizer with questions? Please contact communications@sfport.com.
DISABILITY ACCOMMODATIONS
To request assistive listening devices, sign language interpreters, readers, large print agendas or other accommodations, please contact Wendy Proctor, Port's ADA Coordinator at (415) 274-0592 or via email at wendy.proctor@sfport.com at least 72 hours in advance of the hearing. The Port's TTY number is (415) 274-0587.
LANGUAGE ASSISTANCE
311 Free language assistance / 免費語言協助 / Ayuda gratuita con el idioma / Бесплатная помощь переводчиков / Trợ giúp Thông dịch Miễn phí / Assistance linguistique gratuity / 無料の言語支援 / 무료 언어 지원 / คว" ว "งภ"ษ" ' ค / Libreng tulong para sa wikang Tagalog
To request an interpreter, please contact the Port's Language Access Liaison, Jenica Liu at (415) 274-0471 or email her at jenica.liu@sfport.com at least 48 hours in advance of the meeting.
Thank you for participating in the Embarcadero Seawall Community Meetings to learn more about coordinated resilience efforts along the Embarcadero waterfront and the Port's Waterfront Resilience Program, and welcome aboard if this is your first meeting!
Learn more at sfport.com/wrp.