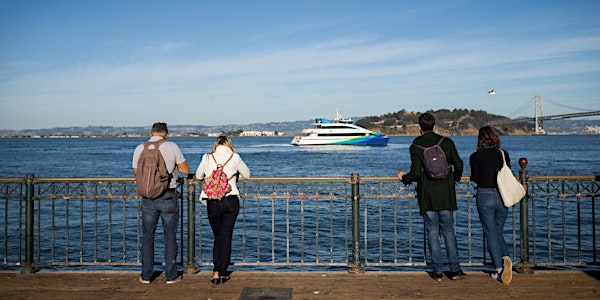 Waterfront Resilience Program: Embarcadero Digital Community Meeting #2
Part of an online meeting series focused on coordinated resilience efforts along the waterfront
About this event
The Port of San Francisco, in partnership with the U.S. Army Corps of Engineers and San Francisco city agencies, has developed seven Draft Waterfront Adaptation Strategies based on over five years of public engagement. Adaptation Strategies are different ways for the City to create a resilient, sustainable, and equitable waterfront for the next 100 years.
Join the Port of San Francisco for the online Embarcadero Digital Community Meeting #2 on December 8, 2022 at 12:00PM.
RSVP today! Login information for joining the meeting on Zoom will be sent via email in your registration confirmation. Please RSVP here on Eventbrite to receive email notifications and reminders.
We look forward to sharing more details about the Port's Draft Waterfront Adaptation Strategies and hearing your feedback on them. Together we will create a safe, equitable, sustainable, and inspiring waterfront.
FAQs 
How do I log onto the meeting? Additional meeting details and login information for joining the meeting on Zoom will be sent via email to confirm your registration. Please RSVP here on Eventbrite to receive email notifications with the meeting information and login instructions.
Is translation available for limited-English proficiency attendees? Translation is available when requested three business days in advance at (415) 274-0400.
Will the Zoom meeting be accessible for people who are deaf and hard of hearing? We will use Zoom's auto-transcribed closed captioning (in English). For more disability accommodations and language assistance, please see below.
How can I contact the organizer with questions? Please contact communications@sfport.com.
DISABILITY ACCOMMODATIONS
To request assistive listening devices, sign language interpreters, readers, large print agendas or other accommodations, please contact Wendy Proctor, Port's ADA Coordinator at (415) 274-0592 or via email at wendy.proctor@sfport.com at least 72 hours in advance of the hearing. The Port's TTY number is (415) 274-0587.
LANGUAGE ASSISTANCE
311 Free language assistance / 免費語言協助 / Ayuda gratuita con el idioma / Бесплатная помощь переводчиков / Trợ giúp Thông dịch Miễn phí / Assistance linguistique gratuity / 無料の言語支援 / 무료 언어 지원 / คว" ว "งภ"ษ" ' ค / Libreng tulong para sa wikang Tagalog
To request an interpreter, please contact the Port's Language Access Liaison, Jenica Liu at (415) 274-0471 or email her at jenica.liu@sfport.com at least 48 hours in advance of the meeting.
LEARN MORE
Thank you for participating in the Embarcadero Digital Community Meeting #2 to learn more about coordinated resilience efforts along the waterfront and the Port's Waterfront Resilience Program, and welcome aboard if this is your first meeting!
Visit sfport.com/wrp/our-waterfront where you can learn more, see our schedule of upcoming activities and events, and provide feedback through the Port's StoryMaps, a tool for interactive storytelling and surveys.