Release your inner artist and learn to watercolor with acclaimed illustrator, Cris Clapp Logan.
About this Event
Have you ever wanted to bring a blank canvas to life through vivid color and rich expression? Cris will share her artistic tips as she creates an original artwork from start to finish.
In this class, you'll follow along as Cris sketches her concept onto a blank canvas, solidifies the figures and scene, and adds layers of color and texture to make a truly one-of-a-kind piece of art. Take inspiration from her insights (and mistakes!) and create your own interpretation at home. Intimidated? Don't be! This class is perfect for beginning artists and masters, alike.
What's on your mind?
Put your hopes, fears, troubles, loves, and dreams into your art. The very act of painting and drawing, or any creative expression, can be both a therapeutic and heuristic experience. Especially during these times of significant change and worry, art can be a release and an escape – even when you're staying put in quarantine! Let your mind wonder and your creativity race. That's the power of art in our lives.
We want to keep everyone safe. In response to COVID-19, this class will be streamed online on New Year's Day as part of our lineup of free National Bell Festival experiences. Sign up to receive connection and streaming details right to your inbox.
Paint along with Cris
Start your own masterpiece with the tips and insights from Cris' instruction! If you'd like to paint along with the artist, Cris recommends these art supplies:
Pencil + eraser
Paint brushes
Watercolor set
Watercolor paper or mixed media paper
Black micron pens (optional)
Markers (optional)
There is no right or wrong way to approach art, so feel free to get creative with the resources you have on-hand in your home or office. Explore different paper, pencils, pens, markers, paints, and more to create a truly unique artistic expression.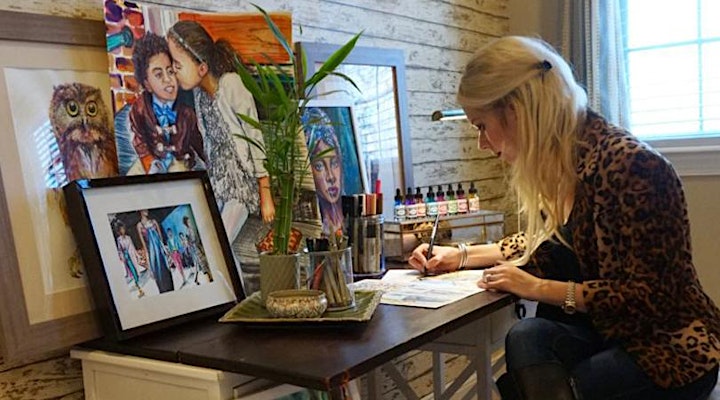 Meet your illustrator
Cris Clapp Logan works with brands, stylists, bloggers, and other creative types to create unique illustrations and portraits for websites, events, and social media platforms. She has created brand-based illustrations for Christian Dior, Tod's, I. Gorman Jewelers, Bloomingdales, Illesteva, the Washingtonian, Capitol File, Washington Life and DC Modern Luxury Magazines, Sotheby's, Arena Stage, Aromachology, and The Fleisher Group, among many others.
Cris also enjoys creating bespoke on-site live illustrations, guest portraiture, "Mommy and Me" sketches, pet sketches, customized packaging, and event venue paintings. She is routinely asked to sketch at weddings, mitzvahs, launch parties, and corporate events. Like her style? Explore her illustration portfolio and follow her creative journey!