Description
Event Time:
Session 1: Monday, 3/26/2018, 6:30pm - 9:00pm
Session 2: Monday, 4/02/2018, 6:30pm - 9:00pm
Session 3: Monday, 4/09/2018, 6:30pm - 9:00pm
Description:
Watercolor painting offers some of the most immediate and exciting results in art-making. In this workshop we will explore brushstrokes, textures, washes, and the wonderful color effects that can be achieved by overlapping transparent brush stokes. Basic elements of composition and design will be combined with traditional still life painting as well as more imaginative and expressive approaches. We will consider different techniques combining pencil and ink over or under watercolor washes. You will be encouraged to experiment and discover your personal style with this medium. We will look at watercolors of the masters for inspiration.
Prerequisites:
None required. This 3 week workshop will be directed to both the novice as well as the experienced painter. Students must be 18+
What to Bring:
Students should acquire and bring the following materials:

Artist and Craftsman in Central Sq. will put together kits for you to purchase (not required, call (617) 354-3636 to order) or shop separately for the following items:
Watercolor paper: Cold pressed, 140lb (Arches, or any brand 11"x14" or 12"x16" pad or individual sheets okay)

White enameled lasagna pan with walls or a piece of scrap lucite (we can tape a white paper under it) so you can face a large surface to mix colors.

Notebook

Basic No 2 pencil or a fineline mechanical pencil

Masking or painters tape 1"

Box of facial tissues

WATERCOLORS: Recommended: Winsor and Newton tubes, student grade okay (Cotman) or Utrecht or Dick Blick brand, in the following colors: Cadmium yellow or equivalent (yellow), Cadmium red light or equivalent Alizarin crimson or Quinacridone rose (red), Ultramarine blue, Phthalocyanine blue (blue), Viridian (green). Optional: Hooker's Green, burnt umber, and Paynes Gray

BRUSHES: Rounds (No 8 and No 4 either synthetic sable or sable), 1/2 " squirrel hair (large round), optional: 1" Chinese hake brush
If you already have supplies on hand, by all means bring them!
Class Minimum:
This class won't run with less than 4 students so sign up and bring a friend!
Instructor Biography: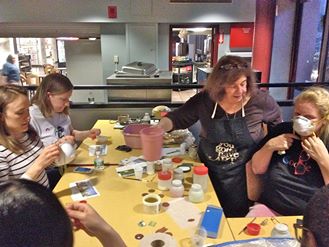 Barbara Marder is a retired lifetime Somerville art teacher. She has an MFA from Boston University in painting and art education. While her current focus is glass enamel, she continues to paint in watercolor for artistic inspiration. Her studio is at the Artisan's Asylum.