Description
SPRING is coming and so are the WILDFLOWERS! This workshop will begin with a thorough exploration of the magic of mixing a full range of nuanced colors from a limited palette of eight pigments. I will present you with teaching aids that give you hands-on, step-by-step experience in sketching and painting flowering plants. You will leave with a compact kit (valued at $55) including a journal filled with your color matching exercises that you can reference when mixing new colors, as well as your sketching and painting exercises; your palette filled with eight pigments (from tube which will last many months); a waterbrush (which supplies a constant stream of clean water); and other essential tools to continue working in your journal.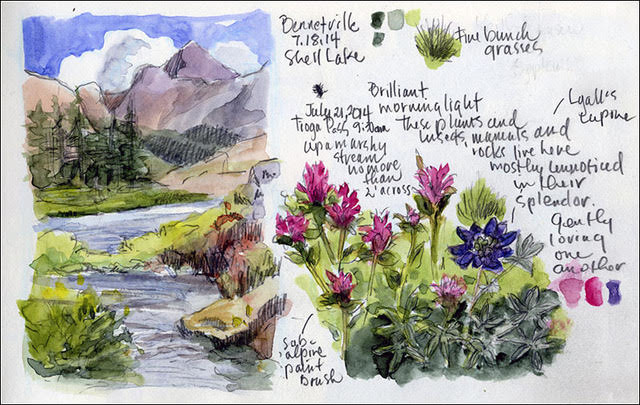 My workshops are designed to give you confidence by learning to use a portable and simplified kit that you can take with you everywhere, ensuring that you have all you need to record your time in nature. ALL LEVELS WELCOME. Children under 14 must be accompanied by an adult (children under 12 may find this a long day). This is perfect for friends and family to do together and it's great to have a journaling buddy.
(Bring a packed lunch)!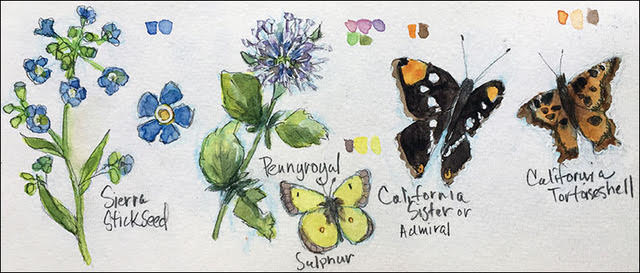 I teach Watercolor Nature Journal workshops in California including the Sierra Nevada Field Campus, Pt. Reyes Field Institute, Laguna a Santa Rosa Nature Preserve, Tilden Park Botanic Garden, Castle in the Air, and now in Las Vegas! Visit my website: www.naturemeuse.com