Sales Have Ended
Ticket sales have ended
Thank you so much for your interest in Isla Urbana's Water Week events! Unfortunately, this event is over. Please consider making a donation at: https://donate.islaurbana.org Find us social media! Facebook: https://www.facebook.com/islaurbana Instagram: https://www.instagram.com/isla_urbana/ Twitter: https://twitter.com/IslaUrbana YouTube: https://www.youtube.com/user/IslaUrbana
Event Information
Refund Policy
Refunds up to 7 days before event
Eventbrite's fee is nonrefundable.
Sales Have Ended
Ticket sales have ended
Thank you so much for your interest in Isla Urbana's Water Week events! Unfortunately, this event is over. Please consider making a donation at: https://donate.islaurbana.org Find us social media! Facebook: https://www.facebook.com/islaurbana Instagram: https://www.instagram.com/isla_urbana/ Twitter: https://twitter.com/IslaUrbana YouTube: https://www.youtube.com/user/IslaUrbana
A week-long event series from 11/28th - 12/4 with a chance to learn about water issues in Mexico and globally while making a difference.
About this Event
Water Week is a week-long event series taking place from November 28th to December 4th. It's a chance to come together and have fun, be active, learn about water issues in Mexico and in a global context, cook a delicious new recipe, and celebrate our achievements together while raising funds and awareness for those in need as a positive and uplifting way to end a very difficult year. Due to the restrictions on large gatherings and to ensure the safety of all participants, we are offering this event series is entirely virtual.
100% of funds raised through event ticket purchases and silent auction sales will go to Isla Urbana. For the past 10 years, Isla Urbana has provided clean water to over 121,140 individuals through rainwater harvesting, which gives families the ability to independently access high quality water. For families in urban areas, it results in anywhere from 6-9 months of clean water a year, and in rural areas, this can be up to 12 months! Now, more than ever, it is essential to have access to clean and abundant water sources to protect against coronavirus.
Just $15 gives a family of 6 a month's supply of clean water (190 gallons of rainwater) for hand washing, meaning that attending just one of our events will produce a tremendous impact.
Please consider adding on a donation to your ticket, or make your contribution directly at: https://donate.islaurbana.org
We can't wait to see you there!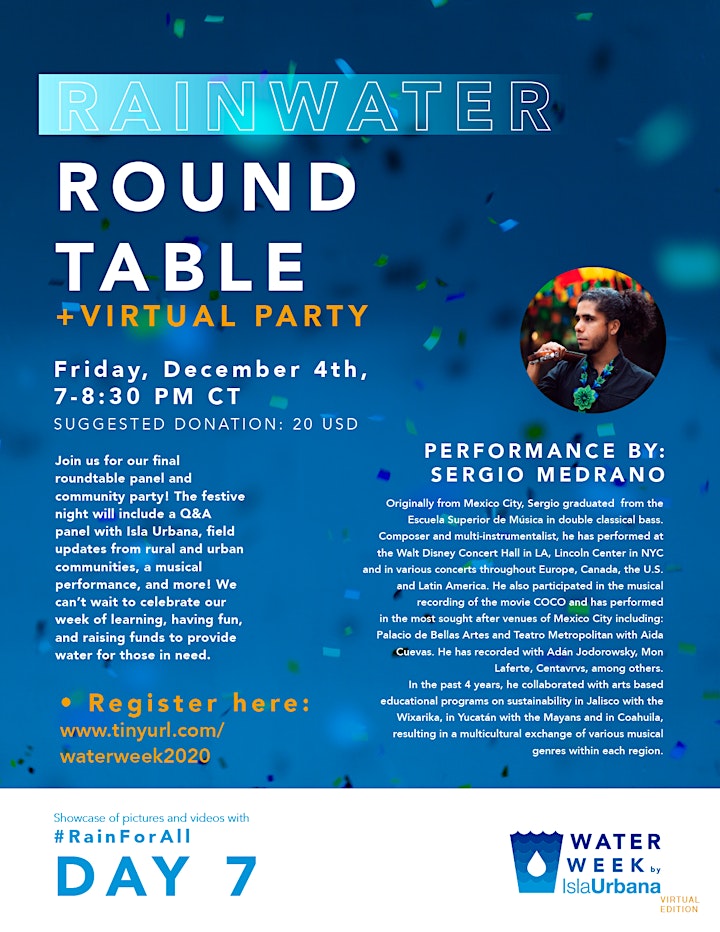 Schedule of events:
Day 1 (Nov 28), Caminata de Conciencia • Run to Replenish: Join us for Water Week's kick-off event, a virtual 5k race! After an opening ceremony from 10-10:30am CT (11-11:30am EST), from 11am-12pm CT (12-1pm EST) we'll walk and run the 5k separately together, each person completing their own route using Strava to track the fastest participants. Run with your families and invite your friends and neighbors– let's be active together to raise funds and awareness for access to clean and sustainable water! Additionally, today we will launch our online silent auction that will close on Day 7!
Day 2 (Nov 29), Pelicula de Protesta • Protest Picture: settle in for a cozy Sunday with a documentary film screening of H20mx, an award-winning documentary that meticulously examines the water shortage and the economic, political and geographical difficulties that stand between Mexico City's 22 million residents and a safe, reliable water supply (in Spanish with English subtitles). The screening will feature a special Water Week introduction by the director, Jose Cohen (in English).
Day 3 (Nov 30), Agua Global • Global Water: Join us for this free panel discussion on global water technology, education, and science with a focus on water resilience and building a more equitable and sustainable future in Mexico and globally, featuring thought leaders and experts on the topic. Get your questions ready for the Q&A section at the end! This panel discussion will be in English.
Day 4 (Dec 1), Fluye • Flow: Let's get active! Join either one of our salsa or yoga classes today, where we'll let the rhythm and flow release any tensions of the week while dedicating time for ourselves.
Day 5 (Dec 2), Agua en México • Water in Mexico: Our second panel of the week will focus on social and environmental solutions to water challenges in Mexico, with a focus on using community outreach as a key strategy. This panel discussion will be in English.
Day 6 (Dec 3), Agua Hervida • Boiled Water: Time to cook! Choose from 2 clases. Come learn and cook an authentic Mexican recipe taught by one of our rainwater harvesting beneficiaries and community members, Clara, who will also discuss cooking with water challenges (taught in Spanish with English subtitles), or join along for an interactive Latin cooking class making different kinds of delicious salsas with Chef Sergio Gomez on Zoom!
Day 7 (Dec 4), Coloquio de Captación y Fiesta • Rainwater Round Table and Party: Join us for our final roundtable panel and community party! The festive night will include a Q&A panel with Isla Urbana, field updates from rural and urban communities, musical performances, virtual silent auction closure, and more! We can't wait to celebrate our week of learning, having fun, and raising funds to provide water for those in need.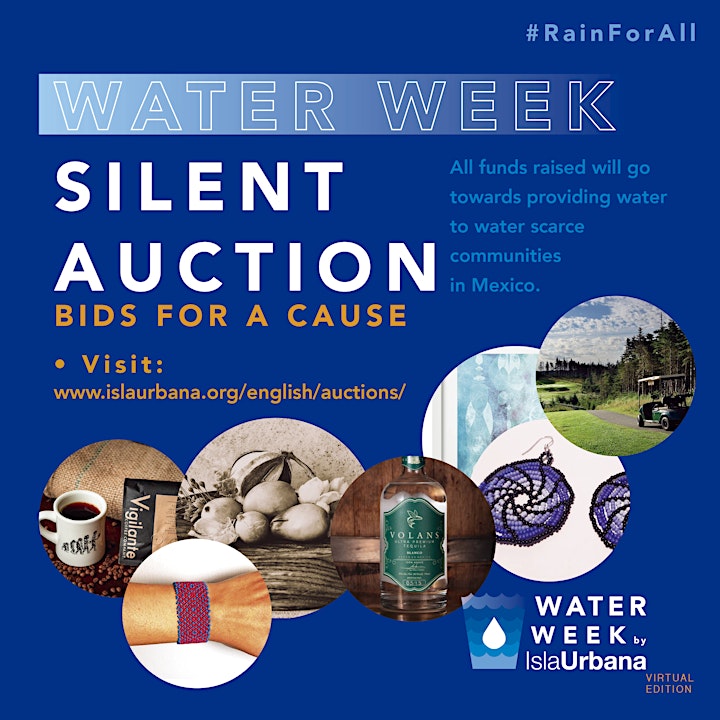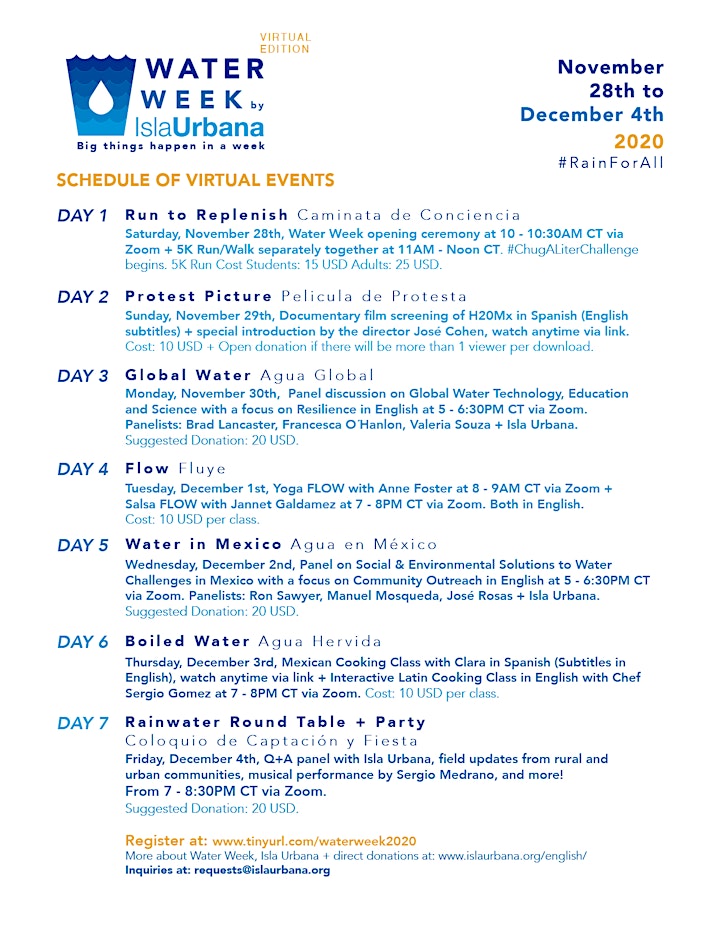 Date and Time
Location
Refund Policy
Refunds up to 7 days before event
Eventbrite's fee is nonrefundable.