Description
UPDATE: Due to predicted storms in the DC Metro area, we are canceling this year's Water Ritual scheduled for September 16, 2018.
Please join us for our next Adae & Akom (Akwasidae: Akan Holy Day) on September 23 at 12:00 pm at 15 Kennedy Street NW DC.
To keep up to date with Temple of Nyame Events, visit and/or subscribe to our calendar at templeofnyame.org/calendar
Thank you for your support. We look forward to seeing you soon!
---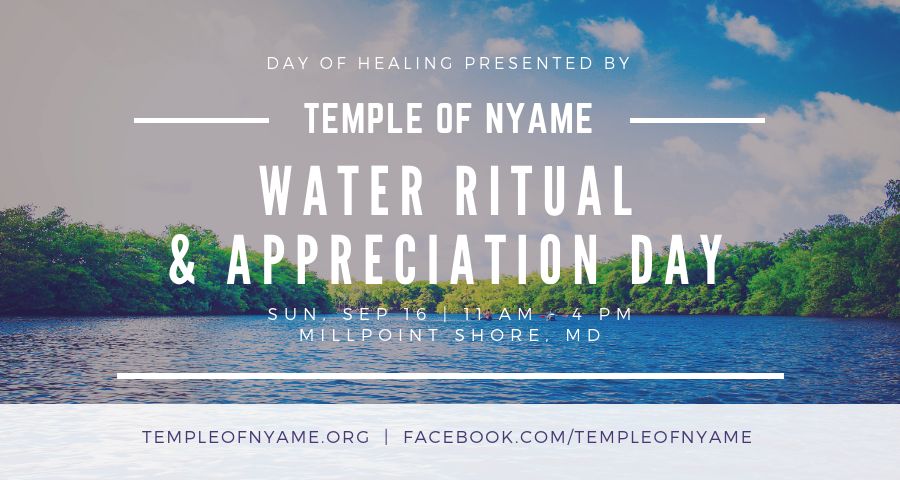 TEMPLE OF NYAME WATER RITUAL AND APPRECIATION DAY (A Day of Healing)
Millpoint Shore, Maddox, Maryland
Sunday, September 16, 2018

9:00 am: arrive at Washington, D.C. departure location*
9:45 am: depart
11:00 am - 4:00 pm: Water Ritual

*The departure location, details and logistics will be provided with your RSVP

Please bring a family size meatless dish to share. The Temple will provide paper products and beverages. Please feel free to bring a guest. Dress comfortably, warmly and bring a towel. You may also want to bring a blanket and a change of clothes.

The day will include a special ritual by the water, and a bonding ritual for the group. For the ritual by the water, each person should bring one uncooked egg and at least 3 coins. For the altar, you may bring fruit or flowers. After the program, we will eat and have social time, so bring a game, music or anything you would like to share with the group.

Monetary Donations will be appreciated. To make a donation in advance, use the "tickets" button and enter your donation amount.

If you have additional questions, please send a message to Temple of Nyame using the organizer link or post your question within the event page on Facebook.

Please note: Women who are on their moon cycle must not prepare food for this event.

Nyame Nhyira Wo,
(God Bless You)
Nana Kwabena A. Brown

~~~~~~~~~~~~~~~~~~~~~~~~~~~~~~~~~~~~~~~~~~~~~~
Directions to Millpoint Shores (Maddox, MD):
Take Branch Avenue to Rt. 5 to Rt. 301. (This is the same highway, no turns). Keep out Rt. 301 pass the towns of Waldorf and LaPlata. You will be driving about 38 miles (from Branch Ave. to Rt. 234). Turn left at Rt. 234 ( Budds Creek Rd. ) Drive on Rt. 234 about 11 miles. Make a Right on Rt. 238 (a gas station & liquor store is on one side, Chaptico Market is on the other side).
Drive on Rt. 238 until you see a sign saying Millpoint Rd. (About 3 miles). Turn right at Millpoint Rd. Drive all the way around for about 1 mile until you reach the Millpoint Gate. Enter the gate.

The phone number is (I -301-769-2615). The event is at the Clubhouse; when you enter the Millpoint Gate, follow the main Road to the Clubhouse, which is on the left. It is opposite a sign announcing events.
Join us in Unity and Love!
To learn more about the Temple of Nyame, visit TempleOfNyame.org