About this Event
Water is one of our most basic needs. The greater Burlington community is fortunate to have the water of Lake Champlain at our doorstep. We drink it, play in it, irrigate with it, move people and things in it. Our shared use and history helps bring our community together. But recently, water quality issues have been an increasingly big challenge. How has this impacted our community's health, well-being, and culture? Can we manage this incredible resource, balancing the many different needs of residents, farmers, businesses and tourists, and still preserve our water quality? Join us on October 17th for a brown bag lunch & panel discussion focused on water quality and justice. Scientists, policy experts and advocates on our panel will share ways that we as a community can support our waterways for generations to come.
Panelists:
Ashley Eaton,Watershed and Lake Education Coordinator, University of Vermont.
Ashley joined Lake Champlain Sea Grant and UVM Extension team in November 2015. As the Watershed and Lake Education Coordinator she oversees the Watershed Alliance program which has a UVM and SUNY Plattsburgh location, coordinates watershed science professional development opportunities for K-12 teachers and oversees an undergraduate Watershed Education internship program. She has a BS in Education and Environmental Science and a MS in Natural resources from the University of Vermont. Ashley's educational and professional pursuits have been dedicated to helping create a sustainable future for Vermont, greater Lake Champlain Basin and beyond. She is immensely grateful for all the time she has spent connecting and learning from natural systems, today she is most likely found mountain biking with her floppy eared pup Callie.
Lori Fisher, Executive Director, Lake Champlain Committee.
Megan Moir, Public Works Division Director of Water Resources, City of Burlington
Megan Moir serves as the Division Director of Water Resources, leading a team of 43 water professionals to provide drinking water, wastewater and stormwater services for the City.
After earning her B.A. from Rice University in her home state of Texas, and a few years in Boston focusing on playing rugby, Megan relocated to Vermont to earn her M.S. in Water Resources from UVM. Megan's passion for water was ignited during her undergraduate Senior Honor's thesis project on Buffalo Bayou in Houston. Staying true to her love for getting dirty, Megan found herself working for the City of Burlington after one "really fun field day" with Water Resources Engineer, Steve Roy. She spent her first 7 years with the City as the Stormwater Program Manager before becoming Division Director in 2016. She lives in the Old North End of Burlington with her wife Emma, daughter Ruby and 2 month old son Elliot.
Moderator:
Olivia Pena, Greater Burlington Women's Forum Leadership Team
Bring a lunch, listen, learn, share, and network with women in our community. The program closes at 1:15pm with time for participants' announcements (job openings, services available, upcoming events...). The space is available until 1:30pm for informal networking.
Please register to save your seat at the table (no need to print out a ticket, though!).
BY DONATION. For our events to be accessible and affordable for all women, we rely on your contributions! We ask for a $5-$15 sliding scale donation at the door—credit card, cash or check (payable to Greater Burlington Women's Forum). To make your contribution online, please click DONATE.
Special thanks to the legal firm of PRIMMER PIPER EGGLESTON & CRAMER PC, our Founding Business Supporter; DUNKIEL SAUNDERS, Community Supporter; MERCY CONNECTIONS, our Fiscal Agent, providing fiscal oversight and tax-exempt status; and to MAYOR MIRO WEINBERGER, our Event Host Sponsor.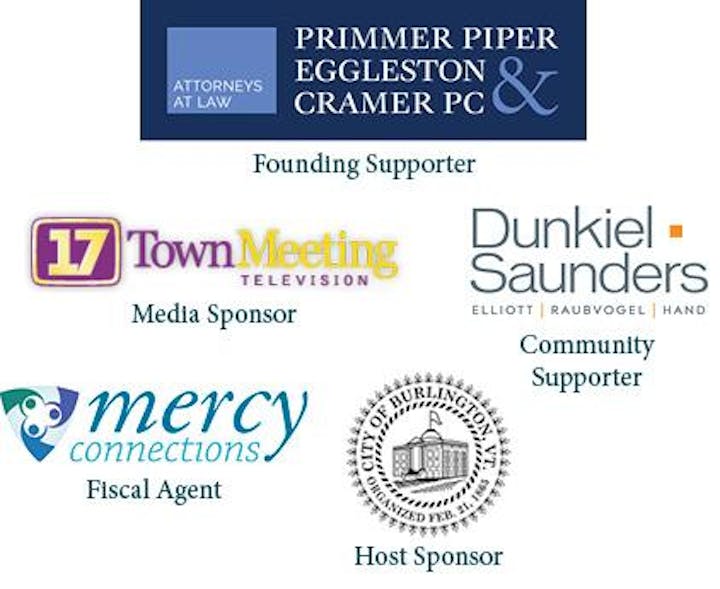 Share this event on Facebook and Twitter.
We hope you can make it!
Warmly, the Greater Burlington Women's Forum Leadership Team:
Aditi Datta, Alexandra Carroll, Carina Driscoll, Charlene Wallace, Jessica Nordhaus, Leah Perkinson, Lola Houston, Mary Dowd, Olivia Peña