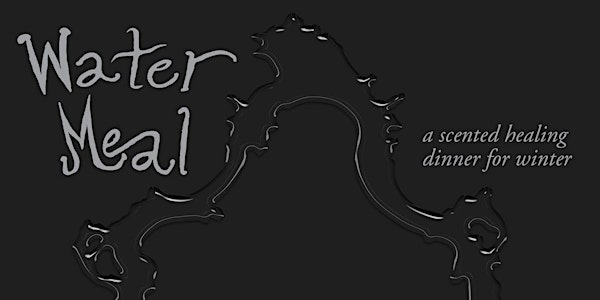 WATER MEAL | A Scented Healing Dinner for Winter
5-Course Olfactory Dinner by GOODWITCH/Cixous72/ALIVIA+/REDAMANCE
When and where
Location
Honey's 93 Scott Avenue Brooklyn, NY 11237
About this event
7PM Doors Open

8PM Seating
5 courses with naturally-derived scent pairings:
oceanic menu enhanced with C B D + seasonal medicinal herbs (omnivore, pescatarian or vegetarian option available)
ᔕᑕEᑎT ᗰEᗪITᗩTIOᑎ
ᗰEᑎᑌ by GOODWITCH + ALIVIA+
OᒪᖴᗩᑕTOᖇY IᑎTEᖇᒪᑌᗪEᔕ by Marissa Zappas of REDAMANCE
ᖇOOᗰ by Cixous72
ᔕᑕEᑎT ᖴOᑌᑎTᗩIᑎ by GW + Young Gun Lee
ᔕOᑌᑎᗪ by DJ Python
ᖇEᗩᗪIᑎG by L.A. Warman
ᗪᒍ Fifth World
ᗪᖇIᑎKᔕ by Honey's (available for purchase)
The Five Elements (ᗰETᗩᒪ, ᗯᗩTEᖇ, ᗯOOᗪ, ᖴIᖇE, EᗩᖇTᕼ) are the underlying energies that comprise all things. Also called the "five movements", their dynamic interactions form the universal order— generating the seasons, colors, flavors, sounds, the organs + tissues of our bodies, and even our temperaments + emotions. There is no distinction between body/mind. Matter is not fixed. Everything is movement. Healing may be understood as the harmonious dance of these five elemental energies.
Each Winter, the emergence of Water energy draws us inward. Bodies contract + retreat into shelter. A downward flow calls us to introspection and consciousness pools + reflects in the deep recesses of our being. Winter embodies mystery—the abyss beneath the ice. It is now we have utmost access to our inner selves.
Tonight scent-play carries us deep into intuitive space for collective introspection. We nurture the seasonal mindbody phase of storage + restoration with olfactory + food medicine :~):~):~)
EᒪEᗰEᑎT: WATER
ᔕEᗩᔕOᑎ: WINTER
EᑎᐯIᖇOᑎᗰEᑎT: COLD
ᗩᑕTIᐯITY: STORAGE + RESTORATION
ᐯIᔕᑕEᖇᗩ: KIDNEY
ᗷOᗯEᒪᔕ: BLADDER
ᔕEᑎᔕE OᖇGᗩᑎ: EARS
TIᔕᔕᑌE: BONES
TᗩᔕTE: SALTY
EᗰOTIOᑎ: FEAR
ᔕOᑌᑎᗪ: DEEP SIGH
ᑕOᒪOᖇ: BLACK + BLUE
ᔕᕼᗩᑭE: WAVY UNSTRUCTURED FLOW
TEᗰᑭEᖇᗩᗰEᑎT: TRANQUIL + RECEPTIVE + SLOW + PHILOSOPHICAL
ᔕᑭᗩTIᗩᒪ EᒪEᗰEᑎTᔕ: TRANSLUCENT + WET + FORMLESS
IᗰᗩGE: THE ABYSS BENEATH THE ICE
4th installment of GW's EᒪEᗰEᑎTᗩᒪ ᗰEᗩᒪ ᔕEᖇIEᔕ
Wheelchair-accessible ground-floor space near the Jefferson L stop
This is not a scent-free space but we will not be using any synthetic fragrances or burning incense. We request that guests arrive without perfume or scented body products.
:~):~):~)
www.goodwitch.nyc
www.cixous72.com
www.redamance.com