| | |
| --- | --- |
| Water Marbling - Ebru Classes | |
Event Details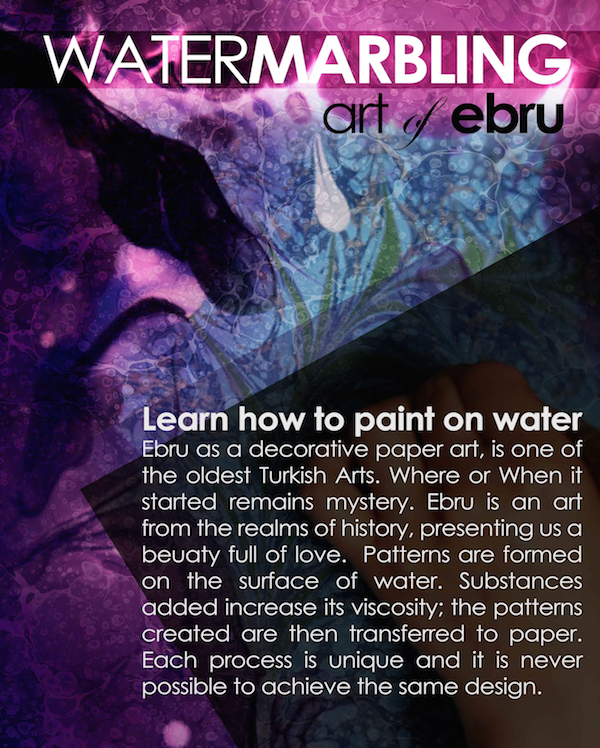 COURSE:              EBRU ART (WATER MARBLING)
LEVEL:                  Beginner to Advanced
COURSE HOURS: 6:30 – 8:30 PM
INTRODUCTION TO EBRU ART ( WATER MARBLING)
EBRU ART (WATER MARBLING);
Ebru's original name was EBRE in Jagatai dialect and during its journey through Iran via the Silk Road this name was changed into EBRI (cloud-like) then ABRU (face of water). Seljukian and Ottoman periods saw a widespread performance of this art in the Asia Minor with its final name EBRU. Ebru is the only word used today in Turkey.
As the Europeans discovered this art via merchants and pilgrims at the beginning of the 17th century, they called it TURKISH PAPER and later WATER MARBLING.
EBRU PRACTICE
Traditionally Ebru is done in WATER that has been thickened with the addition of the naturally occurring substance, GUM tragacanth, a special type of glue.
PAINTS obtained form mineral oxides, again another natural product, one mixed with OX-GALL, and then sprinkled over the surface of the water and dispersed with the help of brushes made from rose branches and horse hair.
The design that occurs on the surface of the water can be given form, motifs and flower DESIGNs can be added, and then placing a sheet of PAPER over the design, the design is transferred to the new medium.   
When & Where

535 5th Ave
Suite 601
New York, NY 10017


Organizer
Mission
Turkish Cultural Center is a non-profit organization dedicated to promote harmony in diverse cultural setting in the United States. Building, increasing and/or fostering a strong and lasting friendship by promoting a better understanding that is based on mutual respect between the individuals of the United States of America and those of Turkish background and/or origin. Introducing, promoting and informing the people in the United States with the Turkish history and culture by bringing people together in an open dialog.
Vision
In a modern world where even the farthest point is within an arm's reach, it is impossible to live anywhere without experiencing diversity. This diversity, rather than a difference is now appreciated by the people who think that we can live in a world where people do have much more in common then separates them. In order for everyone to live peacefully together it is important for individuals to rise above differences that drive us apart or against each other. Adopting the dialogue and understanding Turkish Cultural Center aims to introduce commonalities and foster friendships between these two nations by setting up platforms where cultures express themselves.