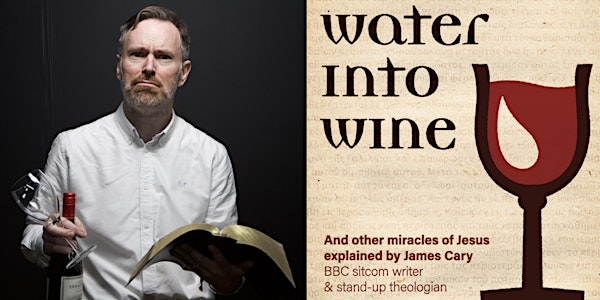 Water into Wine
Comedy meets Theology from BBC Sitcom Writer, James Cary - in aid of Christians Against Poverty (CAP)
When and where
Location
St John's Church Church Street Yeovil BA20 1HE United Kingdom
Refund Policy
Contact the organiser to request a refund.
Eventbrite's fee is nonrefundable.
About this event
If you only know one thing about Jesus, it's that he turned water into wine. Ever wondered why Jesus did that?
If you know three things about Jesus, it's that he also fed the five thousand and walked on water. You might even know Jesus raised Lazarus from the dead. So how come these stories are all found in the Gospel according to John? And what do they have to do with each other? And how is any of this funny?
James Cary is BBC Sitcom writer (Miranda, Bluestone 42, My Family, Another Case of Milton Jones) and a Christian. In fact, he's a Bible geek. And he combines all of the above in a show that is best described as 'stand-up theology'.
It turns out that John's gospel is funnier than it first appears if you know where to look. And James Cary's been looking, not least in order to write his latest book, The Gospel According to a Sitcom Writer. In so doing, he's found the first joke in John's gospel, and another one buried in chapter 7, just when you least expected it. Find out about those, and how Jesus narrowly averted a Zombie Apocalypse (but caused another one), how the calling of Moses at the burning bush really went down and how you might know more Aramaic than you thought you did.
Water into Wine joins the dots to create a funny, engaging picture that has been delighting audience in churches all across the UK. Why not come and find out what they've been laughing at?
ALL PROCEEDS FOR THE PERFORMANCE GO TO YEOVIL CAP - CHRISTIANS AGAINST POVERTY