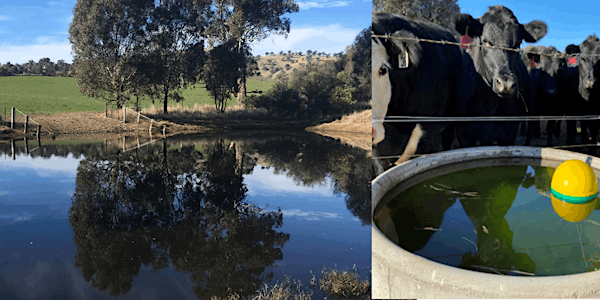 Water for stock, environment and peace of mind
Join us at properties that are implementing actions to secure water supply and quality, enhance biodiversity, and improve production.
About this event
Water for stock, environment, and peace of mind
Being drought prepared is about having enough water, where you want it and of good quality. A guaranteed supply of water is essential for any livestock enterprise. Seasons of average and above average rainfall are the ideal time to prepare for future droughts. That time is now.
Murray Local Land Services is partnering with the Australian National University's (ANU) Sustainable Farms project to host farm water security field days.
Farm water security has multiple benefits including stock health and production, environmental and biodiversity improvements, and importantly, peace of mind at a time of climate challenge.
Join us at properties working to secure water supply and quality, enhance biodiversity and protect production. Hear what is motivating the landholders and what they hope to achieve.
Presenters will discuss:
• Climate change impacts
• Improving livestock water on farm
• Water quality, stock health and performance
• Dam regulations and renovation, construction considerations
• ANU Sustainable Farms research: biodiversity and water quality
Locations and dates:
• Savernake, Thursday, 6 October
• Lowesdale, Friday, 7 October
• Table Top, Wednesday, 12 October
• Maragle, Thursday, 13 October
(Location details provided upon registration.)
Time:10.00am – 2.00pm (lunch included, 9:30 for morning tea)
Register: https://Waterforstockenvironmentpeaceofmind.eventbrite.com
Contact: Paul Simpson, Land Services Officer Local Land Services0439 384 749Paul.Simpson@lls.nsw.gov.au
This program is supported by Murray Local Land Services, through funding from the Australian Government's Future Drought Fund
Dam image: ANU Sustainable Farms Dave Smith.