Water - A Sacred Resource

Thursday, September 20, 2012 from 6:30 PM to 8:30 PM
Event Details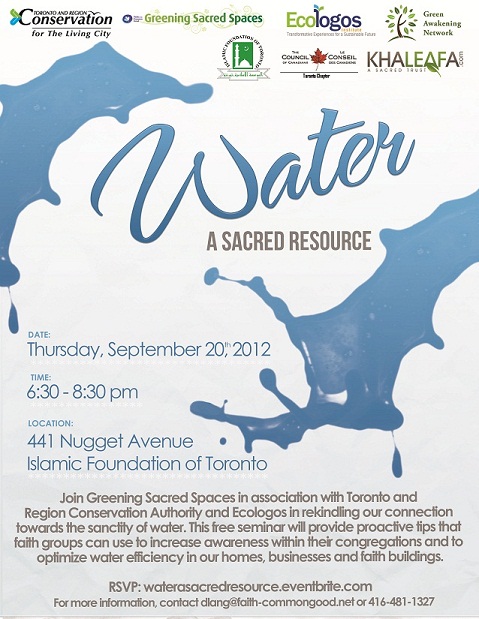 Water plays an instrumental role in the foundation of many of the world's religions. Whether it is used as part of ritual cleansing and purification or embraced as a symbol of growth and fertility, the concept of water management and conservation is integral to the religious practices of many faiths.
In Canada we are blessed with an abundance of fresh water and enjoy relatively easy and reliable access to it. This convenience however has allowed us to become disassociated with the true value of water as a life preserving force and a catalyst for growth both physically and spiritually.
The goal of this seminar is to rekindle our connection towards the sanctity of water, provide proactive tips that faith groups can use to increase awareness within their congregations and optimize the overall water efficiency of both our homes and institutions. The target audience will be faith communities and homes.   
Please RSVP if you are attending or wish to participate in the live stream of this event. Admission is FREE.

6:30-6:40

Welcome & Introduction – Donna Lang/Humairah Saeed (Greening Sacred Spaces)

6:40-7:10

Movie Screening – One Water (28mins)

Water is essential to existence. Our bodies require it, as do our souls. It is the stuff of life and death, of sweat and tears, of need and wonder. Water bubbles through our imaginations, splashes through our forms of play and winds through the tributaries of human spirituality. Yet, as precious as we know water is, we have treated it as if it were infinite and cheap, which has led to an international crisis of epic proportions.

One Water is a film that celebrates all the myriad ways water has touched human lives around the globe and explores our changing relationship to water as it grows ever more perilously scarce.  The film leaves audiences with a series of provocative questions that culminate in one that will impact all of our futures: is water a human right or a commodity? Through a starkly emotional journey, the audience is invited to bear witness and encouraged to recognize this major global crisis as his or her very own.

The film highlights a world where water is exquisitely abundant in some places and dangerously lacking in others.  Taps flowing with fresh, clean water are contrasted with toxic, polluted waterways that have turned the blue arteries of our planet murky.

7:10-7:30

Discussion – Facilitated by Stan Gibson (Ecologos)

7:30-7:40

Break/Buffer (Note: Evening Prayers will take place around 7:20pm)

7:40-8:00

Presentation by Toronto and Region Conservation Authority – (Adrian O'Driscoll)

Provide background on initiatives that the TRCA is involved with and how they can be incorporated into religious institutions

Educational opportunities such as outdoor education, workshops and seminars that faith groups can become involved with to raise awareness about our watersheds

Tips on how congregations as a community can become more sustainable (eg. Sustainable Neighborhood Retrofit Action Plan (SNAP) and The Living City Foundation)

Provide a case study involving faith communities (if any) and any community projects individuals and faith groups can become involved in

8:00-8:20

Presentation by Toronto Water – (Muaz Nasir)

Provide a background of water use in Toronto; where are now and where we hope to be in the future

Tips on retrofit projects that institutions can undertake to become more water efficient

Provide creative ways to reduce, reuse and conserve water both at home and within their places of worship

 

8:20-8:30

Questions and Closing Remarks
When & Where
441 Nugget Ave
M1S 5E1


Thursday, September 20, 2012 from 6:30 PM to 8:30 PM
Add to my calendar