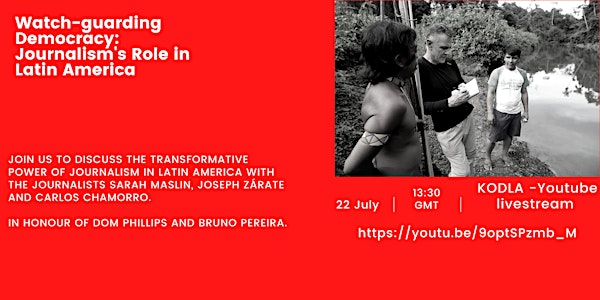 Watchguarding democracy: Journalism's role in Latin America
Join us to discuss the transformative power of journalism in Latin America with Sarah Maslin, Joseph Zárate and Carlos Chamorro.
About this event
In light of the recent death of the indigenous expert Bruno Pereira and the journalist Dom Phillips, the King's Observatory of Democracy in Latin America will be hosting a live youtube broad-cast discussion on the transformative role journalism can play in the region, particularly Brazil, Peru, Mexico and Nicaragua. Moderated by Dr Marcela Menses Reyes from the Universidad Autónoma de México, the renowned journalists Sarah Maslin, Joseph Zárate and Carlos Chamorro will be sharing their experience working in Latin America, the challenges it encompasses, the role it plays in building democratic participation and how the future is looking for many journalists on the field.