Description
Come cheer on and support the Y2 participants as they do their final presentations to a panel of judges!
What happens when bright, motivated and creative teens meet workshops about design thinking, building investor pitches, and effective public speaking - and then they meet experienced entrepreneurs? Awesome things happen!
Come to the Y2 finals to watch each team present their business idea - pressure tested, with the support of a coach - to a panel of judges who are entrepreneurs and angel investors.
As context, on November 11, 53 participants converged at the Ryerson DMZ to learn more about entrepreneurship. 19 pitches were made, and 10 were shortlisted. Teams formed around the 10 ideas, and coaches were assigned to each team. The participants learned in workshops about design thinking, customer validation, and building a pitch presentation. Between November 11 and 18, the teams will continue to work, and after a workshop on effective public speaking for entrepreneurs, they will present their ideas to a panel of judges.
Here are the ideas: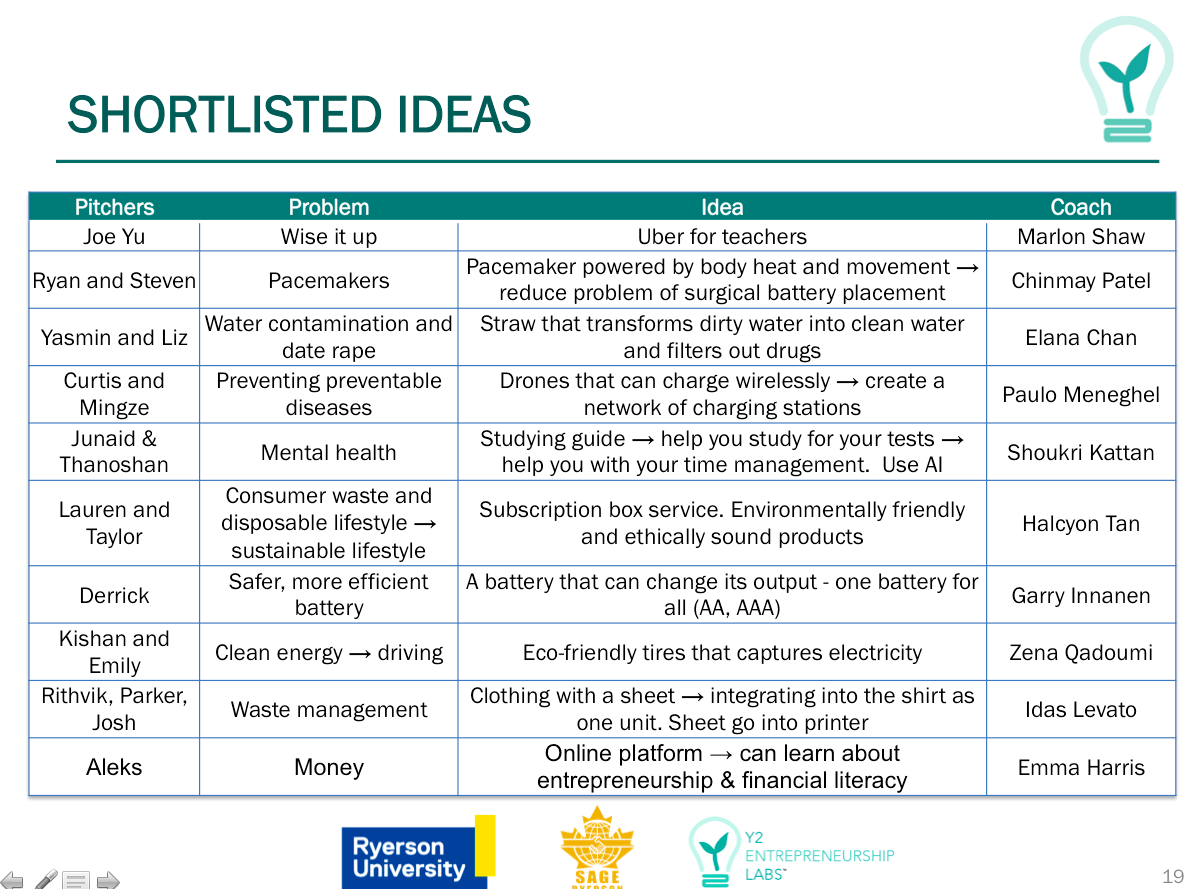 Past pitches have compared favourably against pitches from any team of adults. 6 teams have gone on to dine with and learn from senior technology leaders and serial entrepreneurs. And 3 teams have gone on to earn seed money (from the Ontario Centres of Excellence's "Make Your Pitch" competition, Summer Company, and Ideal Labs' "Business Plan Competition"). Several teams have gone on to participate in SAGE Ryerson's programs - and now, SAGE Ryerson and Y2 have partnered up - the finals will be exciting with great pitches!
For details, visit the Y2 Entrepreneurship Labs' website or watch videos of all final presentations on YouTube.
Space is limited - seats are available on a first-come-first-served basis. If tickets are sold out, please send us an email to be added to the waiting list.
Come and be inspired. Come to the Y2 finals.
-------------------------------------
The November 2017 Y2 Entrepreneurship Conference is sponsored by Ryerson University, the City of Toronto, StartupHere Toronto, Microsoft, Vitaliz, and Lighthouse Labs; and hosted by SAGE Canada, and Y2 Entrepreneurship Labs.