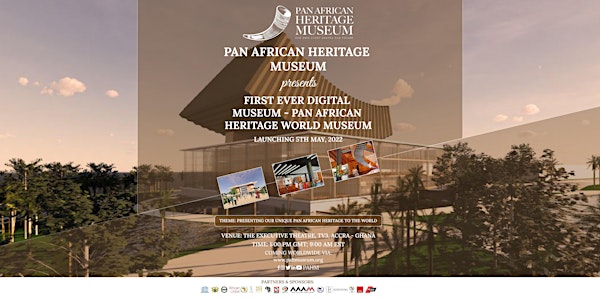 Watch the Virtual Museum Launch Online
The Pan African Heritage Museum is launching Africa's first digital museum,showcasing the greatness of Africa's heritage on May 5, 2022.
When and where
Location
TV3 Network Limited 59 Presidential Drive Accra, Greater Accra Region Ghana
About this event
The launch of the digital museum coincides with the UNESCO-declared African World Heritage Day which is an opportunity for people of the world, and particularly Africans, to celebrate the continent's unique cultural and natural heritage.
The launch event, being held in collaboration with UNESCO, will be beamed worldwide from Accra Ghana. Speakers include the UNESCO Representative in Ghana, Mr. Diallo Abdourahamane, the Minister of Tourism, Culture and Creative Arts, Dr Awal Mohamed, the Chairman, of the Pan African Heritage Museum Advisory Board, Prof. Kofi Asare Opoku, the Chairman,of the African Heritage Museum International Board Of Trustees, Dr. Joseph Silver. The moderator of the event will be Dr. Winani Thebele, of the Botswana National Museum and member of an Pan African Heritage Museum Curatorial Board.
"This is a unique moment for us," said the Museum Founder and Executive Chairman, Mr. Kojo Yankah. "We are making history, not just in presenting for the first time the history, culture arts and achievements of Africans and people of African descent in one museum, we are also breaking grounds in giving the world the first digital museum ahead of physical construction," he said.
Professor Molefi Kete Asante of Temple University and chairman of the Curatorial Board of the Pan African Heritage Museum, adds: "We are proud of our African heritage….this is a great event for us."
The event will be streamed live from the museum's website at www.pahmuseum.org
Register now!!
For more information contact: info@pahmuseum.com