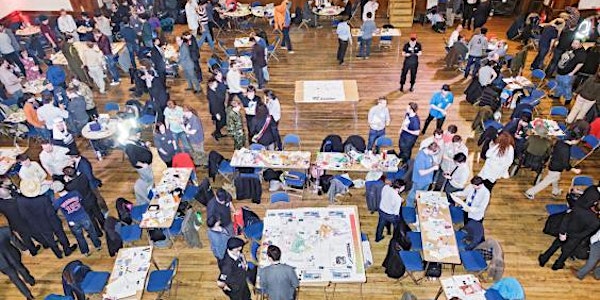 Watch the Skies Prequel - DC METRO AREA
When and where
Location
115 E Fairfax St W Falls Church, VA 22046
Description
A Megagame, as my team defines it, is sort of like several board games and a larp/rpg that are connected, and affect each other's outcome, and members of your team may stick to a dice-rolling game the whole time, or be totally immersed in a role-playing room, but in the end, success depends on the interactions of these mini-games, so that the whole is greater than the sum of its parts. Number of players can range from 20-1,000. Think MMO without the internet :P
And here's a pretty nice video of a MegaGame (not one of mine) if you're still scratching your head: https://www.youtube.com/watch?v=72uQUDoq0Wc
Or you can check out Peter Nixon for good podcast interviews about them: https://itunes.apple.com/us/podcast/the-megagame-report/id1257544036
Watch the Skies is the most popular iteration of the recent MegaGame craze, in which players must juggle mundane world events and emergencies, while keeping secret as best they can the fact that certain governments have known about/been in contact with aliens for years but don't want the public to find out and panic, or worse! Think model-UN meets a wargame meets a sci-fi or zombie movie.
One of the best parts of Watch the Skies is that every game is different. You can google previous games and what occurred and still have NO IDEA what will happen in your game. The rules and a broad plot are outlined by Control, but once the game takes off, the players determine the majority of the story along the way, and the nature of the Aliens is different everytime. If you are an Alien player, your motivations are conceived of by Control a few weeks prior and emailed to you.
This version of Watch the Skies is a prequel to the one Noah and Vanessa Crow ran in the summer of 2017. It takes place circa 2029 and it is not bound by canon to end where the other Watch the Skies began, hashtag alternate universes...

Remember to bring an open mind, unless you pay for add-ons, we cannot guarantee that you will get to be on a nation you want, be an alien, be placed on a team with your best friend, etc. We will TRY to accomodate, but the game will not work if EVERYONE wants to play Zimbabwe, for example.
Please feel free to bring snacks, but use the provided trash recepticles. No alcohol, tobacco, or peanuts, as the venue is partially a school.